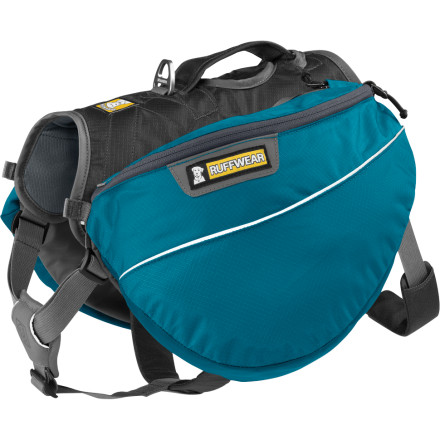 Colors

Detail Images

Community Images
Your dog loves to keep you company on day hikes, and she's even more excited if she feels like she has a job to do. Stash some treats, a collapsible bowl, and a leash or some small water bottles inside saddlebags of the Ruffwear Approach Pack and let your pooch haul her own supplies. The Approach features a harness designed for comfort and stability under light loads, and the saddlebags have a low, streamlined shape that complements your dog's balance. A padded assistance handle gives you a quick way to lift your pooch over otherwise-insurmountable obstacles, and Ruffwear's designers were careful not to include any excessive straps or attachments that might hang up in bushes or low-hanging branches. This Ruffwear dog pack comes in five different sizes so it'll fit securely on pint-sized pups or burly beasts.
Durable nylon material withstands season after season of running, hiking, rolling, and other dog-like activities
Web Master Harness uses an adjustable system of wide, synthetic webbing that feels comfortable around the chest and haunches
Web Master Harness and attached saddlebags were designed to provide a balanced weight distribution so your pooch will feel balanced on her feet
Padded Assistance Handle makes it easy to grab this pack and help your dog over large obstacles or lift her into a vehicle
Single-piece, v-ring leash attachment point makes it easy to secure a leash to this pack when necessary
Other features include stash pockets, coated zippers, and external gear loops
Reflective trim improves visibility at in low-light situations like dusk or dawn
Ruffwear recommends your dog carry no more than 25-30% of his or her body weight in the pack. If your dog is new to packs, start with a light load and slowly work up to heavier loads as he/she gets used to the extra weight.
Share your thoughts
What do you think of the
Ruffwear
Approach Dog Pack
? Share a...
Functional + fashionable
Familiarity:

I've used it once or twice and have initial impressions
It doesn't get much better than having your dog carry some of her own junk and look great at the same time. My dog Lola (#dumbodoodle) is a 5m old 25 pounder and barely fits into a small, but I think she should grow into it nicely. Here she is taking a break on a hot day in Brooklyn Bridge Park.
Can you unattach the bags from the harness and use the harness by itself for small walks?
Best Answer
No, but there's another RuffWear harness that you can do that with... I think it's the Palisades pack.
Perfect dog pack!
Familiarity:

I've used it several times
I looked through the reviews, I know the Ruffwear Palisades pack is "superior" according to "experts". However, this pack is great and can't be beat for the price. Copper is used to wearing a harness on walks (he's got the border collie pull), so he adjusted very quickly to wearing the pack. I'm so happy I can tuck away his own water bottle, collapsible bowl and treats/food/ whatever in his own pack. The fit is great and has survived hiking in Colorado, including being submerged in a creek as he chased after a few birds. Would highly recommend! Great quality, great price and has the tendency to make your dog look even cuter!
Now she can carry her own poop!
Familiarity:

I've used it several times
I got this for my dog so she could carry her own water, and am slowly acclimating her to the extra weight. But in the meantime, I discovered the awesome benefit... when out on a 10 mile loop, I don't have to have a poop bag swinging from MY backpack any more!
In all sincerity, this is a great product. Super roomy pockets, rugged construction (good thing, too, since she's not used to being extra wide), easy leash attachment point... it's all good. There's some really well thought out details that at first I didn't understand; you can lift up the pockets and unclip them from the harness straps so you can access the buckles without rooting around blindly. I'm super happy with this purchase (especially because of the lack of poop!).
Great pack for backpacking
Familiarity:

I've used it several times
Freja loves her new pack! We had hoped that it would slow her down just a little, which is did not. I guess that's telling of how little she is bothered by it. We pack the backpack with her food and her bowl when we go on packpacking trips. She also carries some of our trash on the way out.

They only times she seems slightly annoyed with the pack is when we manage to pack it unevenly, which is quite easy to do. Aside from that, and the very tiny buckle that straps one of the bags to the girth (which is a bit hard to get to when you have a dog who wants to run off and chase critters) this would easily have been a five star review.

We got a size small for Freja who is a 50 lbs German Shorthair Pointer mix. It fits her perfectly!
Everyone loves Otis with his pack on
Our go-to pack for our crazy dogs
Familiarity:

I've put it through the wringer
Our Airedale (XL), has had this pack for years now (His picture is somewhere down on this thread). He's chased deer, rolled in it, been through scrub oak, sage, etc, and it has yet to even have a hole in it. Introduce his little sister 4 years later, and we decide it's time she needs to carry her own stuff. She's a Welsh terrier, significantly smaller but with 10x the energy. We ordered her a small, and it fits her great. She wasn't particularly happy about it, we just make sure to not overload her pack and keep it balanced. Happy trails! Woof Woof!
Hello! I have a 7 month old Catahoula mix that is measuring in at 29.5 inches right now. Should I size up expecting him to fill out or go for a medium?

Thanks!
Best Answer
Kaeli,
It would definitely depend on the breed that your pup is mixed with - I would suggest sizing up because dogs tend to continue growing past a year of age. Once again, this definitely depends on the mix of your dog for sizing.
Does this pack have any straps to cinch down the load in the saddlebags?
Best Answer
Hey Rebecca,

This pack does not have any straps to cinch down the load in the saddlebags.
Recommended for any active dog
Familiarity:

I've used it once or twice and have initial impressions
I often dream of my dogs making coffee for me on Sunday mornings. Since that seems unlikely, having them carry their supplies on hikes and backpacking trips is the next best thing. Our dogs are a 45 lb Australian Shepherd (L) and a 18 lb Dachshund Chihuahua Miniature Pinscher mix (XS) and these packs fit them perfectly. With a free range of motion these packs don't weigh the dogs down and carry food, water and small odds and ends. Make sure once your pup has the pack on snugly that all straps are tied away to insure you don't have any snags. Bonus: Everyone on the trail thinks your dog is somehow even more cute now
I have a Collie X Jack Russell here in New Zealand. I measured his girth for a backpack and he is right on the border between XS and S i.e. 55 cm - Which size should I go for? Thanks
Best Answer
It says the XS is good for a dog whose girth, measured at the widest point around it's ribcage, is between 17 - 24inches. Therefore, if your dog is done growing, and it's girth is measured at 55cm, or right under 22inches, I would say to go with the XS.
Hope this helped.
Thanks for taking the time to respond to my question James. XS it is!

Happy to be of service. I hope that the size works out well for your pup! In the unfortunate event that it does not, BC will exchange the product pretty painlessly, but hopefully it doesn't come to that.
Love/Hate Relationship
Familiarity:

I've put it through the wringer
Our 90lb husky/lab/shepherd used the L/XL on hundreds of miles of trails, and it was so big, I was often tempted to pack too much into it. Tanner hated to carry his food, bed, and eventually all our trash. I loved to let him carry it. He stopped wearing it when he turned 11 and any amount of weight on his back was obviously causing him hip pain. The pack travelled through rock fields, mud, muskeg, snow, ice, loads of rain, and after years of abuse it still looks pretty good. I did have to do some re-stitching where the saddlebags attach to the harness, but that was from our dog getting himself wedged between two trees and yanking himself out. I would recommend this pack, and warn the user not to overload your precious pooch.
Mans best friend.
Familiarity:

I've put it through the wringer
Whats better than having the pup out in the woods all weekend with ya when backpacking?
Having the pup out in the woods all weekend with ya while CARRYING HIS OWN GEAR.

The pack is great. It hold a few days of food and treats, along with his bed and a sleeping fleece vest. Its also fairly waterproof....found this out after a quick jaunt into a pond to chase some birds. The straps offer plenty of adjustment and once all dialed in, its like he doesn't even know he is carrying it.

Sweeeet Pack Dawg
Familiarity:

I've used it once or twice and have initial impressions
Be careful when putting this pack on your dog as it will increase how adorable your pooch is by at least 2x. My dog is about 50lbs and I got him a Medium - It fits awesome. I would say this will fit a dog from 40-60 lbs.
Solid pack
Familiarity:

I've used it several times
My Brittany initially hated having the pack on, but warmed up to it rather quickly once the association between pack and hiking was made. the handle was clutch when getting into terrain where thumbs were necessary (excluding goats).

The picture was taken during a break (his water is out of the pack), thus making it lopsided, it otherwise stayed balanced.
My fine hound
Familiarity:

I've put it through the wringer
My fine hound used his working 8 day shifts in the San Rafeal Swell for two years, and it lasted with the slightest speedy stich. He ducked under barbed wire daily, chased cattle, gopher, ground squirrel, snakes, Pronghorn, bird, moose, elk, cowboys on horses with guns (foolish). And it lasted, abuse after abuse. It was amazing, can't wait for its successor to show up
Hey Dog! Carry your own Sh*t
Ruffwear Approach vs Ruffwear Palisades
A video comparison (fixed) showing the differences of the Approach and Palisades packs, as well as a couple tips on packing them.