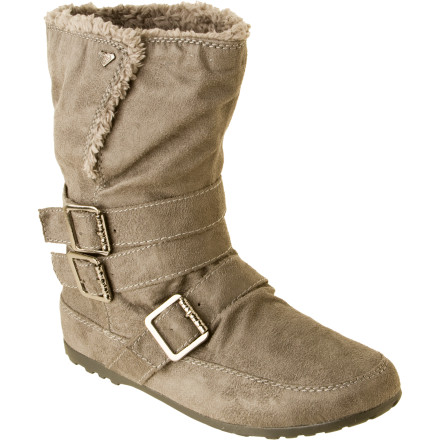 Detail Images
It's time to switch from your flip-flops and open-toe shoes to the swank Roxy Women's Oslo Boot … unless, of course, you want sad, chilly feet when the temperature reaches freezing. Your feet dream of slipping into a comfy faux fur boot like this one, and its micro suede upper with three stylish buckles complements your skinny jeans and loose-knit sweater. You've never been to Oslo, but those trendy Norwegian gals would be all over this posh boot.
How is the arch support and cushioning in...
How is the arch support and cushioning in this boot
Cathy,

I got these boots for my lady friend for Christmas. As far as cushioning and support, they are pretty minimalist and flexible, but are very "fuzzy and warm." She has sturdier boots she wears when the weather gets nasty, but these are a nice in-between, especially if you're in and out of buildings a lot, as with school or work during the winter.

Happy trails!
Color is not the same, but still soooo cute!
I ordered these thinking I would receive a tan colored boot, but when they came I was a little sad to see that they were a gray color. I was thinking of returning them but as soon as I tried them on I fell in love. I am coming back to order the black pair, So cute with skinny jeans!!
These boots are pretty cute, but after a few minutes of wearing them around the house, the front flap started flopping forwards. These boots don't have a zipper for entry, it's just a big slit on the outside of the boot and the flaps don't stay up.