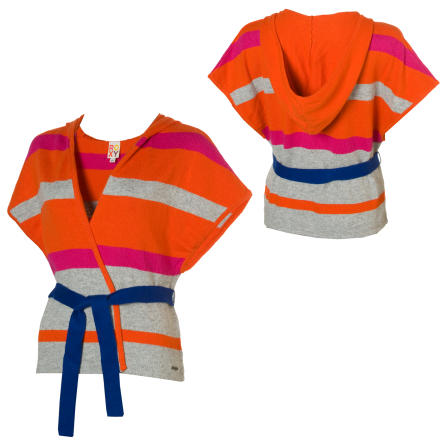 Detail Images
Short and wide - but still cute
I love the colors and idea of this sweater, but it was a little dissapointing once I put it on. It's rather wide on top and pretty short length wise. It stops right at my jean line, which isn't exactly what I was hoping for. I still wear it and get tons of compliments on it so I can't complain too much. Find a long sleeved shirt that is also long in length to wear under and you'll be good.
...not so cute on a human body. The material was a little stiffer than expected. The silhouette was not very flattering and the blue belt wasn't quite as long as pictured (I am petite so this was due to an overly large belly). Overall, I really wanted it to be cute, but it didn't quite make the grade.
Cute - But Not The Best Fit
The colors are nice, but this is actually rather short in size.

Still, my lady looks great in it, but sizing in not perfect. Buy a little bigger.