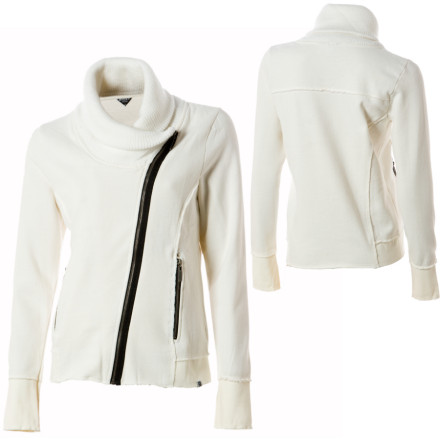 Detail Images
Your journey begins when you zip on the Roxy Women's Hit The Road Jacket. This fleecy jacket features moto-style touches like a bomber cut and exposed zippers but softens them with a oversized, chunky rib-knit collar and raw edges on the seams. Pull it on, and kick into high gear.
The cut is flattering and I like the angled zip. I probably should have ordered a small rather than medium (5'3, 110 lb).
Two complaints. 1. The zippers are sticky. I wouldn't expect poor quality zippers for Roxy unless it were a knockoff. 2. The collar is a wee bit itchy.
I didn't ruin christmas this year
I grabbed this for my sister as a gift, and She looked amazing in it. The neckline was awesome, and she said she loved the contrast zippers.
For holing up in the Arctic
For those of you who like feeling like you're wearing a scarf 24/7, you will not find a better jacket. The collar on this jacket is HUGE and engulfing. It lays reasonably flat when folded down, and comes up over your ears when popped. The collar itself is like a cable knit sweater, while the jacket is more like your everyday cotton hoodie. The cotton/polyester combo makes this incredibly soft on the inside, with a more traditional polyester feel on the outside. I was hoping for more poly, but hey...you can't always get everything you want.

True to Roxy sizing, the fit is pretty slim/athletic. Stick with your standard shirt size. If you like your jackets a little looser, definitely size up.

Only major drawback on the Vanilla Ice colorway is that the cuffs get a little bit dingy, pretty quickly.

Overall...Great jacket, and just dressy enough to wear to work.
This is amazing! When I got it I fell in love! The neck is the best part!