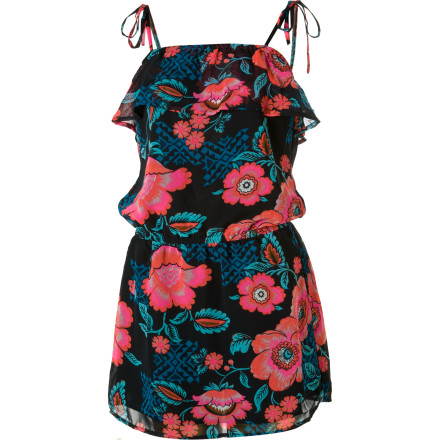 Detail Images
The designers at Roxy mixed a bold, fun print with a sexy semi-sheer print to give the Apache Dress a feel that is whimsical and sensual at the same time. Plus the modern, geometric cut contrasts with the freewheeling print keeps this dress perfectly on trend.
Great dress for the muggy days.
I rode my bike in this dress up a mega hill and was sweating buckets. But this dress hid it all, both with the colorful, vertical strips and with the type of material used. Great dress for a hot, muggy day. The material is not very flexible and the skirt is a bit shorter than I realized, so I did totally flash everyone when I got on and off my bike. Stretchy shorts underneath would have been a good accessory for me to add. Because of the design of the top, it's easy to get away with not wearing a bra while not showing everyone the nips. If one of the straps accidentally comes undone, the stretchy top is snug enough that it stays put until the strap is retied. Good buy.
The colors are just as vibrant in person as they are online. Very fun bright dress, thin and lightweight for hot summer days. My girlfriend likes the design and material and she gets the look of a romper without actually wearing a romper which is good because rompers are goofy. win-win.