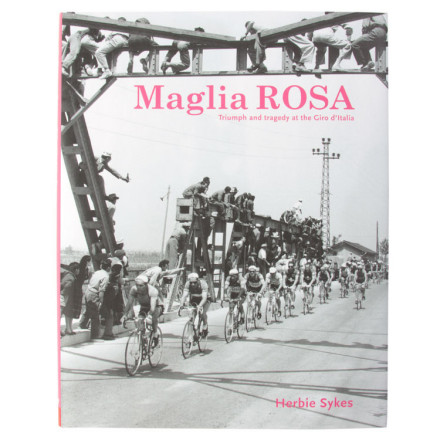 Rouleur Books has long been known for its unflinching, raw presentation of cycling's most poignant moments. Rouleur's newest publication, Maglia Rosa: Triumph and Tragedy at the Giro d'Italia continues those traditions with this rich compilation of photographs and stories spanning 100 years of Italy's most storied bicycle race.
1909 marked the first of what would be a long history of the cycling season's first major grand tour — and save for imagery of American hero Andy Hampsten crossing a snowy Gavia Pass in 1988, much of that history has long been left uncovered to English readers. Rouleur is providing an extremely rare opportunity for us to enjoy the richness and depth of content featured in Maglia Rosa — especially in our native English language. The stories have been compiled and written by Herbie Sykes, a Turin resident and frequent contributor to the Rouleur universe who explores the legends of Italy's grand tour, as well as the personal stories of its most illustrious Maglia Rosa wearers — Coppi, Bartali, and of course Merckx. The Giro's brutal, mountainous battleground and pink leader's jersey all hold a certain air of mysticism not unlike France's maillot jaune, and Sykes is more than up to the task of uncovering the tales that, until now, have simply never been told in English. If you've enjoyed Rouleur's previous spectacular photographical essays like Le Métier, The Peloton, or their brilliant Photography Annual, then you're in for yet another treat with Maglia Rosa.
Maglia Rosa is hardcover bound, and contains 312 pages.