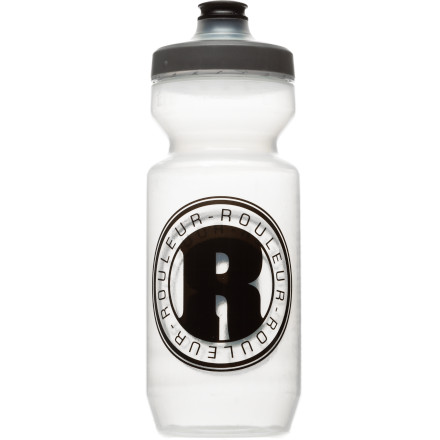 The Rouleur 26oz Water Bottle is the marriage of Mr. Best and Ms. Best -- one of our favorite cycling magazine and the most innovative water bottle since, well, maybe ever.
Starting with the bottle, Rouleur printed its logo on the landmark Purist water bottle. Produced by Specialized, the Purist eliminates the ails and woes that have accompanied bottles for decades. The concept was deceptively simple -- mimic nature, more specifically, the lotus leaf. As the lotus can shed both water and contaminants, Purist infused the bottle with silicon dioxide to achieve the same end. This compound naturally exists in purifying agents like quartz, sand, or even celery, and is not only safer than chemicals, but is far more effective at sterilizing the inside of the Rouleur bottle.
Without question, the biggest perk of this treatment is its shedding of impurities. With a simple rinse, smells, tastes, and mold-inducing bacteria disappear. It sounds like sorcery, but it's true. The mouth piece of the bottle is almost as revolutionary as the bottle. With an ultra-wide, leak-proof design, you can get monstrous mouthfuls of water with little effort or worry.
Now, we know what you're thinking -- shouldn't Rouleur be attaching its name to a stainless steel canteen or a leather cycling helmet? We agree that the Purist bottle seemed a little high-tech for the cycling romanticism that enshrouds Rouleur. However, a preference for black and white photos doesn't solely qualify you as a retro grouch. We prefer to embrace the seeming balance of opposites, and there's no doubt that you too can enjoy pure-tasting water while supporting your favorite magazine.
The Rouleur 26oz Water Bottle is available in one 26oz size. The bottle is BPA free, freezable, and machine washable.
What do you think about this product?
Have questions about this product?
Great
Familiarity:

I've put it through the wringer
Great bottle. No funky taste. Cleans up well.
Okay but still leaky
Familiarity:

I've put it through the wringer
This is a decent water bottle - the water always tastes fresh (despite having used Gatorade on a previous ride), its easy to squeeze, etc. But it is NOT leak proof!



My biggest gripe about this is that it's NOT a pressure release spout. For example, the spout on some bottles naturally pop open when the bottle is squeezed and close when there is no pressure - you don't pull it open with your teeth. Note in the video, you must open the mouth before it will work. Not a big deal but I've found that bottles still leak without a pressure release spout and this bottle is no exception.



2 reps specifically told me this bottle is exactly that, but they must have been thinking of a different product.



**UPDATE**

After having owned this for almost 2-3 months I definitely would NOT recommend buying this bottle. It is extremely leaky!