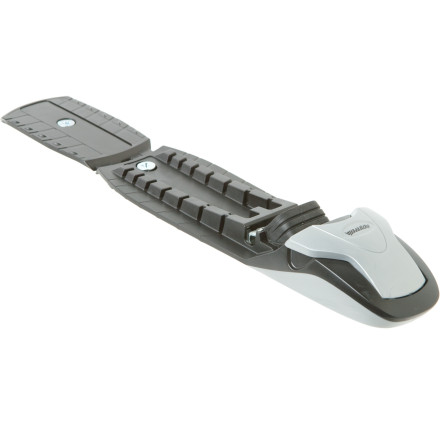 Detail Images
Description
Dirty Harry would be so proud.
The Rottefella NNN BC Magnum binding is designed to control the biggest bushwhacker skis. A massive 67mm contact plate provides the ultimate in ski control. The Magnum's glove friendly manual lever provides total connection security. For serious wilderness Nordic exploring, nothing else comes close.
Unanswered Question
I have an old pair of Epoke 1000, 52 mm waist, with Rottefella 3-pin bindings (old). I want to convert them to NNN-BC bindings. Will the Rottefella NNN BC bindings fit the width of the ski? I plan to buy Madshus Glittertind BC Boots. I had good luck with some Madshus boots with my wide feet.
Would these fit the Madshus Eon's?
Would these fit the Madshus Eon's?
Can you lock down the heel?
Can you lock down the heel?
Best Answer
Scott,

Nordic ski bindings are designed for efficient movement in varying terrain and do not have a heel lock down capability. If you'd like to have the ability to ski tour and lock the heel for more control on the descent, check out Alpine Touring bindings: http://www.backcountry.com/alpine-touring-bindings
Great for what it's designed for
Great for powering metal edged bc skis. Have had these on skis up to 70 mm waist and they were able to make them turn. Great for touring and can carve turns, particularly with a heavy duty nnn bc boot. Obviously less control than a 3 pin but you can get it done, especially if the snow is soft. Very fun and surprisingly powerful.
one beefy binding, without the weight!
I mounted these on a pr of Rossi BC 70's and love em! They are wider than the normal NNN binding, so make sure the waist of your ski can handle em. Since I've had them I've put probably 60+ miles on them exploring, over the past few weeks. They are surprisingly light, handle breakable crust well, easy to put on, take off, and when left outdoors you just shut the plate and keep the pin holder closed up agains the elements for when you put em back on. Very happy with this set up!
Does this binding have a safety release...
Does this binding have a safety release in case you take a bad fall with it?
can I just snap in from standing positio...
can I just snap in from standing position??
also can I remove my boot easily?
there is a plate that you lift with your hand to open up the pin holder on the binding, it is very easy to open, but you do need to bend over and do this with your hand, then flap it down closed. Its a nice feature as you close it when not in your ski and the pin holder stays clean for re entry!