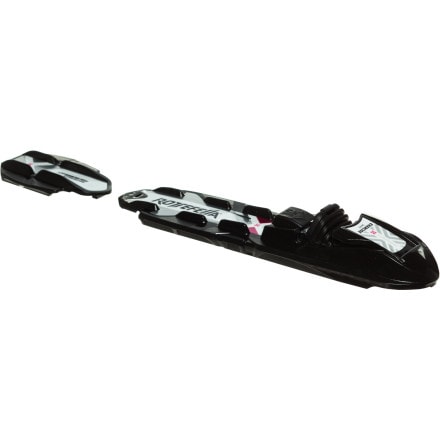 Description
Skating isn't just about racing—enjoy yourself.
Offering the same legendary performance and ease of adjustment as the top-tier race NIS Xcelerator Binding, the Rottefella NIS Exercise Skate Binding has a flex tuned specifically for skating and a wider flange on the front release handle. This binding is ideal for those of you out to work up a sweat at the resort and push it a little on the straightaways; you like speed but you're not always on the hunt for a gold medal or clocked split times. A combination of medium-stiff flex and full ski-to-binding integration further aids the progressive and natural feel of this binding underfoot. It's lightweight enough to make your ski feel faster and it's fully compatible with any ski that has a NIS mounting plate attached. And the primary difference between the Xcelerator and the Exercise? A wider flange on the front binding-release handle. A small touch, but an important one if you'd rather err on the side of easy exit and entry rather than ultimate streamlined performance.
One of the true beauties of this binding is the two centimeters of fore and aft adjustability it boasts. Traditional, mounted NNN bindings don't offer this adjustability, and similar competitor bindings are just beginning to catch up with the technology. With a small key, you can slide the NIS Exercise Skate binding forward to improve leverage on the front of your ski for better balance during your glide or you can slide the binding backward to improve forgiveness during your kick. Isn't that a nice touch?
Step into the NIS binding with a NIS- or NNN-compatible boot and manually lock the toe in place before you start skating
Manual locking mechanism is less prone to icing than an automatic mechanism
The NIS system (Nordic Integrated System) is essentially an adjustable, integrated Nordic ski and binding system that uses the NNN(New Nordic Norm) interface on top of an epoxied plate
This binding features Rottefella's medium-stiff flex, which is forgiving enough for quick balance adjustments and stiff enough to add some snappiness to your skate ski
Binding plate uses a pair of guide rails that interface with grooves on the bottom of your NIS-compatible boot
These rails eliminate the potential for your boot to slip laterally off the binding during your glide, so your boot and ski maintain perfect horizontal position for maximum power
Low-profile binding design keeps this binding low and close to your ski so your foot is closer to the ground—this low stack height means that you won't feel like you're compromising your balance just for the advantage of the binding guide rails