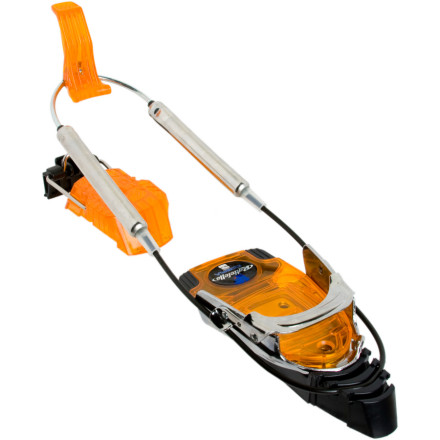 Detail Images
Rottefella's R4 Cobra combines the on-piste performance of the Cobra Series with a more tour-friendly pivot point that reduces fatigue in the backcountry. The aluminum toe-piece and the stiff retention wires add lateral rigidity for control on hardpack, while the binding remains lightweight and low-maintenance due to simple, efficient design.

What do you think about this product?
Have questions about this product?
Beware cable adjustment slots
I have an older pair of these bindings. They ski quite well but I recently got a new pair of double boots and adjusted my bindings to fit them. These bindings seemed a great deal--I can easily move the cables up on the adjustment slots and with some minor tweaks on top of that, also wear my older and shorter light weight boots some days. This is where my warning comes in: I checked everything out and seemed to be ready for a day out in my old,shorter boots, but the cable kept popping out of the adjustment slots on one binding. A closer, but sadly on-the-trail look showed that little teeth on the sides of the slots had broken off and there was no way to keep the cable in. It isn't something that is likely to happen on a new binding (and maybe Rottefella has fixed the problem), but beware, these binding could leave you dragging a leg like Quasimodo.
Please will the Cobra R4 TM binding work...
Please will the Cobra R4 TM binding work with an older style 75mm Nordic Norm tellee ski boot?
Thank you. - KL Groenevelt
Best Answer
The R4 will work with any standard 75mm duck bill telemark boot. Soft Leather boots will have trouble staying in the binding when flexed very far, though. Almost all modern cable telemark bindings such as G3 Targas, BD 0' series, Voile Hardwire, and Rottefella Cobras will perform best with plastic 75mm telemark boots. They are not necessarily designed to be used with leather or soft boots. New Nprdic Norm (NNN) boots are, of course, not going to work. Scarpa, Garmont, and Crispi boots with hard plastic shells will be the choice for these bindings.
For soft boots, Voile 3 pin Cable bindings are the best choice, or you may be able to find some superloops, or Riva cable bindings.
You could make these work, but it's going to be hard, and you will have problems. Not recommended. Hope that helps. Any other questions- don't hesitate to ask. There's plenty of support here at backcountry.com. Enjoy!