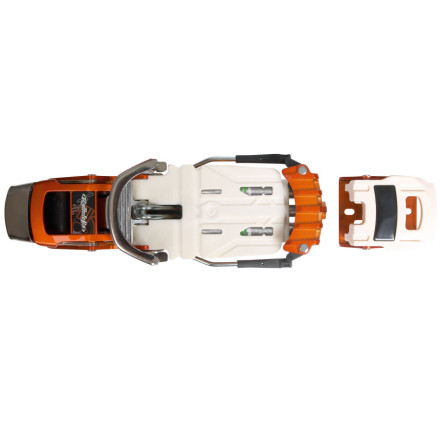 Community Images
I bought the whole ntn setup late last season with just a few days on them This last Saturday, epic powder day...I broke my ankle. My back ski caught a edge and my leg violently twisted. That releasable binding should of released in my eyes, and if it did so I would not be sitting here in a cast.
Other then that, I was beginning to really like them. The whole set up is very powerful.
Will I ski them again? I don't know.
The one thing that is really noticable with them is that back ski. Alot more going on there.
Most people consider me an advance telemark skier. Been doing it almost 20 years.
I hope this helps someone......
I'm middle aged (52). I'm on tele's but my buddies are alpine. I always hated gondolas, trams because I had to dismount and struggle getting back into my hammerheads. The step-in feature is the best feature of the NTNs by far. For me, that's worth the extra weight. I loved my Hammerheads; what a great binding, solid lockup and bombproof binding. But I do NOT like the duckbill. Getting rid of that is the number two reason to go NTN. If you've ever tried toe-pointing up a steep, hardpack chute with duckbills you've felt the fear of sliding off the mountain. My Crispi EVOs are as solid as any mountaineering boot. The third and final reason to switch to NTNs is the climbing mode, which is great with skins. HHs just don't do that well.

My knees are not what they used to be, though, and I did cave in and get a pair of Diamir-Fritschi's to mount on my new Rossi S7s this year. We'll see how that goes...
Is there a time in the foreseeable future...
Is there a time in the foreseeable future when the Backcountry Mothership will have a version of the Long binding with the rigid(Red) springs? And if so, how long must we wait?
Best Answer
The passionate spaceship level shows no documentation of extra-terrestrial mango-passion fruit from earth or rigid red springs from Rottefella in the Space Camp. Curvacious aliennes are mad nice though. I can fly no joke.
, ☃bcs_badge_alumni_label☃
Replacement springs are available at:
http://www.backcountry.com/outdoorgear/Rottefella-NTN-Power-Tubes/ALP0260M.html?CMP_SKU=ALP0260&MER=0406&CMP_ID=SH_FRO001&mv_pc=r126&mr:trackingCode=A47821DA-F061-DF11-9DA0-002219319097&mr:referralID=NA
Any input on the soft vs medium springs?
Any input on the soft vs medium springs?
I started with soft and soon went to medium. Much happier now. I am 6'2" 180#. More like a hammerhead on 4 which is my preference.
I tested these bindings at Pico, VT on a 6" powder day and was not a fan. The bindings are very rigid and mechanical, losing all the "soul" that brought me to tele skiing from my alpine gear in the first place. They felt sort of like training wheels for tele.
can i put these bindings on snlow blades,...
can i put these bindings on snlow blades, 88 to 90cm short snow boards or ski/snow blades?
Naw, man. I reckon somebody'd get their ass kicked for doin somethin like that.
The bindings themselves will fit ok, however, the necessary monster ego that comes along with these would not in a million years fit into the confined space of snowlerblades. You definitely would need something stouter.
Best Answer
You CAN mount them to anything...roof of your car, your front porch, a pogo stick, a wakeboard....snow blades...... SHOULD you? Um,,,,,,no.
Oh god no, please don't. I'll pull your pass.
Are the binding mount holes compatible...
Are the binding mount holes compatible with O1s?
Best Answer
The NTN uses the same "standard 4 hole" mounting pattern as BD, G3, and Voile.
Yes, but the plate has an additional 4 holes slightly wider spread which are recommended. In any case, new holes must be drilled because the binding screw holes are located in a different place. In other words, the pattern COULD be the same (but not optimally) but the mounting location is different.
The Ultimate Do Anything Binding
I'm not totatlly sold on the NTN. It's too expensive and you have to buy new boots, too. I'm not willing to do that since I just bought new T1's and love my Bombers and Hammerheads.
However, the NTN's are wicked cool and offer un-compromised stability and activity. The added bonus is that you can eject like on an alpine binding, although the breaks only go to 110mm, which is my narrowest ski. The other bonus is free pivot touring feature. This is great for uphill, but the binding is heavy, so it's not totally perfect for backcountry use. Also, you can step in to this binding instead of reaching behind and messing with cables.
It's adjustable, too, both with the "power tubes" (god, I love that name) and in the positioning of binding.
Now, for the ultimate selling point: You can get Dynafit heel pieces for your skis, so you can lock down your heels if you want to charge alpine style.
My dream setup right now is a pair of 4frnt CRJ's with NTN/dynafit combos, and Scarpa Terminator X Pros. So, whenever I get $2,000 I can blow, that's what it'll be.
It bears noting that this is my first tele set-up, and though I was/am an expert alpine skier, I am a novice tele skier. I have skied the NTNs intermittently for about two seasons - maybe 10 times total? - and I like them. They are snappy and very stable laterally. What I like best is that there is no "fiddle factor" - you just snap in and go. They are a little heavy and I can see how they would be tough for true touring, but they are a great set-up for lift-serviced tele stuff. Again, please note that my experience is limited, and I've only skied a traditional tele binding once. One thing: buy the boots snug. I bought the larger of two size options and wish I had the smaller one.
Can this new top mount to the original...
Can this new top mount to the original bottom part of the NTN? I was under the impression I could slide the top part of the binding onto the pre-mounted rails on different skis, is this correct? I have the original NTNs, what has changed?
Check the forum at telemarktips.com to find out about changes, the new version should work with old subplates.
Best Answer
Rottefella made a number of small changes. They've got a presentation on the changes here: http://www.rottefella.no/dynamisk/ftp/dokumenter/ntn.pdf

I've got both the 07/08 and the 08/09 model, and to be frank, I don't notice a whole lot of difference.

I can confirm that the binding plates are interchangeable. You can use either revision with either plate.