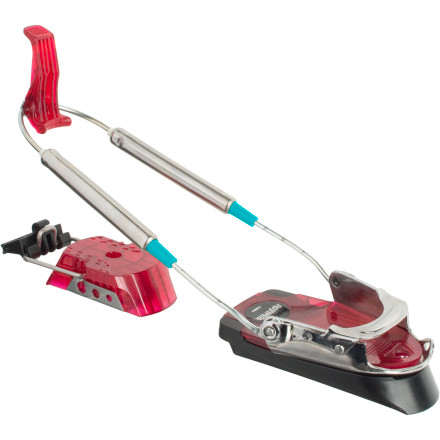 Detail Images
Telemark skiers have relied on Rottefella's simple, lightweight bindings since 1927. The Cobra R8 Telemark Binding combines powerful progressive forward flex and lateral rigidity in a simple, reliable design.
Rigid steel bail adds lateral stiffness for added edge control
Simple design is lightweight and reliable
Large base plate and solid housing for power carving and edging
I live near Portland, OR and I'm looking...
I live near Portland, OR and I'm looking for new cartridges for these Cobra R8's Do you know where I can Find some?
Best Answer
Next Adventure
I have 3 pair of these at home. On a pair of Scotty Bobs ( for Soft and Pow), Atomic TM 18 (for Carving), on my wifes Atomics. I ski Garmont Synergy and my wife T-2x. We have used these bindings for 6 seasons now.

They ski well on boiler plate to the nicest powder day. We are not big gear heads, prefering to just ski rather than obsese about all the active/ neutral arguments.

No complaints. No breakages. No issues. They just do what a binding is supposed to do.

I've also skied BD O2, G3, PIt Bull, Riva 2 and Superloops and like the R-8 the best of this sample of binders.
Unanswered Question
Looking for the mounting instructions for...
Looking for the mounting instructions for the R8. Not sure if the older version is different from the new one I saw on the Rottefella website. These are the red ones.
Thanks in advance.
A sweet all around binding with movable cartridges.
Unanswered Question
How does the climing bar work on the...
How does the climing bar work on the rottefella cobra R8? The bindings are unmounted and I can't figure out how the climing bar goes on.
This is a great binding for powder or carving,it rocks!
Have them mounted on 179 Hippy Stinx and they are money. Have had zero problems from them other than faults of my own(not havin equal tension on cartriges). Super smooth and a great do everything binder. I am upgrading to Black cartriges tho for some addtl stiffness( have the RED one currently)
I Have ski the R8 for two year now and it is my favorite binding. It is stiff but not extreme. I have used this binding for park, resort, and back country skiing. The Norwegians know how to make bindings. I will probability never buy other bindings then Rottefella. I love my rat traps.
Does anyone know if Rottefella has a U.S....
Does anyone know if Rottefella has a U.S. customer service line? I have an older set of cobras, and (somehow) lost one of the plates off of the back of the binding. I'm looking to get a replacement part, but don't want to call Norway. Any ideas? Thanks!
I'm not sure if they do, your best bet might be to email them - post@rottefella.no
They do. The guys at backcountry.com will give it to you; they gave it to me. Wish I still had it to give to you! I think they are in Wyoming.
Managed to dig something up. Looks like they have a whole mess of North American distributors. Try giving one of these guys a shot if you haven't figured it out yet.

http://www.rottefella.com/english/artikkel.asp?Action=Visnyhet&NodeID=131&ID=372