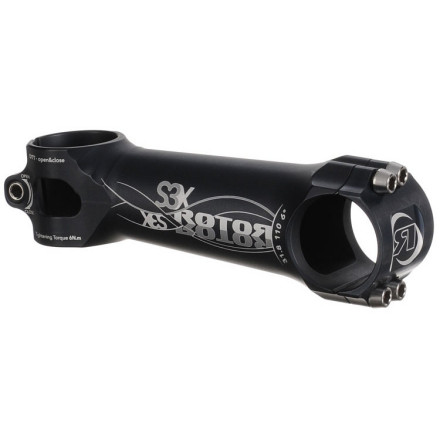 The Rotor S3x Stem is remarkable enough for its lightness, even more so to know that it passed Germany's most stringent EN 14766 safety standard. In fact, after enduring twice the number of fatigue cycles as required by the certification test, the lab technicians were forced to just turn off the machines and be done with it due to time constraints.
Compared to their S2 Evo stem, this one uses a more traditional four-bolt faceplate where the S2 uses a two-bolt arrangement with dual thread pitch Torx hardware. The face plate bolts on this S3x Stem are made of titanium to ensure lightness, as no detail gets overlooked in Rotor's quest to get right down towards the 100 gram barrier. The CNC machined body of the stem is an exercise in minimalism. No facet is left without the tell-tale marks from the cutter head. This relentless paring down of excess material is exactly how they make it so light.
It's interesting to note that Rotor never lost sight of where this stem would be used -- with carbon fiber bars and steerers most likely. As such, the clamp zones are designed with a maximum surface area to ensure a positive attachment without risk of component failure. One cool detail in the steerer clamp is that Rotor uses a single DTT fastener. Its dual thread design allows one bolt to do the job of the usual two. One bolt is lighter, and because the design does away with the square edged cap of the typical hex bolts, the fastener doesn't add focused stresses to the aluminum in the pinch zone.
The Rotor S3x Stem is Black anodized and is available with a Black or Red anodized faceplate. It comes in six sizes from 70mm to 120mm, and it's built with an angle of +/- 6°. It has a 31.8mm clamp diameter and will work with 1-1/8" steerer tubes. Rotor is proud to state that the S3x Stem has no rider weight limit and can be used for both road and mountain bike applications.