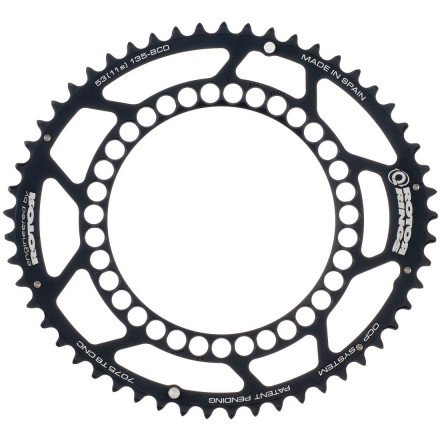 The engineers at Rotor Bike Components developed their original Rotor Crank to maximize the efficiency of your pedal stroke by prolonging the power zone and minimizing dead spots. With these ovalized Road Outer Q-Rings, you can have the majority of the benefit of the Rotor crankset, but you can use the crank of your choice (Shimano, Campy, SRAM, et al). And with redesigned shift pins and ramping, Q-Rings shift without hesitation.
Any assumptions that this is rehashed Biopace are wrong. To the contrary, Rotor Road Outer Q-Rings will help you produce more power and reduce fatigue. They capitalize on the strongest part of your pedal stroke and minimize the negative effects of dead spots. The Q-Rings have a subtle oval shape and, with multiple mounting holes, can be 'clocked' to maximize the effects for your biomechanics, pedaling style, and bike geometry.
The Q-Ring's oval shaping smoothes the pedal stroke through the dead spots and takes advantage of your power potential at the optimum time -- in the power zone. The multiple mounting hole system is called OCP (Optimum Chainring Positioning) and it allows each rider to maximize the benefit of the Q-Rings.
The long axis of the oval chainring should be vertically aligned in the power zone when the crankarms are at or just below horizontal. This position gives the rider maximum leverage, and therefore maximum torque transmission to the rear wheel. Inversely, the short axis of the chainring is aligned so that it nears the vertical when the crankarms are also close to vertical. "...you'll put more power to the ground while taxing your muscles less..." The short axis of the oval creates a shorter lever when you make less power. The effect is a subtle acceleration of the legs through the top and bottom of the stroke and less muscle strain at these traditionally weak points in the cycle. With Q-Rings, you'll put more power to the ground while taxing your muscles less.
Rotor Road Outer Q-Rings are made with hard anodized CNC machined 7075 aluminum. They are available with a black finish. They fit Rotor Agilis and 3D Cranksets and are also compatible with most every crankset and BCD (bolt circle diameter) currently available -- 110mm compact, 113mm Campagnolo compact, 130mm standard, and 135mm Campagnolo standard. They come with 46, 48, 50, 52, and 53 tooth counts.
Please note: The 50t OCP3 110mm Outer Ring is necessary for all BB30 compact, Shimano compact, Quarq Rotor 3D compact, and Easton compact crankset applications due to the shaping of each particular crankarm and the required machining of the chainring to fit. The 50t 113mm Campagnolo compact outer ring will only work with Chorus, Record, and Super Record carbon Ultra-Torque 10-speed compact cranksets. Neither the 113mm nor the 135mm Campagnolo-specific rings will work with 2011 11-speed cranks due to a new fastener design. The 130mm outer Q-rings will fit these BB30 cranks -- Cannondale alloy SI, and Specialized BB30. Fitment with any BB30 cranks not listed may require modification to the chainring for clearance. Remember! Before you break out the dremel tool, please make sure that you know exactly which chainring position you want to use, as there's no going back.
What do you think about this product?
Have questions about this product?
Cheapest way for increase in speed
Familiarity:

I've put it through the wringer
I have ridden Rotor Q-Rings for a few years now, and will never go back to standard round rings. For the price - you can beat the increase in performance - like a $3000 set of ENVES (which I also have), these rings will improve your average mph by 1.5! They look awesome, people always see them and inquire, and my standard answer is "get them!" Even my close group of riding buddies have all converted, male/female alike - and all are glad they switched. You can get the rings and use on your standard or compact cranks - easy peasy install. For Shimano cranks - there is a specific set you must order*. Front derailleur adjustment is pretty easy for the intermediate wrench head. They look like they shouldn't shift - but are dead on. Also, it really does make your pedal stroke smoother. Also, if you have any weird knee pain, these will most likely eliminate that. Get these rings, or the ring/cranks - you will love them! :)
Unanswered Question
Are there figment issues with regard to chainring size for Specialized compact road cranks?
How about compatible with Sram Red Black...
How about compatible with Sram Red Black BB30 cranks?
Best Answer
Your good to go - will work perfect, make sure to get the correct BCD size, 110 for compact or 130 for standard ;) Reuse the SRAM chain ring bolts, and make sure to use LockTite Blue ;)
Actually Carter, after having purchased the normal OCP product, I found out that it is the OCP#3 crank ring that is compatible with the Sram RED/Black configuration. I hope this saves some people the aggravation I just went through with having to deal with "returns".