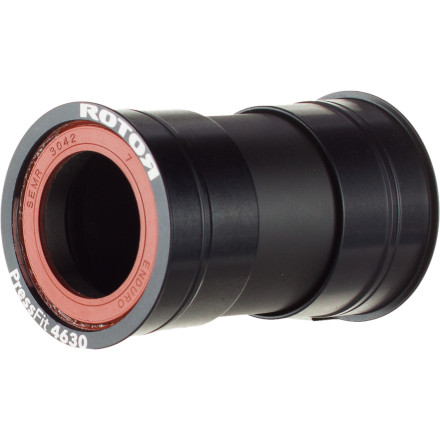 PF30 bottom brackets have never been known for their smooth operation or reliability. With a little help from its friends at Cervelo, Rotor has tackled PF30's problems with its own bottom bracket. The Rotor Press Fit 4630 Bottom Bracket one-ups just about any other 4630 bottom bracket on the market with a reliable, weatherproof seal for your BB shell, longer-lasting, drag-reducing seals, and an ingenious bearing design.
First, Rotor redesigned the seals to eliminate drag while actually improving the weatherproofing, so your cranks spin more freely and your BB shell stays dry inside. Rotor also redesigned the plastic dust seals to eliminate the pressure and deformation these seals cause. Again, this reduces drag for smoother operation. Finally, Rotor developed a clever non-contact bearing design for reduced drag and longer bearing life.
Improved seals & dust caps
Clever non-contact bearing design
Steel bearings
CNC-machined 7075 aluminum shells
What do you think about this product?
Have questions about this product?
Will this adapter fit on a Evo 386 frame?...
Will this adapter fit on a Evo 386 frame? I want to install a Rotor cranset on the bike.
That is a great question. I have done some homework on your compatibility question, and you should have no problem with this Bottom bracket working with the following standards BB30 PF, BB386 and BBright. If you have any additional questions, please feel free to email me at dmyers@backcountry.com