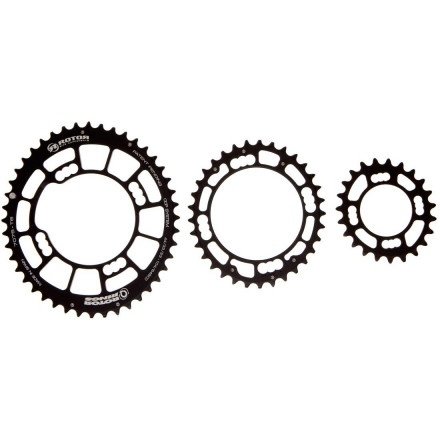 If you have a XTR 970 crankset and thought that you were limited to three chainring options -- little, middle, and big, all Shimano and only XTR. Guess again. The Rotor MTB Triple Q-Ring 970 set will allow you to have the option of their elliptical chainring technology. Even though the 970 crank uses a fairly standard four-hole 104/64 BCD, the mounting dimensions differ from the rest of their lineup. The Rotor XTR 970 Q-Rings are made specifically for 970 cranks.
Rotor engineers identified the traditional weak spots that most cyclists have at the top and bottom of their pedal stroke. Q-Rings use a subtle oval shape to smooth the pedaling through the dead spots and capitalize on your power-making-potential when you can -- in the power zone. Q-Rings typically have multiple mounting holes to customize the effect for each rider's position and pedaling style. They call this Optimum Chainring Positioning (OCP). Please Note: The big ring can only be mounted in the #2 position due to the XTR's crankarm design (most mtb riders use #2 for the big and middle rings, and #1 for the small ring). The long axis of the oval chainring shape is usually aligned to give the rider maximum leverage, and therefore maximum torque transmission to the rear wheel when their crankarms are just below horizontal. Inversely, the shortest point of the chainring is aligned to accelerate the legs through the top and bottom of the stroke and lessen the strain at these traditionally weak points in the cycle. With Q-Rings, you'll put more power to the ground while taxing your muscles less.
Rotor chainrings are made with hard anodized CNC machined 7075 aluminum with details like pins and ramps to give faster, more precise shifting. They are available with a black finish. The Rotor XTR 970 Q-Ring set is made specifically for 970 XTR cranks. The outer ring has 44 teeth, the middle ring has 33, and the inner has 23. Claimed weight for the set is 133 grams.