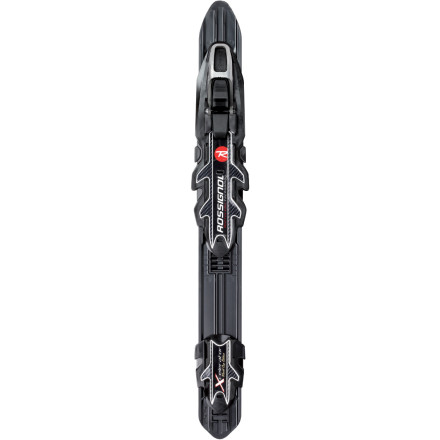 The Xcelerator Skate NIS Binding is the top offering in Rossignol's skate line. However, this isn't just our assertion. In fact, the Xcelerator series bindings from Rossignol, Fischer, and Rottefella are the lightest skate bindings on the market, at a svelte 180 grams per pair. This stems as a result of a 40% weight reduction over its past iteration, and accordingly, the Xcelerator tops the charts in terms of efficiency, energy conservation, and power transfer. But, the Xcelerator consists of more than just a light weight and a pretty face. It's the only skate binding to feature Rottefella's 60-shore, dual flexbit bi-component system. This system enables the most natural freedom of movement for the foot. Additionally, the Xcelerator series feature an ample sized opening angle for greater kick power and stability. So, if your skate skiing is race-minded, bindings simply don't get any better than this.
NIS compatible mounting provides a simple attachment to any NIS-compatible plate on your skate ski. For an appropriate match, we recommend pairing the binding with any of Rossignol's X-ium offerings
NNN compatibility opens up a wide world of compatible boots like the X-ium World Cup Skate
Manual entry and exit provides a heightened level of race-day security.