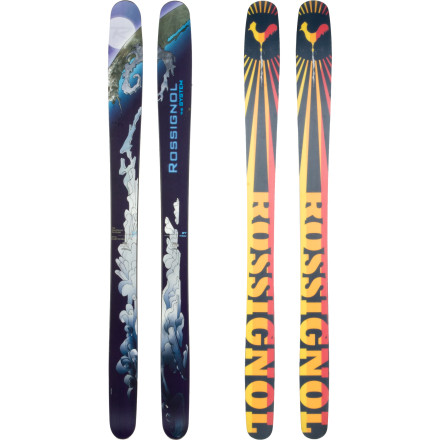 Detail Images

Community Images
The first ever free-heel pro-model, the Rossignol SYSTEM S7 Pro Mancini Ski features a mixed rocker / camber design that slays everything from chunky chunder to face-deep pow. Made with design input for tele-ripper Max Mancini, this versatile ski sports a soft, rockered tip that floats over soft snow and other less enjoyable obstacles, while the stiffer midsection features camber to carve up hardpack. This pin-tail profile puts most of the skis real estate up front and tapers to the tail with some variable sidecut thrown in just to keep things spicy. The result is a ski that refuses to dive in deep snow and shreds on groomers and firm surfaces.
Share your thoughts
What do you think of the
Rossignol
SYSTEM S7 Pro Mancini Ski
? Share a...
These skis are amazing! They are super fun for skiing on any terrain, but especially fun in the powder. I was debating between these and the JJ's but decided to go with these for no specific reason and I am very happy with my decision. These have made this winter so much fun! I'm 5'3 lady and I got the 176s and that seems to be a good size
Unanswered Question
I just bought a pair of limited realese...
I just bought a pair of limited realese S7 Freeride skis (the new 2012 model - green grpahics) and am trying to figure out the correct mounitng position for some hammerheads. They are the 188's.
Unanswered Question
what is the diff from the rossi s7 mancini...
what is the diff from the rossi s7 mancini to the freeride?
S7.... a new ski experience!
I decided to demo new skis this December to see if I could tell the difference with the new ski technology. I have been Tele skiing on a 174cm K2 Work Stinx and do about 60% backcountry and 40% resort skiing. All I can say is WOW when I demo'd the S7's! I have been skiing for many years and have never felt such an elation from something new. I compared the Rossi S7 to the K2 Coomback which is not as wide at the waist but still rockered. I really couldn't tell much difference in the Coomback to my Work Stinxs but the Rossi S7's were something out of this world. The two most significant observations of skiing the Rossi were the turning radius and the "float" or ease of gliding over powder/crud. I am 5'10" and weigh 150 lbs so I purchased the 188cm length. Even though these skis are 14cm longer than my old skis they feel like the turn twice as easy allowing me to do things I may not have done with the K2's like skiing tighter trees or narrower lines. I know the S7's will be heavier to slog up the skin track but for the fun of coming down the hill I would not ski anything else. You gotta try 'em!
Don't leave home without the JJs: Line 100 vs S7 vs JJs
Bought Line 100s (179s) in 2008, S7 (175) in 09 and JJs (174) in 2010. Seventy years old, 185 lbs. At 70 yrs old, speed is not priority, agility is. The Lines and the S7 are faster than the JJs. Both are noticeably heavier than the JJs. The JJs are fitted with Salomon 12 N Ti bindings, very light, and the Lines and the S7s are fitted with Markers. For me the JJs significantly improve ability in powder, bumps, everything.

What a ski. 5 stars for JJs.
System S7 is a Great Ski!
As a 5'10, 160lb male who skis 95% in the backcountry paradise of western WY I find this ski to perform unlike any other when actually skiing. In fact, this ski eliminates the need to 'know' how to turn. Obviously this is not the lightest ski out there, but if you are will to work a little harder the rewards are huge in variable conditions. I have Dynafit bindings and older Garmont Megaride boots and have no issues with the 188cm length as this ski feels like a nimble 170 when in tight trees, but has amazing stability at speed when opening it up. This ski also has the added benefit of being visually pleasant, especially when compared to it's identically constructed alpine brother. Two thumbs up!
I just mounted mine up with Dynafits and I am using the BD Quadrant boot. Hell-of-a backcountry setup! I skied them last weekend at the resort and they rip! Mad the crud ski like powder and the powder was amazing! They even hold their own on the groomers
Unanswered Question
What is the recommended tele (AXL) mounting...
What is the recommended tele (AXL) mounting point for the 188s? Rossi says tele boot center 86 cm from the tail. That will put the pin line for my size 29.5 well in front of the ski's actual center.
Hi, just got a pair of these in the 176cm....
Hi, just got a pair of these in the 176cm. Very excited! Only problem is I can ski them yet because I don't know where to mount my alpine bindings in relation to the tele mounting point as there's no markers! Any advice? I am a girl weighing in at about 58kg and 5'1'' (good things come in small packages) Mainly going to use them for powder and backcountry crud and the odd bit of steep spring snow/couloirs (though I have another pair for this) Thanks for your help! Fi
Rossi says boot center 80.4 cm (31.6") from the tail for the 176s. Does the ski have info about where to mount tele bindings? If so, please tell me because I want to mount my 188s tele. Thanks
My 12 year old son won a pair of these...
My 12 year old son won a pair of these (166) last year and wants to ski them this year. He's 5'2", almost 100 lbs soaking wet. I'm shopping for a binding for them (Alpine). Any suggestions what I should be looking for? He's in an adult 26.5 boot.
I'd recommend the Pivot 14 XXL (115mm brake) or the salomon STH 12. I work in a shop and I recommend these both because they'll fit on the S7, and because their important components are made of metal and are thus more durable. If you're a home-mounter, adjuster, or tinkerer, the STH12 is a more user-friendly binding. The Pivot 14 on the other hand has the highest elastic travel of any available binding, which decreases the incidence of prereleases and allows you to run a lower DIN than you might on other bindings.
Is this a good ski to mount with an AT...
Is this a good ski to mount with an AT binding?
I just mounted dynafits on mine this week and am stoked to ski them... I'll try and update when I see how they work!
I've skies the S7s with dynafit FT12s in the backcountry for a few months now. They're heavy, but I broke a pair of Manaslus last year so I value the security that comes with a heavier construction. If you're mounting Marker Dukes/Barons, you won't be walking very far, but you'll be solid. The dynafit binding is more than enough to steer the ski. The S7 deals pretty well with variable snow, and the shape of the ski isn't contrary to skinning, like a fully rockered ski. In short, solid, versatile, slightly heavy.
beware of wide underfoot skis with the narrow bolt pattern of the Dynafit FT's!!! They just came out with a plate that increases stability by 30% they say.
Does anyone know the weights for the 188cm...
Does anyone know the weights for the 188cm and 195cm?
Write your answer here...I weighed pairs of both the other day. They are 10.3 and 11.5 pounds respectively.
I just bought a pair and am thinking about...
I just bought a pair and am thinking about which skins to buy. Would you go for the Black Diamond Ascension Nylon STS Skins and if so, what size? The 140 mm or 125mm? Thanks.
I've been using the STS skins with these and they work great, though I'd caution against using the split skins, as I've had worse results with those. I'd get the 140 and trim them down, rather than the 125mm, which will leave a lot of the ski un-covered. No problem on the deep days, but when the snow gets harder, I like the wall-to-wall carpeting.
Write your question here...I read all the...
Write your question here...I read all the other Q/A's but I'm still a bit uncertain. I'm 5'8" and weigh only 140lbs. I am an avid, advanced telemarker and this'll be my 13th season at 50+ days/season. I have been on Atomic tele skis for the last 6 yrs and always love the way they ski, but I feel like I'm ready to change over to this S7 Pro Mancini Ski. I just don;t know what size to go with. I always like shorter skis that I can muscle around and just do with them whatever I please, and I've had no issues with shorter lengths and slimmer waistlines in deep powder. My current Atomics are 173cms. Do I go all the way up to 188cm in these or will I be better off with the 178cm length? Help?
these have a lot of rocker and tapered tips and tails which makes them very easy to turn in powder. i think you will be able to handle the 188 but if you like shorter lengths the 178 is not to short. hope this helps
The lengths are 176, 188 actually. They weigh 8.75 and 10 pounds, 5 ounces respectively, so you'll be hauling allot more mass with you wherever you go. I am getting the S7 188s, but I weigh 170 to 180, and I am 6',1".
My buddy who is 5',10" and weighs 160 got a pair of 176s and loves them in pow. I've skied his skis with AXLs on them on corn snow with sun cups and runnels and they were awesome! I advise the 176s unless you live in powder heaven.
Got this last February, was my only ski in Utah through April. Not everybody is sold on the S7. Skis rather short, but for what it is, it's a blast. I mounted at recommended line (86cm from tail). Mancini art much nicer than the other S7s, same ski.
What do you think about mounting the Mancini...
What do you think about mounting the Mancini model with Dynafit AT bindings?
Best Answer
I know a few folks who have the S7/System mounted with Dynafits, and they love them. Personally, I'd put a more burly binding on there. I think it's a pretty burly ski, and should have a heavier, stiffer boot and binding combo to really get everything you want out of it. However, you can't really go wrong with any binding choice for the S7, as long as it's not too old, soft, or low DIN.
yeah, its nice to keep the weight down, its a pretty heavy ski. Thanks for your answer
unfortunately had to get the s7 barras...
unfortunately had to get the s7 barras instead of the mancini due to availability. Mounting it tele. Does the recommended tele mount point on the mancini correspond with one of the recommended mount points on the barras?

Also, everyone should know the biggest difference between the barras and the mancini - $83 (or so) of each mancini sold goes directly to Children's Hospital. Max rocks. Bummed I'm not supporting it.
Same ski. Different top sheet. Different base graphics. If you are mounting them with telemark bindings, you should use the mounting points for the System. However, it wouldn't hurt you to put your binders somewhere between the telemark, and the alpine suggested mounting points. Hope you're putting Hammerheads or Axls on those babies, otherwise, you'll be gyping yourself out of a fine ski and all the performance it is capable of.
I am sure this has been asked before but...
I am sure this has been asked before but I am hoping someone can address my specific situation. I am an advanced telemark skier that can ski any terrain in most conditions. I am 5'9", 165 lbs. and currently ski Black Diamond Kilowatt (175cm) as my everyday ski, with the Black Diamond Havoc (175cm) as my teaching ski (I am a part-time telemark instructor), and the Rossignol Ravyn (174cm) as my powder ski. All three skis are mounted with Hammerheads and I am on Scarpa T1s. The Ravyn skis very short so I was looking for a new ski for my powder ski. I mainly ski the resorts, with some sidecountry and a little backcountry, so this ski would see a lot of resort use. I understand that the general rule of thumb with rockered skis is to size up approximately 5 - 10 cm; however, 188cm seems like a big jump, and I should be in the 182 - 185cm range. Any thoughts? Should I be looking at another ski to fill this role?
Best Answer
Line Prophet 130s come in a 186 and have moderate tip rocker, i have them mounted with hammerheads and really dig the combination. However, the S7s tip rocker is much more dramatic so they might ski even shorter than the 186 Lines. Plus I've heard really excellent things about mounting S7s tele, If you ski aggressively, I wouldn't be too worried about the length...you weigh enough that you should be able to muscle the 188s around.
Check out the Armada JJ 185 (very similar design to the S7) or the Moment Night Train 182 (also very similar design, but slightly fatter).
Also Alex... S7's and 130's ski completely differently
Here's my experience with the 176 cm and 188 cm S7's.

I spent about 50 days (telemark w/ 22D Axl's) on the 176 length and and found them too short and too soft for aggressive skiing. I'm 5'7", 130 lbs and usually ski a 170 cm ski. I recently swapped to 188 cm and after 10 days have enjoyed it a lot more, especially at high speeds in chopped up crud where a longer and stiffer ski are imperative. The extra 18 cm length (relative to my traditional 170cm skis) is of no concern and of no consequence, as the 188's still have a 17.5m radius and short effective edge due to rocker. I am rocking the 188's and loving it!

If I was 5'9" and 165 lbs, I would not be concerned at all about the 188's and would even consider the 195 length.
alpine meadows big mountain comp Strait line