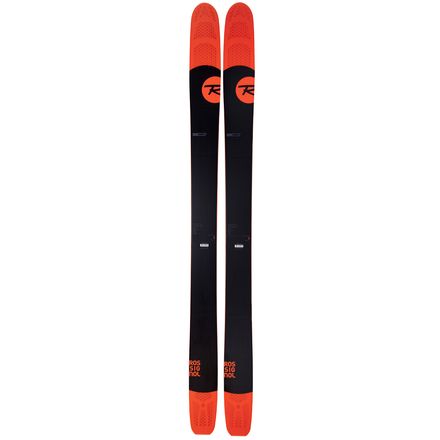 Description
Super sendin' sticks.
The endless succession of floppy, boring powder skis is enough to lull you to sleep instead of psych you up for serious shredding, but the lively, strong, and high-powered Rossignol Super 7 Ski is a giant WAKE UP slap right across your dozy mug. The latest offering in the game-changing 7 Series, the Super 7 is back unchanged from last year and ready to lay down huge pow slashes, stomp cliffs, and rally though chunder like it's late for something.

Rossignol's original S7 pioneered the "fun shaped" powder ski and set the standard for friendly powder skis, and while its influence is still there in the Super 7's slight pintail and gently tapered tip, the Super is a different, more aggressive beast than its forebear. The S7's easiness made it feel noodly when you drove it hard, but the Super's light and snappy paulownia wood core is beefed up with diagonal fiberglass laminates, which give it a stiffness and torsional stability that beg to be driven hard, not gently shimmied through mellow trees. Rossignol's Minicap Sandwich construction combines the stiffness and edginess of sidewalls with the smooth-turning and lightweight properties of a cap, so the Super 7 feels like a beefy sidewall ski when you're pushing it through crud and down big lines, but it moves with the agility and ease of a capped board when you're zippering tight tree lines or ripping soft post-storm bumps.
Tip and tail rocker combined with underfoot camber isn't exactly groundbreaking these days, but it doesn't have to be because it works so damn well. Rossignol pressed the Super 7 into a profile it calls Powder Turn rocker, which features a section of reasonably mellow camber underfoot for hardpack performance and pop, along with rockered sections in the tip and tail that let you slash big turns, powerslide when you want to, and generally make short work of deep, soft snow. To fix the tip chatter that plagues many rockered skis, Rossignol incorporated a honeycomb material into the Air Tip to reduce mass and vibration and even included a VAS dampening layer to give the Super 7 a smooth, predictable feel when you're pushing the speed limit.

Powder Turn rocker (tip and tail rocker, camber underfoot)
Paulownia wood core
Diagonal fiberglass laminates
Minicap Sandwich construction
Centered sidecut
Air Tip with VAS vibration dampening
Look at K2 shreditor 112 vs. Rossi Super 7 with alpine bindings. Taking to AK and already have a set of fatties. 5' 11'' 160 lbs. Advance to expert. Any suggestions or other skis even.
Hey Dallas,

Both are awesome skis. The Super 7 is going to be more nimble and easy to turn, while the Shreditor will be more stable at higher speeds. It just depends on what you're looking for in the skis. Contact me directly if you'd like a personalize experience here at Backcountry.

Ben
what is the appropriate size for 6'1" agressive skier. 180 or 188? Currently he is skiing on a 181 Surface ski.
Best Answer
Hi Mike,

Either length would work great. A 180 would be much more nimble through tight chutes and trees whereas a 188 would be much more stable for big mountain lines..

Ben
I just bought a pair and want to set them up a BC skis. What skins would you recommend?
Best Answer
Hey Jeff,

I'd recommend some Black Diamond Ascension STS's. 125 or 140 width would work best for you.

Ben