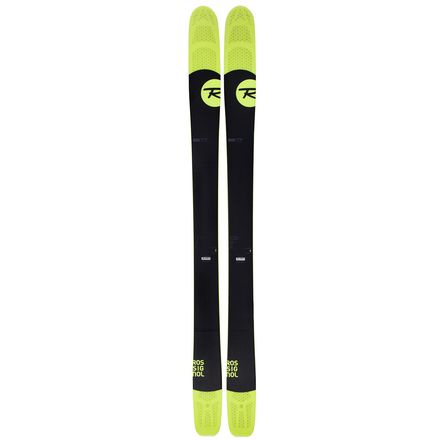 Description
Soul skiing's back.
Most everyone fancies themselves a big-time freerider these days, and while these folks are busy chasing glory, making POV edits, and telling everyone at the bar how rad they are, there are plenty more skiers who are more worried about seeking out soft stashes and secret tree lines. Rossignol's Soul 7 Ski isn't the biggest, burliest, or hard-chargingest ski out there, but it's the perfect tool for skiers who like to ski hard all over the mountain, and are more worried about having fun and skiing well than going Mach 7 and stomping 60 footers.
Rossi's 7 Series has been around for years now, starting with the game-changing S7, and the Soul 7 keeps things pretty true to the "fun-shaped" heritage of that ski. The Super 7 and Squad 7 are bigger and burlier, but the Soul 7's 106mm width and versatile Power Turn Rocker help it conquer any type of snow and all types of terrain, from deep blower to leftover crud to wind-buffed cream cheese to groomers. Power Turn's large amount of tip splay smooths out rough snow and helps you float through the deep, and the camber underfoot provides plenty of stability and edge grip when you're pinching the throttle on the way back to the lift. Rossignol also incorporated its honeycomb Air Tip technology, which lightens the tip to reduce the chatter and flap of old-school tip rocker and lowers swing weight to keep the Soul 7 nimble through tight trees and in the air.
By building the core out of lightweight Paulownia wood, Rossignol kept the Soul 7 quick and maneuverable, and reduced the weight to make it more backcountry friendly. The new Soul also has a slightly more squared-off tail, which allows easier skin attachment. Vertical sidewalls are also new on this year's Soul 7, which give the ski a bit more edging power and a more hard-charging look. And, while it's nice and light, a race-inspired diagonal fiberglass laminate in the core keeps things stiff enough to charge when you're feeling aggressive.
Powder Turn Rocker (rockered tip and tail, camber underfoot)
Paulownia wood core
Diagonal fiberglass laminate
Minicap sandwich construction
Air Tip technology
Vertical sidewalls
Square tail
Unanswered Question
I'm 6' 1", 190 lbs. Intermediate/Advanced Skier in the Pacific Northwest who pretty much wants to ski anywhere but the park. Would you recommend the 180 or 188? Also, how would these compare to the K2 Shredditor 102's? I've been bouncing between the two.
I'm 5'10, 190lbs, ski front and back and I prefer quicker controlled fall line turns to hard charging faster turns. Ski in Colorado. 180 or 188?

Hey Angelo,



I would recommend you go with the Soul 7s in a 188 cm. They do not have a huge turning radius and will ski a little shorter than their true length due to the Powder Turn Rocker. Plus you will want the extra surface area for those powder days! Feel free to shoot me any additional questions.



Kyle
I'm 5'6" 160lbs aggressive all mountain skier. 172cm or 180cm?

Hey Tim,

I'd go with the 172 in these guys. Reach out if you have any questions.

Ben
Best Answer
Tim .. go with 180s .. I am 5'9 155 and the a 172 is just too small. I don't think you will regret going bigger since you loose so much ski in the powder rocker.
Is there a men and women model for the soul 7?
They sure do Tony, its called the Savory 7 http://www.backcountry.com/rossignol-savory-7-ski-womens?
what's the difference between the 2015 an 2016 models?

Best Answer
The highlighter yellow color is the only update on the 2016 Rossi Soul 7s. Feel free to shoot me any more questions on this or other Rossignol Skis.
Is this the 2015 or 2016 model?
Hey Jul! Thanks for your question.



This is the 2015 model.
We are now shipping 2016's
Rossignol Soul 7, Hakuba 47 TRZ Zone
Skied the Rossi Soul 7 in Hakuba earlier this year and it's a spectacular ski for powder and particularly in the trees. Floats very well and turn on a dime when you need it. While it shines in untracked powder, it's solid in chundered powder. Fun solid ski for powder days!



I'm 6'0, 75 kg and had the 180cm.



It does struggle on cordoroy where it takes a lot of work to hold the edge well - the Volkl Mantra and RTM 84 are better on-piste - but when you've had a day of fresh stuff the Soul 7 kicks!
I early ski expirence 88 by rossi...

my height 192cm

my weight 82kg

which one is proper size for me, skiing on all types of terrain...
Definitely the 180 cm maybe even the 188 cm depending on your ski ability. If you are very aggressive then get the 188 cm especially if you like to ski fast. If you take it easy and make a lot of turns then the 180 cm will be the better option.



Feel free to hit me up at bporreca@backcountry.com or 801-736-6398.
Fun, Lively, Not Damp
Familiarity:

I've used it several times
There has been a lot written about the soul 7's, so I' not going to repeat what has already been said numerous times.

One thong though, of all the words that have ever been used to describe this ski; fun, light, lively, versatile, forgiving, floaty, carvy, sexy, custy. One word has never been used; damp. These are not a ski for really hard conditions and in refrozen chunder, you will need a mouth guard to protect against all of the chatter.

A note on sizing: Do not be afraid of sizing up, they ski short.