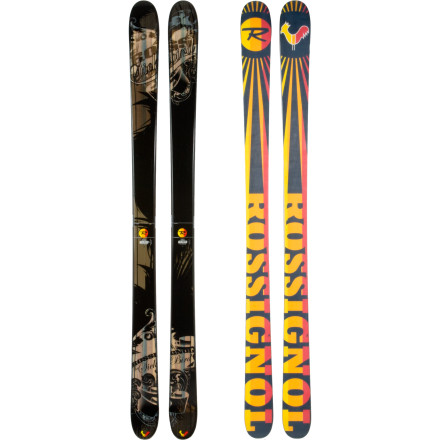 Detail Images
Drop backcountry kickers, skin up alpine ridges, and shred deep pow with the versatile nastiness of the Rossignol Sick Bird Ski. With a twintip design and plenty of underfoot heft, the Sick Bird rules for progressive backcountry schralping.
Vibration Absorbing System uses elastomer material to dampen vibrations and increase stability
Weight Reduction System
Rocking Chair Effect uses increased density underfoot with lighter tip and tail for increased snap, improved balance, and faster rotation
I just spent a full day on these, (178), on the back side of Mt Bachelor. The snow was great but skied out. They handled the left over powder and crud with ease. They were a little questionable in the bumps. Overall they were worth the price and the Hammer binding is great.
I added this ski to the quiver for AT backcountry powder and soft area days. It has not disappointed. It is stiff and stable enough to hang onto choppy groomers for the ride down the mountain but is great for out of bounds in the un-tracked. In deep powder it has a really nice soft and floaty feeling underfoot, very smooth. Flotation is balanced front to rear. You don't have to fight it to turn in deep pow, just rock them onto the edges and they do their stuff. Had to notch the tails with a file to keep the skin clips in place.
Any recommendation on bindings for this...
Any recommendation on bindings for this ski?

What size brake should I be looking for?

Thanks for the help!
How do you mount alpine bindings to these...
How do you mount alpine bindings to these skis? For park use. Not tele bindings.
, ☃bcs_badge_alumni_label☃
These have a mounting plate that will support any Alpine, Tele or AT binding. Drill mount just as you would any other Alpine ski. *I'd suggest taking it to a shop with a mounting jig for your bindings.
Sick Birds are a sick ski!
I like these skis, because they are like a heavier, damper version of the T-Stix 96, and a stiffer, less playfull Hippy Stinx. The Sick Birds are crud busting, park playing, switch landing machines. Not exactly a super wide plank, but adequate for all types of skiing abilities, styles, terrain, and conditions. A good one ski quiver! At 6' and 160 lbs, I like the 185 more, but the 178 is okay. If you tend to ski more powder than groomers, I'd suggest going long. These things are super turny, so a longer ski isn't going to be necessarily harder to maneuver. They are predictable, forgiving, and confidence inspiring skis and will take your skiing to a higher level. I liked these more than Gotamas, Prophets, or other similar skis.