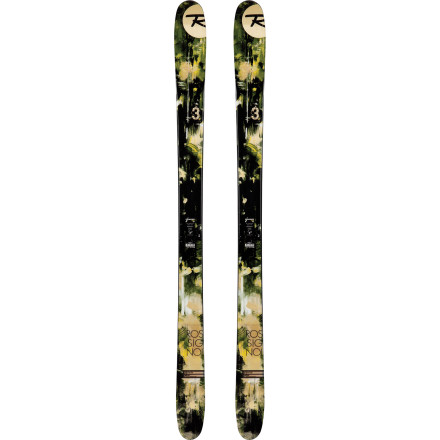 The Rossignol S3 Ski effortlessly blends the best part of a rockered powder ski with the laser-like precision and control of an all-mountain ski. Vertical sidewalls work in harmony with low camber underfoot to give you edge hold when the terrain turns steep and hard, and when you need to drift a high-speed floater on a 30-inch day, the tip and tail rocker are there. Rossignol kept this ski fat at the tip so you'll pop up and out of deep cliff landings, and at just 98mm at the waist, you'll have the maneuverability to slice and dice icy chutes like you're on a gate-crushing race ski.
Powder Turn Rocker is half low camber underfoot and half high rocker at the tip and tail
Low camber underfoot delivers maximum edge grip to enable fully carved turns on hard snow
High-rocker tip helps the ski rise above soft snow and plow through choppy conditions
High-rocker tail allows for easier release of the tail, which leads to a loose feel and easy steering in deep snow
Spoon tip has a tapered shape that tracks through deep snow with less resistance and more flotation
Centered sidecut places the deepest part of the sidecut directly underfoot in order to make this ski feel playful without sacrificing control
Sandwich construction uses traditional, vertical sidewalls that allow you to apply direct pressure to the edges
Wood core gives the ski a lively feel, and fiberglass increases core durability
Recommended binding: Axial2 120 XL
A Hybrid that lacks perfection
Familiarity:

I've put it through the wringer
I ski these with 22 Design Vices and Scarpa T1s, (formerly Black Diamond Seekers). While a beefier boot has definitely made my experience a bit more desirable there are still some issues.

For one, this is not an advanced or expert ski. I ski on the East Coast, where while powder does exist, it is the exception. I like to go fast, in both tele and parallel turns, and find these skis scary at speed, especially in death cookies or moderate ice. The tips get quite chattery, and you can never be sure if the edges will grab, even with a good tune. They will rip on fresh groomers, but don't most skis?

The issue for me, is they aren't stiff. In the bumps, it feels like they are flopping around, and its hard to make assertive turns when edging isn't your best option. The tails feel spongey, which while nice in soft snow, isn't great for much of the time I'm skiing them.

I've made it sound as if this would be a great ski for powder, but alas, I'd pass. The rocker is nice for chowder, (too bad the ski is so soft) but the waist width doesn't provide that much float. They are ok on storm days, as they float a little below the surface, (usually) but come the next day, or blue bird days when you get a bit of windpack, there is no telling what the ski is going to do resistance wise. It's like riding a bucking bronco going between drifts, windpack and fresh as they level out.

The S3's are fun skis, and have a nice level of pop. I wouldn't say they are the most durable, (my tips are very chewed up, exposing the dampening rubber) but I appreciate the sidewall construction.

If you plan on skiing soft snow and fresh groomers, these would be fine. If you want something for deeper snow, I would say there are better options. And if this is what you want as your one ski quiver, I would invite you to reconsider.

In turn, they do the job, but I'm confident there are better tools to get it done.



Also, I ski the 178's, am 120 Lbs and 5' 9''


my wife uses these for just about everything. she's small, only 5'5"and 112 pounds, so maybe they would flex too much for a bigger person? Anywho, they can edge in on groomers, smooth out crud, and give her enough float on pow days. she also uses them for touring, though a slightly fatter setup dedicated for touring would be better. They're also not the lightest skis. so maybe a little more work hiking up, but better control on the way down!
I had these for a few days over some serious variable conditions and I was not overall impressed. I found that the S3 had way to much flex in chopped up left overs. The rip rocker allows you to ski crud at slow speeds but at higher speeds I experienced some major deflections and flex that made me wish I had my TSTs. On some fresh groomers they held their edge great but they defiantly weren't a hard chargers. Anything over 40 I felt like I had wet noodles strapped to my feet. The one day I got to hit some powder stashes I enjoyed having the rocker tips and tails while making quick turns through the trees. I found the tails to release fairly easy in the fresh. Overall this is a good all mountain ski if you're not a real hard charger.
I have owned a pair of these for most of this ski season and have been blown away by them. They are incredibly versatile skis that can handle pretty much anything: hardpack, powder, crud, you name it. I have moved to using this as my everyday all mountain ski here in UT and would highly recommend these to anyone in the mountain west.
Length question: 5'9'', 140 lbs, still...
Length question:



5'9'', 140 lbs, still growing (ish), agressive skier but not ridiculously fast, lots of trees, ungroomed steeps and powder when we get it (think mt baker/west coast canada heavy, and wet most of the time). Thinking about 186 cm since they measure short and have rocker. Too much ski? Also, thinking about mounting +2 - +3 to gain playfullness and switch skiing abillity, i like to jump off everything i can. Will this comprimise skiing abillity/float very much? Thanks
Best Answer
I'm thinking 178, and if you mount them +2, that should put the ball of your foot right over the mid point of the ski (overall, and running surface too, as the rocker is pretty symmetrical).
Super playful quiver-of-one
OK, let's get this out of the way: If you're an alpine skier and like going fast, these aren't for you -- if you're skiing parallel, they get pretty squirrelly at speed. However, if you're looking for a playful, quick-turning, quiver-of-one, this is it. I've skied them in powder, hardpack, frozen granular, and (thanks to a stupid January thaw) corn, and they've been superb in every one of those. The only condition in which they had trouble was tracked, heavy, wet snow -- they did get pretty tossed around in that.



They're great as a tele ski. I'm 5'8", 145 lbs., and ski the 178s mounted with Vices (pos. #3) at +1cm forward, paired with BD Axis boots. In general I would advise going a size up from what Rossi recommends -- according to their chart, I should ski 168s, but I find the 178s still turn on a dime for me. As I said above, if you're skiing them parallel they get squirrelly at speed, but I find this to be less of a problem if you're dropping your knees -- there's more fore-and-aft stability in a tele turn, so I can actually go pretty fast on them. They'd probably be more stable for alpine if you mounted them a little further back, but I find the +1cm mounting really brings out their playful qualities. I wouldn't mount them any further forward than that, though... maybe you could get away with it if you mostly ski park, but I'm not sure it would be worth it -- they already handle great switch at +1.



Don't pair them with a really stiff boot -- they're a fairly soft ski, and you don't want to overpower them. My tele boots have a BD flex rating of 80, and I think they work great with these (my alpine boots, on the other hand, are about a 110, and would definitely be overkill).
Hi there, I currently ski the S7s downhill...
Hi there, I currently ski the S7s downhill & I love them. I'm now looking for a touring ski & it has been suggested as I love the S7 so much I use the S3. Is this ski too heavy? Could you tour on it? Thanks
The 186cm S3 weighs 9lbs 5oz - so not super lightweight but for sure can be toured on depending on your style. If you like the shape of the S7 but want to go lighter, the Voile Drifter, Charger and Vector are all worth considering and will either gain you some width or lose you some weight over the S3.
If you're going on a lot of long tours, I'd recommend something lighter.... But that said, these are certainly not prohibitively heavy, and they are REALLY fun. They handle great in a wide range of conditions and they turn on a dime. They're great as a tele ski, and I think they'd also be awesome set up with some Dynafit Radicals. If you're skiing with a heavier AT binding, though, that would end being a whole lot of weight to lug up the hill.
Does anyone know how I ca find out the weight of the 168cm s3w? Thanks
Fun All Mountain Ski for Quiver of 1
Gender:

Male

Familiarity:

I've put it through the wringer
Unless you are in a situation where weight is an issue (ie touring) this is a great ski. Fun, responsive and flexible, and with a great shape to it. There is a reason that the S3's are so popular. Since this is "backcountry".com I have to say this ski weighs quite a bit and personally would not be willing to haul it around on longer tours.

For purely downhill skis in this price range you just can't beat it!
I'm 5'8", 145 lbs, and looking for a...
I'm 5'8", 145 lbs, and looking for a quick-turning, easy-to-ski, quiver-of-one tele setup. I'll be mostly skiing frontside in New England, and am prioritizing maneuverability over performance at speed. I'm thinking either the Rossignol S3 (168) or the Atomic Access (171) would fit the bill. Any thoughts on which of those would be better for me?
Best Answer
I feel like the S3 has a more pronounced "fun shape" and more of a rockered tail, so I think you could start feeling like the 168 was very short at your height. That being said, I also think the S3 is the easier-to-turn option of the two and it's a super fun ski all over the mountain on pretty much any kind of snow. At 5'11" 180lbs I've found the 186 is a great tree ski that turns on a dime, so you might get away with sizing up to the 178.
Thanks! I was thinking 168 over 178 because I'll be pairing them with a softer-end boot (BD Axis), and thought those would be more able to drive a shorter ski. Do you think I could get away with the 178s even with those boots?
I *think* you will be OK with that boot, but it really depends on how much you rely on the stiffness of your boots to get your skis turned. Given that guys used to drive 215cm straight planks with leather boots, I know it can be done, but we tend to be spoiled in the age of T-Races and Hammerheads.
Haha, true. Maybe I'll see if I can demo a pair once some snow's on the ground. Thanks for the advice.
I was in a surprisingly similar scenario to you, free-heel. I'm about 5'8'', 140lbs and have been a telemark skier in New England for around 10 years. I just picked up the 178 S3's last year and they have been working great for Maine and New Hampshire skiing. They're definitely not made for ice but are fine nonetheless, and as soon as you get into some soft stuff they are awesome. Last year at this time I was also completely torn between the S3 and Atomic Access, and eventually went for the S3 basically on a gut instinct. I skied them all year in Scarpa T2x's with Black Diamond 01 bindings (with midstiff cartridges). This was fine, but I am looking for a bit more power this year. I'm thinking I might upgrade to the Scarpa T1 boot. In the end, I think either ski would be fine, but since they both have some rocker, I would lean toward a bit more length than a 168. Cheers!
Thanks, casp -- good to know those worked out for you well. I'm definitely thinking 178 is the way to go now -- I got to take a look at them in person and now realize just how short the running length of the 168s is. Have you spent much time on them in tight trees or in bumps, and if so, how have they handled for you in that kind of terrain?
Sorry for the late response freeheel- I have spent a fair amount of time in the trees and bumps with them, and honestly couldn't really tell a difference between the S3's and the 165cm skis I had the previous year, which I guess speaks well for the S3s. They are quick to turn, and I've had no problems with them in tight terrain.
Awesome -- just what I wanted to hear!
Rossignol has recommended lengths on their site. BTW, Looking at the 168 Cm S3, it has the same length on the snow as a 185 Armada JJ (about 44"). I only know this as both are in my basement! I picked up the 168 S3 as a dedicated bump/park ski with NTNs and the Scarpa Tx (mounting +1 cm to put the ball of foot about centered on the running surface), and I'm 160 pounds, so we'll see how that works out, but 178, I think, is what the Rossi site would recommend for you.
Thanks! It looks like Rossi puts me just about on the line between the 168 and the 178, but I'm thinking a 168 would feel too short in pow, so planning on going for the 178. Anyone else have thoughts on where to mount them? I want to find the best combo of high maneuverability without much risk of tip dive.... nawrocki, I'd love to know how the +1 works out for you.
Okay, FH, skied them today. I'm 5'9", 160 lbs and 60 years old. They are 168 Cm, mounted boot center +1 CM, Scarpa Tx on Freedoms. This puts the ball of foot just about center. I bought them as a bump/park ski. They have the same running length as the 185 CM JJ, about 44". The first run they were a bit over reactive to input (squirrelly, but only because they were very responsive). They would be too short as a one ski for everything, for me, but I think they will work well for my application. They ski switch effortlessly and are quick edge to edge. Mounted Telly, I'd go 0 or +1, alpine you could go -2, but the sweet spot is huge, so it probably doesn't matter. Unlike the JJ, as you put them over on edge, a longer segment of the edge engages (the widest part is forward and aft of the rocker) and this is slightly noticeable in carved turns (may have contributed to the squirrelly feel the first 2 runs or so), but not necessarily in a bad way, it just continues to increase in engagement. FH, you should go for the 178, IMO, as an all mountain ski. Given the rocker design, 178, even mounted forward, tip dive will NOT be a problem!
Thanks a ton. The 178s are in the mail -- I'll probably go ahead and mount them +1 as well. Can't wait to get out on them!