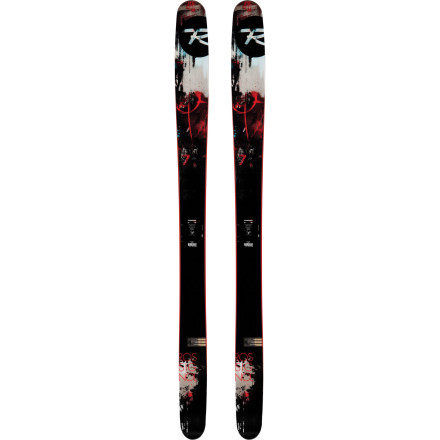 Videos
Two feet of fresh have already fallen, and you're first in line to put the hammer down with Rossignol's S7 Ski. Thanks to its rockered tip and tail and regular camber underfoot, you're able to drop into a powder-filled chute, grab a few face shots, straightline out, and head to your favorite pillow line for some fun. To ensure a lively ride, Rossignol equipped the S7 with a wood core, while a carbon laminate helps absorb vibrations and dampen this hard-charging, powder-loving ski.

Powder Turn Rocker profile consists of 50% high rockered tip and tail and 50% low camber underfoot
High rockered tip and tail enables you to float on top of pow, scream down steep, open bowls, maneuver through chopped-up soft snow, and blast through crud and slushy spring conditions
Low camber underfoot provides a stable platform on hardpack and holds a solid edge on groomers, mogul fields, and in firmer conditions
Wood core creates an extremely responsive, stable, lively, and durable ski that you can count on for performance and longevity
Carbon laminate helps to absorb vibrations and dampen the ski
Sandwich construction uses flat layers and an ABS sidewall at the sides for core protection
Sandwich construction transmits pressure to the edges, makes the S7 torsionally stiff, and boosts edge grip and impact resistance
115mm waist provides a versatile, solid width to surf pow, blast through crud, straightline, and cruise down soft snow to the lift line
Centered sidecut tech features a tapered tip and tail with short sidecut underfoot for improved edge grip, power, easy steering, and playfulness
Awesome
Familiarity:

I've put it through the wringer
Can't believe we still have a pair of these! I love mine. I would say they a primarily my ski for in bounds pow charging. Definitely super stable and fun to rip up resorts, cliffs, chopped up snow, etc. But I've also used them a bit touring and in hot spring conditions and they are awesome there as well. Obviously super heavy for ultra long tours, but on shorter tours they're worth it once you get to the top. I'm 6' 190 lbs. I have the 188 mounted about 3 cm back from true center and they are incredible. I find a lot of pow skis either feel too heavy and cumbersome or too flimsy, these are neither.
Would there be any issue mounting Marker...
Would there be any issue mounting Marker Griffon's onto these with the optional 130mm brake?
Hey Erik,

With the waist on these skis being 115mm, the 130mm brakes will be pretty wide for the ski. If you are getting the Griffon's and swapping the brakes out, get the 115mm brakes for these skis.
This is a bouncy, fun pow ski
Familiarity:

I've put it through the wringer
Its a great set of sticks and even in a 188 or larger you can throw these things around in the deep and in the trees. They're a bouncy fun pow ski.
I am considering the S7 and Super 7. Which...
I am considering the S7 and Super 7. Which would you recommend? Is the Super 7 quite a bit heavier with metal in core?
From EVO:

Super 7 188 weighs 2064g

S7 188 weighs 2267g
I am shopping for a powder ski to use at...
I am shopping for a powder ski to use at the resorts. I am 6 foot 180 lbs and ski aggressive. Love to go fast. But also enjoy skiing the trees and steeps and making nimble turns. I was thinking either the rossignol s7 in the 188 length or the salomon rocker 2 122s in the 184 length. Does anyone have thoughts on the difference between the skis and which one might better suit my needs? Thank you.
the rocker 2 122s have a long turning radius. the 122 waist is great for pow, but for your tree runs and nimble turns, you may not be as psyched. between those two, i would say the s7s. you should check out the armada jj too though; they're designed for being agile in pow and are still fun on groomers.
Bomber Ski
Familiarity:

I've put it through the wringer
Rode an older pair of S7's last year and figured I'd scoop up a new pair for this year. These skis are bullet proof and perform well at all conditions.
I recently purchased a pair of S7 169cm....
I recently purchased a pair of S7 169cm. I ski exclusively in the East - mostly Vermont. Most of my time is spent in the glades and bumps. Does anyone have advice about where to mount the bindings? Forward/Center/Back?
ooooh. I'd say mount them forward, you won't need the float of the deep deep steep charging that you coudl get from the back line, but I mounted them at the middle recomended line (well, on Squad 7s....)
I also just bought some 168 S7's, but am worried i got them too short.. (im 5'9" 150#). do you find you ever want them in a longer length?



Im coming off 151 park/jib skis, so 178's seemed gargantuan, but the internet is telling me the 168's are for midgets...
Just an update for anyone debating 168's/178's. I went back and exchanged my 168's for the 178's. No regrets, the 178's are as easy to turn as my 151 Line Invaders, and float like a cork through the powder. I didn't know skis could be this easy to ride in a variety of conditions.
What's the weight on these?
What's the weight on these?
They're 8.6 lbs. for the pair in size 178cm
Great powder ski
Gender:

Male

Familiarity:

I've put it through the wringer
Makes easy turning in any fresh snow from 3" to 3', heavy muck, light and dry, semi tracked, and crud, fantastic for tight trees. I am 6'3" and 210#, in new snow it floats me up for fun surf able turns and can easily smear to check speed. For getting back to the lift on hardpack or groomed it is a bit too soft and can chatter at speed, the super seven is a better choice if you are big and want to keep your speed and carve the ski on piste, but this ski is money for the pow.
I know it might sound crazy, but these skis are like having your own private driver. "Driver, take me through those trees and don't forget to pop off of that wind drift!"Okay, so maybe they need a little direction, but that is all. Amazing powder skis to say the least.
Hi I skied on Armada JJ 185 for the past...
Hi

I skied on Armada JJ 185 for the past two seasons. I'm 5'9'' @ 145 lb and ski mostly on powder where JJs are great. I had troubles in heavy snow and sometimes a felt the tails are grabbing on pistes. I can't decide between S7 178 and 188. What are the right dimensions of the 178 size? Are they as wide as the 188 but with smaller radius or are they narrower but with the same radius as 188 size?

Thanx

https://vimeo.com/pogli/videos


Hey Pogli,



For the Rossignol S7 dimensions, the 178 cm (140-110-118) is slightly narrower than the 188cm (145-115-123) and still has slightly more sidecut (14.8m for the 178 and 17.5m for the 188). The 178cm size and dimensions does make it a better daily driver ski as it'll handle any hard pack or icy chop better than the 188cm.



That being said, I would first try to detuned the rockered tip and tail points of the Armada JJ before making your final decision. With some skis, their rocker shape has a fair amount of upturn to the tip and tail where if the edges aren't detuned can feel more grabby in those areas than normal. Try it out and see how it goes.
I'm looking for advice for anyone who's...
I'm looking for advice for anyone who's willing to give it.

Here's my story. I am new to skiing but have boarded for 16 years. I had never been on ski's in my life prior to last week but always wanted to ski. I board mostly Utah and Colorodo. I am 5'-8" 145lbs. I rented Rossignol 168cm S3's a couple of days ago and had a blast. This is the best description of my current skill status. I skipped pizza, & by the end of day 2 I am able to keep my ski's parallel, carve big and small turns, ski flat, straight, dodge people etc. and be agressive on blue groomers and for the most part stay out of the back seat. I did a black groomer at the end of the day and felt comfortable but had to carve with aggressive speed checking to stay in control. I haven't been off the groomers or in the trees yet. I generally only board trees and off trails unless conditions are miserable and I want to do the same with skis but I will inevitably get plenty of groomer time. I loved the playfullness and surf feeling of the S3. I have a Lib Tech Travis Rice board that has a similar feel when not on edge. I don't mind the front end wandering around and am used to it. My friend, a very good skier, has S7's and uses them everywhere, resort, sidecountry, pow, heli trips etc and loves them. My question is this. Based on my current status is the S7 too much ski for me? what size should I get? I could turn the 168's effortlessly, what bindings, boots, or other ski's should I put on a short list? I would ski mostly Snowbird, Solitude, Vail, & Alta.
Best Answer
It sounds like you will want to do mainly off-piste skiing, and for that I think the S7s will suit you well. I have S7s, they are my only pair of skis, and I adore them. I ski Telluride, Powderhorn, Alta, and Crested Butte and I wouldn't trade them for anything. In the 168cm length the S7's dimensions are as follows: 136/105/114. In the 178s they are 140/110/118. Even mounted forwards, you will find the 178s to be quite a lot of ski. Probably too much. My guess is that you would be fine on the 168s. You may need to "grow into them" a little, but based on how quickly you're learning, I think you'd find them a fun, stable ride, especially if you already like the Rossignol "flavor", so to speak.



As far as bindings go, get whatever you want. Your height and weight would not have you reaching the upper DIN settings that would require super burly bindings. With boots, it depends on how aggressively you want to ski, but most importantly get something that is VERY snug, but not painful. You will need to sit down and try on half a dozen pairs at least. This is where an experienced boot retailer comes in handy. A good retailer will also be able to adjust the cuff alignment for you, and that's really important. Boots are the place where spending too much and getting something that fits, is comfortable, and works for you is better than trying to save and getting something that doesn't fit and hurts. You'll end up spending even more money later.
I bought a pair last season & they work great here in the Central Sierras. High rockered tip helps keep them on top in our heavier Powder. Love them on Groomers as well, especially on packed powder as long as it is edgeable these skis are awesome.



My research last season told me to go longer. I am 5'9" tall & weigh 165 lbs., 155 lbs. last season when I bought them. I have been skiing on approx. 175 CM length skis in the past. It was suggested overwhelmingly to get the 188 CM. And I am very glad I did. When skiing the groomed, I don't notice the extra length, & really like the extra float in the powder. I also notice they turn on a dime in our tight tree skiing.



So my suggestion would be the 178's for you, mounted at the '0' mark. I mounted mine at 1 CM forward of '0' due to my lighter weight at the time. Most heavier guys were saying 1 CM back from '0'. And now with my added weight I am considering moving them back.



Great skiing to you, You will love this ski.
I am 5'7" tall (165lb) at an expert level and I bought the S7s 168 cm last season. I totally regret that decision as I felt very unstable on the groomers and not so on top on powder.

I learned that rocker skis need to be in between 15 ~20 cm over your regular ski size because they ski shorter. The reason? The twin tip and the rocker. Finally this season I bought the 178 cm and I feel I have great flotation on powder and good grip on groomers. My daughter Patty (slightly shorter than me) tried them and went to ski powder in between the trees with great confidence. She has not returned them to me until this date..., seriously!
Are you a life long skier? As a snowboarder turned skier myself, these will work out. they are a little more advanced than I would choose to start out on. I would suggest looking into the Lib Tech NAS or k2 hellbent. Both these skis ride like snowboards both with the edging and turning and less like carving skis. They surf powder! And most of all are more forgiving on the learning curve. We have a saying at Crystal mountain "K2 Hellbent: Making awesome snowboarders, OK skiers"
I'm 62 and ski the steep and deep every day. Been skiing since I was 15.

The rossi S7 is my current ski. It's the best ski I've ever used. You can fly in the deep powder with tremendous stability. The ski is super responsive because you are primarily skiing on a very short running surface which is the distance from the upcurve at the tip to the upcurve near the tail. If you have ever skied on super short skis you know you turn them very fast. I use 188s which are just about my height.



The tip of the S7 seems perfect, for me it turns intuitively. I don't even think about it and goes exactly where I want. I ski crud and powd daily and the ski is reasonable on hardpack and icy stuff where most any ski is not quite good enough.



The tail is the ski's most fantastic quality. Being strongly upturned provides super controlled smearing. It is the easiest, least catchy (during a turn), tail I ever skied. It never throws you. You can dump speed like non other.

If you are skiing a narrow steep shoot where you have to dump speed but there is nowhere to turn the ski still dumps speed while going straight and the tail and tip don't catch and throw you.



I've heard of quite a few people who don't like the ski but I can't understand why. I think they have a psychological hang up on it. Give it some time and you will never find a better more versatile expert ski.

There is one drawback which is well worth the positives and that is the tail catches occasionally on the other tail when skating or working on long hard uphill climbs. Mainly due to being tired while climbing or skating. If you are in super shape and young and aggressive you may prefer the Super 7 since it has a metal plate in it and gives it a slightly heavier but more stable performance. Being older and I ski with more turns rather than flat out speed I much prefer the S7 as a lighter easier turning ski.
Love It
Familiarity:

I've put it through the wringer
Using the S7 as my all round ski in British Columbia, mostly in-bounds, but also touring. Mounted with Axl Telemark bindings. Love the ski - it has been awesome skiing powder, and I can still get edge control on the last bits of groomer to get back to the lift. I've found them very stable to land on, and will take a lot of speed before I get any chatter on hard pack. Not so nice on ice, but that's not what you'd want the ski for. Very easy to turn, and ski shorter than their length (I'm 163cm, 60kg on the 178cm ski). Much easier to ski in the trees than I thought they would be because of this - short contact points plus tip and tail rocker. If purchasing online, keep in mind that the 178cm ski is NOT 115mm underfoot, they are infact 110mm underfoot! Didn't bother me as a short and light skier, but would be pretty annoying if you were buying online I reckon. On a scale on 7-63, I give these skis a rating of blueberry pie :D
RAD
Familiarity:

I've put it through the wringer
Awesome Awesome Awesome Ski! My favorite ski of all time!
Never dissapointing
Gender:

Male

Familiarity:

I've used it several times
I can't believe this is the first review of the year- perhaps everyone has switched to Rocker 2's or JJ's by now. Too bad, because this ski deserves 5 stars every year it comes out, right up until they make something better.

I've put a lot more days on the Armada JJ myself, but the S7 is not a lot different. It's very turny- I'm 5'11", 185 lbs, and found the 188 skis like a 170. Also, it straight FLOATS, as you could imagine. The days I had it out were very deep, and at no point was I worried about going under and not coming back out.

What I love about skis like this and the JJ is that you get the best aspects of big, super fat skis, which is the ability to float at ease. But unlike super fats, which tend to keep you on top of the snow, you can dive into the depths, swivel around a bit, and then pop out when you want. Overall, I feel there are more turning shapes/types with a ski like this.

As a comparison, the S7 does feel softer than the JJ. It's not a big difference, but I think the JJ holds an arc on hard snow better.

The S7 is also an awesome touring option. I see a lot of these in the backcountry in the Wasatch, and for good reason.
I don't keep a large quiver of skis. My S7s are my only pair. They're good in the bumps, carve like they're on rails, and could not be more fun in the powder. They are stable, confidence boosting skis, best suited for an advanced skier. In one day they changed the way I ski. I was skiing harder and faster and having more fun than ever before. Love love love them. I am a female, 5'7", 150 lbs, and I am happily skiing the 178s. SO glad I didn't go for a size smaller, especially because the 168s are also narrower under foot.
I was wondering how these skis compared...
I was wondering how these skis compared to the Armada JJ's. I know they are pretty similar, but I'm looking for the most bang for my buck. I'm going to be using these for some BC but mainly resort so I was wondering how they do on the groomers.
Best Answer
Funny you should ask. I have a pair of 185 JJ's mounted boot center over the recommended mounting line with the NTN Freedom binding (telemark) and the Scarpa Terminator X three buckle boot. I've been on these for 3 years now and can't say enough good about them. Two days ago I was skiing with a buddy on 188 S7's also mounted with the Freedom binding. His boot is a bit bigger, mounted boot center over the recommended mounting line. Because of this, skiing it in my boot puts me about .5 to 1 CM forward, at most (not enough to be a big issue IMO). The S7 felt a bit lethargic compared to my JJ's - the tails didn't seem to come around as easily. The conditions were about a foot of new snow, slightly cut up at The Canyons Resort, on Dreamcatcher, if that info helps. If you like the rocker design and want something lighter than both, for backcountry, you might consider the S3. I found them to be a hoot and very easy to drive. I also found the S3 fine for groomers in Utah (back east, I'd go for something more along the lines of the E98). If you are willing to use the S7 in the BC and you don't own the JJ, you need to try them!
Thank you that really helped!


Do they make skins for this ski?
Do they make skins for this ski?
you can cut them youself if u get the black diamond ascension 130 that'll work well. its what i use and i love it!
I currently ski 177 Mantras, am 5'10 170...
I currently ski 177 Mantras, am 5'10 170 lbs. Are the 188's the right size here? I know actual ski is less than that due to the rocker, but 188 still seems like a big ski for me. Any thoughts/help would be great
Best Answer
Hey brendan.ma1803150,



Thanks for the question. If that Mantra feels like a lot of ski for you then the 188 S7 will be a bit too much. If that is the case and you're looking for a more powder/big mountain ski to add to your quiver, I would look to a ski closer to the 182cm to 184cm size.



If those Mantras do feel a bit short for how you ski, then I do think you could pull off a 188 S7 due to the amount of rocker length.
So the 178 would be too short in your mind?
Brendan...



In my experience, these skis feel much shorter than their actual length. I was on the 188 and felt like I could turn on a dime. As Wally mentioned, these have a lot of rocker.

The S7's are also a softer ski than the Mantra, which will make initiating a turn much easier.

Go with the 188 and obtain happiness.
anybody used this (or last year's) with...
anybody used this (or last year's) with tele bindings? hammerheads?
Have same question as Jordan...considering these vs. G3 Highballs w/ hammerheads. Any thoughts / opinions would be appreciated. Thanks!
Skied them all last year. Running 22designs Axl so I could skin them too. Super fun ski in most conditions, obviously best in deep and soft, but pretty entertaining on all days. Pretty big feeling ski, nice and solid.
I ended up going with the SkiLogik Howitzers instead, similar ski but slightly stiffer, with hammerheads. I'm sure you can't go wrong with S7's though.


Note my answer above, skied on NTN Freedoms and Scarpa Terminator X three buckle boots (they were plenty capable of pushing the ski around in a 188).