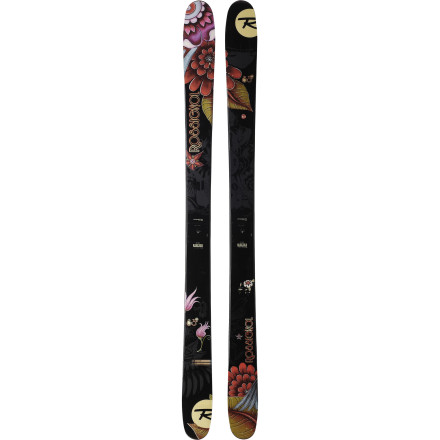 Every day of the week, that big behemoth of rock you call a mountain might be plastered with fluffy, chalky, icy, and sticky snow from top to bottom, and the Rossignol Women's S3 Ski provides the shred sauce you need to rock the whole damn enchilada. From headwall to hobacks, cirque to creek, this shapely lady makes anything white feel right. Slap skins on it and lead the powder parade while the slowpokes lag behind, and then drop in first with the S3's tip floating like that cork in the hot tub last night.
Powder Turn rocker in the tip and tail provide excellent flotation when the going gets deep and fluffy, while low camber underfoot handles the race back to the tram
Sandwich laminate construction features a wood core, power-channeling vertical sidewalls, and fiberglass laminates for increased durability and a lighter feel
Nothing but a wood core could give you such a powder-pleasing flex while not taking any crap from the lower mountain's bumps and chunks
Centered Sidecut tapers the at the tip and tail for better responsiveness while you blast through thick trees amid a pulse of faceshots
Spoon Tip keeps your skis on top of the deepest, most delicious snow in the west, but also aids breaking trail during covert pow missions across the street
A Weight Reduction System includes more fiberglass underfoot and less in the tip and tail for a soft, turny feel made for powder but ready for anything
Unanswered Question
Is it possible to find out what a pair of the 159's weigh without bindings? I have scoured websites and cannot find this information anywhere!
I love my Rossi S3!
Gender:

Male

Familiarity:

I gave it as a gift but have feedback to share
A review from my cousin who I gave them to:

"I was a little skeptical at first because of the larger underfoot width but can now say that the extra bit under my boot gives me more confidence than I ever thought possible. The rocker in the tip and tail also helps out in making these slightly larger skis much more maneuverable in all conditions. I was originally just going to use these as my powder day skis but love them so much that they are now my everyday all mountain ski."
I want to buy my wife the Rossignol S3. ...
I want to buy my wife the Rossignol S3. She's 5'4" weight 125 Intermediate +. Use for powder on snow days. What size would be best 159 or 169. Currently skiis a 154 Vokol. Also good choice of binding?
Hey Dukp.

Im about the exact same size, but an advanced skier.

If your wife is happy on the 154cm Volkl, I would recommend going with the 159cm Rossi. 169 may be a bit more than she is ready to handle when initiating turns.
I'm a 5'4" advanced skier. I ski a 160cm Rossi and I really appreciate the shorter length. It makes for quicker turns in tight trees. The shorter the ski, the easier the maneuverability. For an intermediate at my height I would not recommend anything longer than a 160cm.


I'm 5'8", 140 lbs... intermediate to...
I'm 5'8", 140 lbs... intermediate to advanced skier.... what size ski should I get?
You may have already decided, but for future reference for others, based on the info, I'd say go for the longer ski, 168cm. Since this ski has a rocker profile, its going to ski a little shorter, not sure what the equivalent length would be, but it isn't 168. I'm 5'2", around the same weight, and an aggressive skier and I have the 168cm length and skied that all last season and loved 'em. You can bomb through anything on these guys!
I am 5'8" and 125 lbs...have always skied a 165+ ski, had the 173 Soloman Geisha and wasn't happy....rented the 159 S3 yesterday and have never skied better in my life. Full confidence, tons of powder and moguls and I skied right through it and around the bumps with ease. These flew for me, so no loss of speed that I could tell. I'm considering buying a pair and probably will stick with the shorter 159 ski. Not sure what the benefit would be of the longer ski and the maneuverability of the shorter was phenomenal...just my thoughts.