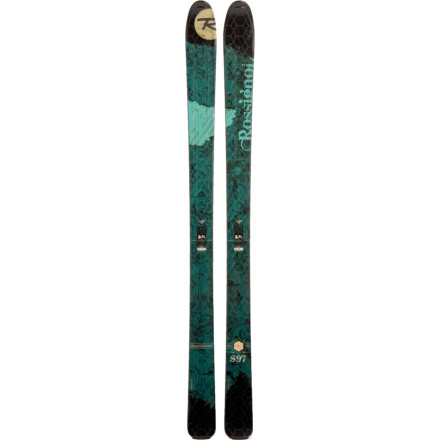 Community Images
The Rossignol S97 Ski glides through powder with ease and busts through crud like a champ, so it's no wonder alpine, telemark, and AT powder hounds flock toward this versatile, freeride ski.
Poplar wood core sandwich construction (wood grown in renewable tree farms) allows for a stable ski at high speed, increases the ski's durability, and facilitates rebound
Traditional camber underfoot gives you excellent edge hold on groomers and hardpack
Reverse sidecut allows for a buttery-and-slashy feel in the powder and precision on hardpack
Freeride tip (65mm) improves turn initiation and flotation in all conditions
Vibration Absorbing System dampens vibrations and adds control and stability, and increases contact with the snow
These skis are stiff & stable, and they must be skied hard for best results. Not surprised they stopped making it really, they would need a bit more tip rocker to fit in now... but then you'd loose the carving sidecut that made these things good on the ice. They dive a bit in deep pow, and are a little twitchy on styro, but they crush the packed powder & crud. Racers would like these.
i am thinking about purchasing this ski....
i am thinking about purchasing this ski. this year i skied on the S3 98 in breckenridge and the s80 in stowe for some spring skiing. both skis were great.

i am mainly an east coast skiier so i am wondering how this will do as an east coast ski and how it compares with the other two i used this year.

thanks.
This ski is goin to be a little on the burly side. If you are a hard charger who likes to go fast, and carve turns then this is a good ski. Its more powder specific and the east coast isn't known for their powder. The S80 is more of an east coast ski. The S3 is also a powder specific ski which is a lot more playful than the S80 and the S97.

In conclusion, if you are an east coast skier stick with the S80. But if you plan on making a couple trips out west during the season, go for the S97. It'll make skiing a lot more enjoyable during the deep powder days out west.
Revival of the bandit series
This ski reminds me a lot of the bandit series that rossi had a few years back. This ski is there big mountain, hard charging sort of ski. Its not huge in the waste, so its versatile both on and off piste. Some problems I have with this ski is it doesn't have a rockered tip. Its fairly heavy (like most if not all rossi skis) And its just not my style of ski. I used to ski the b94 bandit which is very similar to this ski, and I didn't see a difference. Its not a playful ski. So if you're looking at goin fast and getting deeper into the backcountry then, yes, check this ski out. But there are plenty of better choices, at the same price.
I have the white 2010 Phantom SC97. Im...
I have the white 2010 Phantom SC97. Im wondering if the new green/black 2011 S97 is the same ski, or perhaps changed a little? Maybe a little softer? Can anyone tell me?
same ski, different topsheet, but rossi may have changed the names on some of the "technology"
great all round ski, some possible improvements
Great ski, no complaints with the quality but let's face it... ROCKERS ROCK. I loved these skis till I tried the rossi S3's which are rockered twin tips. I have 186 s97's and I demo'd 189 S3s' the difference was incredible. These skis are super fast but not as quick at turning as the S3. I loved my s97's until I took a ride on the s3's. every movement is quicker and easier on the s3's due to the lesser surface area on the ground. s97's were great skis, but now primitive.
I live in Whistler and find this to be the perfect 'everyday' ski for here. Great in powder and excellent on groomers as long as you like a larger turn. It is good on anything aside from extra hard snow and ice. Mine are rarely sharpened due to our normally softer snow. As far as I know, the ski is the same in 2010, but with nicer graphics. I would recommend this anyone living in or near a western resort where softer snow is the norm. Love 'em.
i now ski rossignol xxx 185cm and love...
i now ski rossignol xxx 185cm and love them. I ski trees in the east, and would use this for that as well as in bounds out west. How does the 186cm s97 measure this length, longer or shorter? Also how does it compare to my rossignol xxx?
I liked the older XXX especially the white and black version, It was a stiff , damp and stable ski. The 97 is the best rossignol I have been on since that ski. It is stable and confident and smooth as heck. A worthy replacement in my mind. Size should be fairly comparable.