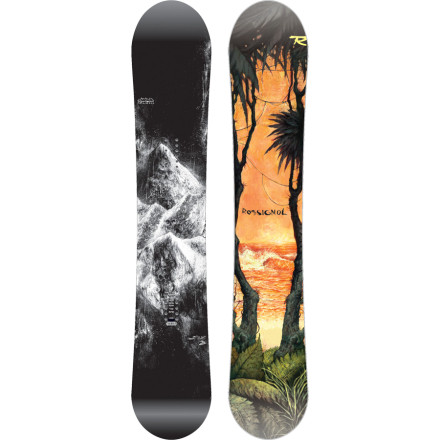 Detail Images
I'm a newer, intermediate rider...up to...
I'm a newer, intermediate rider...up to this point, I've just been renting a board...usually 150 to maybe 154 at the longest. I'd like to have my own board for next season. Generally I'm just riding the mellow blues, maybe an occasional olly...but might evovle into more. I'm 5'8" and 168# Would this Jones board in a 158 be a good first purchased board for me given the above? Thx!
It will obviously be a good big-mtn board, but because you're on the smaller side, it will be a little harder to handle in groomed or thin conditions. If you really like the board, though, you'll adapt to turning harder, and it will be a more enjoyable ride. I got a board a bit larger than I wanted, but use it for powder more, and turning with every bit of my heart and soul is just an awesome feeling! Lol, good luck man
Where is the Jones made?Also - any info...
Where is the Jones made?Also - any info on the 2010 model, supposed to have magnetraction, and rockered tip...thnx
doubt it has magnatraction cuz thats a lib thingmi_canuck: it will... http://southofthenorth.blogspot.com/2009/01/sia-is-go-rossignol-2010-snowboard.html
This board is made in Spain, The 2010 model will have Magne-traction as well as a rocker tip. I rode the board about 20 days this season, it took some getting used to but rode amazing, like nothing out there.
Best most solid stable in control board ever ridden arbor / custom x for boardercross rosi. Jones for BIG FREERIDE.
BEST BOARD I EVER HAD and i tried many- so stable let this board really get going lay into it as hard as you want and you wont find a more solid in control board on the market!