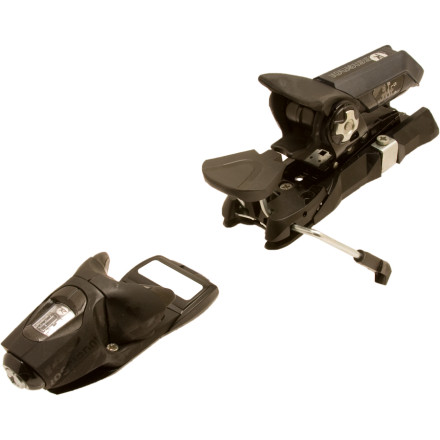 Detail Images

Community Images
I've had multiple pairs of these bindings and really have no complaints other than the fact that they're a bit heavy. Good function, solid and zero pre-release. A good buy for sure.
I'm considering buying these bindings, but...
I'm considering buying these bindings, but would the 100mm brakes bend to fit a 115mm ski waist?
Thanks!
There's already a little leeway on brake size (they don't graze the ski precisely) so getting them out to 115 shouldn't be too difficult. They won't reach down as far, but they'll certainly be functional. The other option, and I don't know how urgently you need them, is to wait until more of the 120mm size come in, which would obviously work without bending. I'd say call or chat with someone at Backcountry (upper right corner of the page) to see how long the wait is for the 120s, then decide from there whether you want to wait. Hope that's helpful.
I have these mounted on my Moment Bibby pro 190cm. I should also mention I have an older version of these mounted on a pair of Head Mojo's. I trust this binding to give me the perfect balance between not pre-releasing in no fall zones and letting me go when my ACL is screaming for help. When these are properly mounted and tested they should perform wonderfully for any level of skier given their big din range (4-14). Over the years I have been taught that you never want to dial a binding within 2 of the min or the max. So these are designed for people skiing in the 6-12 din range. They are not quite as burly as the Freeski2 180 but they do have similar metal reinforcements in key places such as under the heel. The wide mounting pattern also increase performance for skiers using a wider ski. In my opinion they are durable and will last a few seasons.
yeah these bindings are excellent, they are light and hold your boot in very nicely...I'm an all around park, moguls, trees and groomers skier and these have held my feet onto my skis.
Haven't used them yet, just had them mounted, but I'm too stoked for the season to not write something. Just threw these mounted on a pair of hellbents and despite the 122mm waist no bending of the brakes was required. I'll update as I use them, but for anyone wondering about ski compatibility there should be no issue with anything less than 125mm underfoot; maybe even 130mm.
Hey, I just bought these, and i cannot...
Hey, I just bought these, and i cannot figure out how to change the din on the heel piece. Any helpp???
I got ya covered. Put your boot into the binding, lock it down, so the heel piece of the binding is in the up position. Take a large Philips screw driver or posi-driver and twist that screw in the heel piece, and that will adjust your DIN. You should be able to see the DIN change.
This is really a step above the Rossignol Freeski 12 and Look PX 12 binding. The reason for that is that it has a 14 DIN spring as well a metal reinforcements over the rear screws. This extra metal in the construction helps to eliminate the problem of base plate cracking.

This is a great binding, not quite as good as the Rossignol FKS 14 or the Look Pivot 140, but it is still a solid offering, and still much better than the competition.

This binding has a very high elasticity and a very wide AFD, to give you the control and ability to recover that you need if you are charging hard.
Look and Rossignol co-brand these binders.

All skis in my quiver are mounted with one of the two.

Reason = NO PRE RELEASE !

I weight 235. Boot sole length 326. Height 6'1".

I DIN out at 8.5.

Set these binders at 8.5 and ride with confidence.

Other binders have fancy features - but if you want to rip and never think about turning out of your toe as you slalom through the broken trees in lower Tiger Tail - buy these !!!
Well I used them twice before the end of the season and they performed very excellent both times. They are pretty light on my S5's and work great for stomping landings and making solid turns. I am really liking my new combination for all mountain skiing.
Got a pair of Rossi s5 jago's and trying...
Got a pair of Rossi s5 jago's and trying to deciede between the rossi 140xl binding or the marker griffen? What do you guys think?
What are the differences between the Rossi...
What are the differences between the Rossi freeski2 140 xxl and the Dynastar PX 14 Racing XXL
Very little Rossignol and Dynastar Bindings are both made by Look.