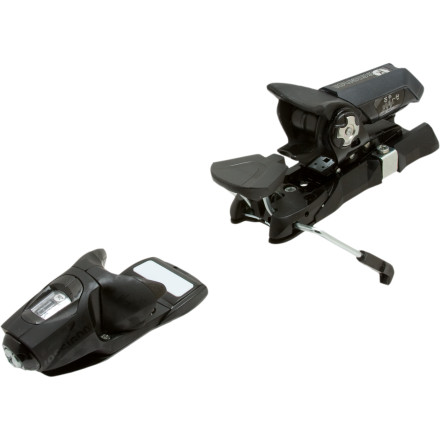 Detail Images
Designed to tackle any terrain without weighing you down or holding you back, the Rossingol Freeski2 120 XLl Ski Binding locks you to your planks in steep, deep, no-fall terrain. Metal casings and titanium lateral arms provide durability no average binding can match, and the widened platform provides increased power transmission on today's obese freeride skis.
Share your thoughts
What do you think of the
Rossignol
Freeski2 120 Ti XL Ski Binding
? Share a...
Unanswered Question
should i go with these or the fks 140 for...
should i go with these or the fks 140 for my new k2 revivals?
Unanswered Question
Does anybody know the difference between...
Does anybody know the difference between these and the old Axial2 140? Other than the din, the plate seems a bit different. I want a binding for park and cant decide to get the old axial2 (my friend is giving them to me brand new for 100) or just buy these. I ride park and fear that the riser plate is maybe too high on the old ones
If you can't quite afford the Pivot/FKS series bindings from Look/Rossignol, these are a great alternative. They have almost the same elasticity, their toe piece has the same width AFD, but this binding is slightly heavier, their is no turntable feature on the heel, the binding sits up higher on the ski and has a longer mount zone (so you feel more binding under your feet), and the construction is half plastic (which makes it quite a bit less burly). You could also check out the Freeski2 140 or PX 14 binding from look for a slightly stronger setup and still a lower price than the Pivot/FKS series.

I still prefer this binding over most other brands 12-14 DIN bindings. I also want to mention, that if you can afford to do so, get the Ti (titanium) version of this binding, it is lighter weight. The nice thing about the Freeski2 version of this binding is that they added a heel screw reinforcement over the most aft screws. This helps the binding immensely in terms of strength.

I also want to point out that this binding brake will not be too wide for skis that are 80mm wide. Nor will it be too narrow for a ski that is 120mm wide..if your shop knows what they are doing.
So this is a great binding but selling for $50.00 less on REI.com.
I am loooking for a binding for my daughter,...
I am loooking for a binding for my daughter, 115 lb, 5'4", intermediate-expert and skiing back east. Any suggestions?
At her size, you won't need a DIN range up to 12, so probably look at something around a 10. It will be cheaper, lighter, and keep her in the middle of the range, instead of too close to the bottom.
would these bindings work fo someone who...
would these bindings work fo someone who is 105 lbs and has their bindings set at twelve
You generally don't want to rock a binding maxed at like that.

But at 105 pounds, you'll rip your entire leg off before you have to worry about the binding getting a little weird at its max DIN setting.
Yeah I agree with Phunk, maxing your DIN is scary business, but maxing a 12 when you weigh that little... I seriously doubt you need to run that high at all, but if you do, look at a binding that has a higher DIN so you don't top out the spring, so at least a 14, if not a 16.
The shipping weight is 5.84lbs, for the pair.
This is a good budget binding. I slapped them on my S4's and they rode great in the backcountry and park. Sticking big landings isn't a problem and I don't have any problems with pre-release. They are also very lightweight. Although, for the money, I'd probably get the Rossignol Freeski 110's. I rode these on some demo S4's and couldn't tell the difference. Will save you about $80 too.
These are pretty good bindings...nice and lightweight while still remaining durable. The 12 din works for me as I always ride my bindings at a 9 or 10 din setting. Overall a great binding thats lightweight and durable.
Does anyone know if these bindings ride...
Does anyone know if these bindings ride flat or if there is a height difference between the heel piece and toe piece? Also, it doesn't look like this model has jibs beneath it (as seen in PX 12 Jib), is Rossi planning on releasing a park version of this binding?
These do ride flat. Not sure they are releasing a park version, but I use these in the park and they are just fine. I don't have any problems with pre-release and they seem to absorb big landings. Great budget binding.