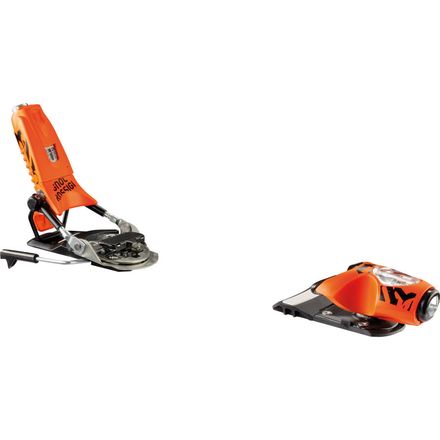 Detail Images

Community Images
Description
A solid big-mountain binder that puts your mind at ease with its reliable retention and consistent release.
Crush the fear of pre-release and dominate sphincter-clenching big-mountain lines with the Rossignol FKS 180 Ski Binding. This 18-DIN monster has a widened footprint that gives the ability to transmit every twitch, tilt, and pressure change in your boot across the entire width of your favorite fatties so you can easily make big moves on burly lines. Plus its unique turntable-style FKS heel and cleverly designed toe offer you the most reliable retention and consistent release in its class.

DIN range of 8-18 delivers an exceptionally solid, reliable binding for big-mountain hard-charging skiers
Wide mounting zone supplies better contact with wide skis
All-metal reinforced housing increases binding integrity
Pivot toe provides four points of contact with the boot for maximum power transmission, has 180-degree multi-directional release for reliable release, and high vertical and lateral elastic travel for increased shock absorption and reduced inadvertent release
72mm AFD reduces friction during release
FKS heel delivers reliable retention and consistent release due to 25mm of elastic vertical travel which reduces unwanted pre-releasing, three points of contact that firmly hold the boot heel, and a heel piece that rotates with the boot directly under the tibia
FKS heel has a short mounting zone to provide deeper, rounder, more consistent ski flexing, turning, floating, and smearing
Lateral Travel: 40mm
Low Ramp Angle: 0.0deg
All I Ski
Familiarity:

I've put it through the wringer
For the past 5 or so years this is literally the ONLY binding I have trusted, and the majority of my close friends feel the same way. For a while I tried out different options but always came back to these.



For reference, I ski over 100 days a year, hard. Park skiing on big jumps, cruising through chunder, and attempting to fling my body off of cliffs. I am 6' tall and weigh around 190 lbs.



I was trying to think of how to truly express my love for these, but I cannot put it in to words.



Just buy them already.
What size brake will i need to pair with the super 7 ski? Thanks in advance.
The 115 mm is the perfect break width. They will bend the break .5 mm to make it fit like a glove!



Feel free to hit me up at bporreca@backcountry.com or 801-736-6398.
Back on the wagon...
Familiarity:

I've put it through the wringer
I love these, I hate these, I haven't been able to break these. So I'm back, after a long affair with Tyrolia's Peak series. Let's face the facts you are reading this because you are tired of breaking your shitty plastic name brand bindings *cough, Marker, cough. Am I wrong? You want to know if these heavy ass, bright colored, sometimes anal probing, gouch maiming ski boot retention devices are worth it?

They are, period. end of sentence(kinda)
They are strong, so strong they add several noticeable pounds to your full carbon, spoon rocker tipped , $1600 mid-life crisis skis.
You will feel their bite as you backseat that jump, and you will think about your purchase. (pooh, on buyers remorse) This is also a great training tool for air awareness and proper landing. I never though ski bindings would teach me to stick that landing.

Tricky to adjust the forward pressure. Thank god for those rental shop techs! ( Insider Advice: You tip a Waiter because they have access to your food before you eat it. The same goes for the shop rats. They do hard work and $5 or a piece of the "peace offering" in your pocket won't set you back.)

They take some getting used too. The step in process requires a bit more "finesse" if you will. Make sure toes and heals are free of ice/packed snow yada yada, pizza, french fry. You can ski away with these things on but not quite in. Which brings in the color factor. BRIGHT ASS ORANGE for when you think you're clicked in and that 65" of fresh has fallen on your comp venue in Taos, NM during the FWQ. You drop, driving one ski into a rock trap and POP! You are contestant number 20 whose lost a ski that day and delayed the comp, again. (way to go bud) BUT, the bright orange seems to pierce through the snow and say "Hey, stupid we're over here!" You pluck it from winters grasp and finish your run (DQ'd) before they even have time to dispatch the gear retrievers. (who like to be called gear ninjas)

Anything I didn't cover by going way off topic?
Oh well, buy these and be free from plastics' limitations.

Is this too beefy of a binding to mount on a set of Armada TST's? Also will the 115 width on the break be a problem for a 103 waist ski?


The 115 mm will be too big, go with the 95 mm you can bend it up to 10 mm. The binding is PERFECT for the TST though, its a perfect binding for almost any ski we sell!



Feel free to hit me up at bporreca@backcountry.com or 801-736-6398.
Just mounted a set on my new whips.
Huge fan of the FKS/Pivot toe piece, personally. Went with the 180's over the 140's solely on the fact that the 180 toe-piece is one of the greatest to grace the ski industry. Super duper bomb-proof, and performs like a dream. If you love to ski hard and fast, these are the bindings for you.
BOMBER!
Gender:

Female

Familiarity:

I've put it through the wringer
Just got a pair of FKS 180 for my new Moment Deathwish skis! These bindings are bomber. Like Will Kenney said, "Locked and Loaded" - no worries about pre-release, like you might have with other bindings. This one is all metal (not super light), but SUPER durable. Other things to note- forward pressure on these is a micro-adjustment. If your boot sole length changes by more than a few mm either way, you will most likely need to remount. Also, no sliding AFD.

HIGHLY Recommend for aggressive, hard-charging skiers! Check out the 140 or 120 for lower DIN ranges. OR the Look Pivot actually happens to be the exact same binding, different paint job.

Send 'er!
Ski binding newb here...



Any particle size an aggressive 5'10", 150lb rider on 172cm Rossi Soul 7 skis should be shooting for?



Also, difference between the Rossi FKS 140 & FKS 180 bindings? With the $100 difference and everything...
Best Answer
The DIN range on the FKS 140 is 5-14. The DIN range on the FKS 180 is 8-18. The FKS 180 is designed for the most aggressive all-mountain, freeride, and freestyle skiing.

For the Soul 7, you would want the 115mm brake.
Thanks, I appreciate it greatly.
rugged, safe, long term investment
Familiarity:

I've put it through the wringer
I love these bindings, I have run then consistently for 6 years. They are quite simple the best. Unless you run full on 40-DIN race binders, this is the the highest end, toughest binding available to the consumer. It is also a safe binding, relatively speaking. Even with the DIN around 13-14, the toe will still rotate when it needs to, and the pivot heel is unparalelled in saving your kneee ligaments for the performance. Have also run PEAK 18+, these bindings scare me sometimes, because the heel is fixed, and I fear for my ACL.

FKS 180 (look pivot 18) inspires confidence on many levels.



Two issues though, so I have to take off 1 star- the plastic low friction plate under the toe has broken three times, I keep getting replacement parts through I kind fellow at a local shop. Small issue, an inconvenience, but you have to catch it. In most cases I have cought it just cracked. In the last case, I felt movement in the toe while skiing and found the whole plastic toe support bit was gone, which isnt non-useable, but very risky to use.



also had the metal pivot plate on the heel crack, only once, replaced and is fine, has been three years since.
locked and loaded
Familiarity:

I've put it through the wringer
My favorite binding of all time. Bombproof, reliable, you can't ask for much more. Standing at the top of a technical line, the last thing you want to think of is "I hope I don't pop out of my bindings...". That thought won't cross your mind when you're in these. I know a lot of big mountain guys/gals that swear by these, so obviously I followed suit.
The Best Binding Design Ever
Familiarity:

I've put it through the wringer
There's a reason Rossignol decided to bring this style of binding back to the market, its simply the best binding design ever made. They are the most durable and best functioning bindings ever. They keep you on your skis when you need it most, and only release in the gnarliest of spill when you actually want them to release. Whether your sending it in the park or the big mountains, this is the best performing binding out there for you. I would suggest using the 14 version if you weight under 160 lbs.
Your knees will thank you.
Gender:

Male

Familiarity:

I've put it through the wringer
I was afraid this binding would be too burly for me, as I ride at 10-11 DIN, but it worked out well. I now have three separate pairs on different skis, and I like them so much I won't even buy another binding anymore. The release is so consistent, and it lets you out when you need to come out. I have never felt safer clicked into a pair of bindings. Also, the weight and rigidity of the binding also helps you mach through chop, crud and chunder, which is a huge plus in my eyes. Best binding on the market, hands down.



I trust STH bindings as well, but do not buy them anymore after discovering the turntable treasure!
Solid Binder
Familiarity:

I've put it through the wringer
These bindings have stood the test of time in terms of design and are essentially bulletproof in their construction. I haven?t come out of them yet, but the turntable heel is a kneesaver on certain awkward releases. The one weird thing about them is the forward pressure. The white indicator is not accurate, and it is really something that you should leave up to someone who has experience mounting and adjusting FKS bindings (it?s an ?adjust by feel? binding). In addition, the heelpiece is fixed with very little adjustment, so if you change boot sizes/want to have someone else try your ski, they would have to be re-mounted.
Best bindings available
Familiarity:

I've put it through the wringer
Of all bindings I've ever had, the FKS design binding is by far the most durable and functional. The metal construction can withstand the abusive impacts in park and street much better than its plastic alternatives. Although these are not by any means the lightest binding set up, they are one of the most tried and true option in aggressive skiing.
best binding ever made
Familiarity:

I've put it through the wringer
there's a reason people hoard these bindings and dig through ski swaps and thrift stores to find them. aside from added the option for a bigger brake, these bindings have been bulletproof and reliable since they first came out. they started out as race stock bindings, but were phased out once rossi came out with the PX series. because of that, they retained their resale value until demand got so high that they had to reintroduce them a few years back. the narrow mounting pattern allows your ski to flex more freely, and they're also super low profile which allows for more control/keeps you closer to your ski. I've ridden it for years and not once have I ever encountered a prerelease problem, and they're solid steel so breaking them is damn near impossible. if going hard is your thing, then these are the bindings you'll want under your feet.
THE REAL DEAL
Familiarity:

I've used it several times
After years skiing on Markers and Salomons, wishing for something safer and more durable, I decided to finally take the financial plunge and splurge on these bad boys. WORTH IT!!! These puppies keep you on lockdown, at least until a twisting fall that is. The predictable release on these compared to other brands gives you confidence like no other. I even brought my DIN setting down a full point, because these things are just so reliable at keeping you in when you want and letting you go when you don't. And the durability means you won't need a new pair next season, unlike plastic Markers and Tyrolias. Another thing that doesn't usually get mentioned, the shorter mounting platform REALLY DOES GIVE YOU A BETTER FEEL OF THE SKI!! Every other brand of binding I have ever tried leaves the portion of the ski underfoot feeling dead and clunky, where as the way these are mounted to the ski is very direct, with much less plates/plastic/metal in between you and the ski. Result? You can smear, carve, and spin with more precision.

Spend the extra money,

You won't regret it
Safe, Durable and Functional
Familiarity:

I've put it through the wringer
This is by far the best binding I have used. If you like to ski park, hit BC jumps and lines and want to count on your gear to not pre-release and save your knees, this is the binding for you. The pivot design allows for proper heel release with great elastic movement. They are also almost indestructible. There are still pairs floating around from the 70s and you will never see this binding fade out.
I have a pair of powder skis at 122mm at...
I have a pair of powder skis at 122mm at the waist and am in that dilemma of whether to get the FKS with the 115mm break and bend them or the 130mm break? Which is better for performance reasons and benefits?
I'd go with the 130 and deal with 4mm of overhang on each side. bending out the 115s will be taking them to the limit and if you aren't super experienced at it may end up breaking them or just doing a poor job. A 4mm overhang is pretty minimal.