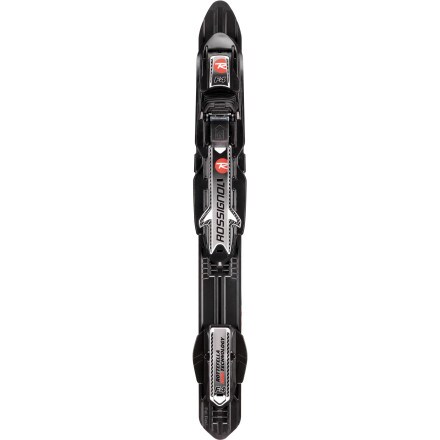 Description
For those about to race, we salute you.
Unless racing is your sole objective in life, you probably don't need the Xcelerator Skate binding produced by Rossignol, Fischer, and Rottefella. Instead, you'll find that the F4 Skate Binding encompasses the traits that you not only desire, but actually need. Basically, the F4 runs a close second to the Xcelerator in terms of weight and stiffness.
In fact, the F4 only weighs around 30 grams more per binding, and it features a 60 shore binding flex instead of the Xcelerator's dual flexbit 60 shore rating. However, where the two truly part ways is in the F4's ease of use. The manual entry/exit has a larger grip that's simple to operate while gloved. Additionally, the F4's heel-piece has been widened in order to increase stability while you're perfecting your form. So, the F4 ensures that your sacrifices are kept low while you're climbing the ranks.
NIS compatible mounting provides a simple attachment to any NIS-compatible plate on your skate ski. For an appropriate usage match, we recommend pairing the binding with Rossignol's Delta or Delta Course Skating NIS Ski
NNN compatibility opens up a wide world of compatible boots like the X8 and X10 Skate
60 shore binding flexibility provides a feeling of forgiveness while you're refining your form