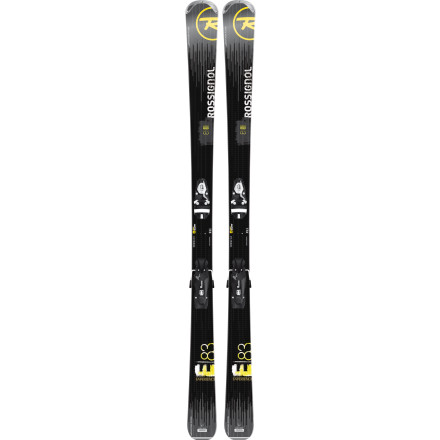 Videos
East, West, Northwest, hardpack, blower, Sierra cement—you get around. So does the aggressive, all-mountain Rossignol Experience 83 Ski. It likes to spread the love as much as you do. With a fat tip, versatile 83-millimeter waist, and Auto Turn rockerered tip and tail with low camber underfoot, there's nowhere this ski can't go. And a long-radius Extended sidecut keeps you stable at high speeds while you make wide, sweeping turns that leave the hill smoking. A weight-reducing yet torsionally strong layered tip helps initiate turns and won't weigh you down when the kicker calls your name. Classic sandwich construction delivers supreme edging power and durability.

Auto Turn rocker delivers 70% high camber underfoot for energy and edge grip and 30% low rocker at tip and tail for easier turning and control
Cascade tip staggers metal and fiberglass layers to reduce weight but maintain torsional strength for smooth turn initiation and full edge contact
Wood core and basalt fiber laminate keep construction light and lively yet stable, powerful, and strong
Sandwich construction provides strength and durability; direct edge pressure gives precision and power
Versatile 83mm waist provides an ample platform in soft snow and quickness in hard or firm conditions
Extended sidecut engages with increased speed and edge angulation and releases for more maneuverability at lower speeds and angles
What do you think about this product?
Have questions about this product?
Rossignol Experience 83 Ski
Hi, 43 years old and just getting back...
Hi,



43 years old and just getting back into skiing after a 20 year hiatus. 100% New England skiing, 95+% groomers / frontside. Intermediate+ level skier.



I've done a lot of reading and am leaning towards the Rossi E83. I was originally looking at 176.



Rossi recommends the 176 based on my height (6' ft) for Piste skiing



BUT



Rossi recommends the 184 based on my weight (210)



What are your thought on what I should be looking at for length in this ski?



Sam
East coast skiing, primarily groomers, 20 year hiatus, intermediate, all spells 176cm to me.



Only thing that points me to the longer size from all your comments is your weight. Remember today's skis aren't like old conventional sticks, length doesn't always mean more stable. The construction of the ski is far more important than length for stability. Today's skis are meant to be up on edge doing the work for you and they will remain stable.



If you just like bombing down the groomers at high speeds and like to make longer sweeping turns and want to retain as much float as you can when it does drop some freshies then go 184. If you like shorter radius slalom like turns, want a much easier and fun mogul experience, occasional dance through the tight trees, and don't ski at very aggressive speeds then stay 176cm.



Once you jump back into the sport your needs may change and the type of conditions you crave may warrant a different pair of skis. Today's skis are so much more fun that one pair just isn't enough. Quivers have grown even bigger.



I'm 6'1" 178 lbs 42 year old expert that lives in the NW and I would buy the 176cm for me in this specific ski. I always choose giving up some high speed bombing ability for a more nimble, easier, mogul friendly, and just overall quicker feeling ski. Your weight does make the decision harder but in my opinion if you were just going to own this one ski forever and you encounter lots of snow and need more float then going up to the 184cm would make sense.



Let me know if you have any other questions and welcome back to the sport.



Skifreak