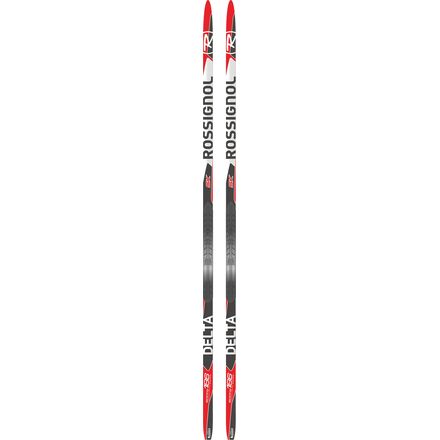 Colors
Description
For hitting VO2 max or working on your technique, the Delta does it all.
The Delta Skating NIS Ski is possibly the most versatile option in the Rossignol cross-country arsenal. It's built with a larger sweet spot than Rossignol's hardcore X-IUM race series, helping you if you're still trying to refine your skating technique (and who isn't?) and a fiberglass laminate instead of the carbon found in its big brother the Course for a more forgiving flex. A friendly flex doesn't come at the expense of speed, though, as Delta comes with the same K7000 base tuning you'll find on the World Cup-ready X-IUM and a low-profile carbon fiber tip to reduce vibration and improve maneuverability so you can hammer hills and step turns without feeling as tippy as a one-legged chair.

In addition to the fiberglass laminate, the Delta uses Rossignol's Light Honeycomb core with Active Cap construction, keeping the ski stiff enough to power up hills and over flats while maintaining softer tips and tails to cruise over uneven snow. The Delta is marginally heavier (by 30g) than the Course, a difference barely more than the weight of a pencil, and has a Racing Cobra sidecut that's slightly wider in the tip to keep the ski moving in the direction of travel while on edge. When it's running flat, double guide grooves on the base keep it tracking forward, and an integrated NIS plate allows drill-free binding mounting and adjustment.