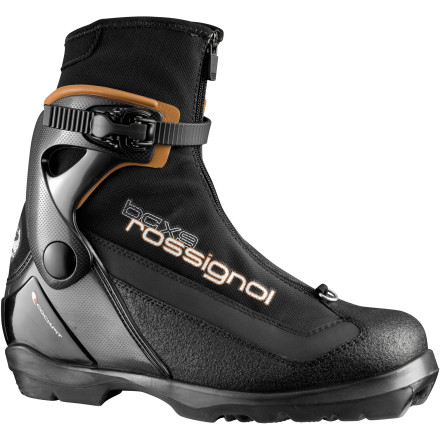 Head off into the great unknown with the Rossignol BC X9 Backcountry Touring Boot. The X9 wraps your ankle in EVA for support and cushioning while the micrometric ratchet adjuster ensures a tight fit with no slipping. To top it off the waterproof zippered cover protects you from the elements and debris.
Unanswered Question
I wear a size 42 in rossignol ( non-bc )...
I wear a size 42 in rossignol ( non-bc ) classic boot. In other words, a nordic boot. The 42's fit fine but my toes are right up against the toe of the boot. With a bc boot for my new set up--Glitterind skis--- I thought that I might want to go up a size. I'm just going to be doing very easy terrain--no telemark etc. just easy climbs and flats, hoping for glide and get down safely. In short, should I stick with 42's or go up a size? It's summer and I can't try these on. I'm a bit concerned about the break/flex point between the ball of the foot and toes for 'kicking' i.e. engaging the wax/scale pocket. If I go long will it be off etc.

Actually when I look at backcountry's sizing chart, they indicate a 43 eu for a u.s, 9 and a 44 for a 10. Other charts indicate that a 43 eu is a 9.5-10 for u.s. sizing. Yow! I'm a 9.5 looking for a10. Need a euro 44?
Unanswered Question
I currently own Rossignol BC3 boots which...
I currently own Rossignol BC3 boots which are about 10 yrs old. I'm finding that my feet seem to have got bigger and I'm losing a couple of toe nails on each foot and am finding skiing very painful these days, it never used to be like that. I will have to buy new boots and was considering upgrading to the X9s. I have size 45 boots at the moment and was going to get size 46 in the X9s. After reading feedback comments it seems the X9s are a bit wider and maybe going to the next size might be too big, what do you think? Also what is the process to buy from Australia and how long is the shipping time? Thank you Terry Egan.
So, my wife and I returned our Rossignol BC X5 ski boots to another seller who didn't carry the X9s. The X9s are a great boot and are made to last. That wasn't the case with the X5s...very weak strap on the X5s and they were too narrow. The same size in the X9s are perfect. So, as for long distance reports on their use...well, maybe next year. This year, Europe got our Michigan winter. I would suggest spending the extra $60 for the X9s since they are a substantially better boot.
Nicely made, solid boot. In general try ons, it's a very comfortable boot. I especialy like the ratchet cuff. Unfortunately picked too large a size, so am sending them back. (I've already reordered and received the correct size.) They seem to run a bit long but width is right on. If you've tried on the BC X2's, the X9's are much more substantial.
Once it snows, I'll update on performance.
Backcountry service has been great.
has anyone had a problem with this boot...
has anyone had a problem with this boot pinching their toes (the little one) when the sole of the boot flexes?

Also, does anyone know if Rotefella makes the rubber bumber in different degrees of softness (range of motion) for their NNN Auto BC binding?
I've own these boots for 1.5 seasons, and I get blisters on my little toes whenever I ski for more than 2 or 3 hours! I'm seriously thinking about changing to different boots!! They've been good boots besides this.