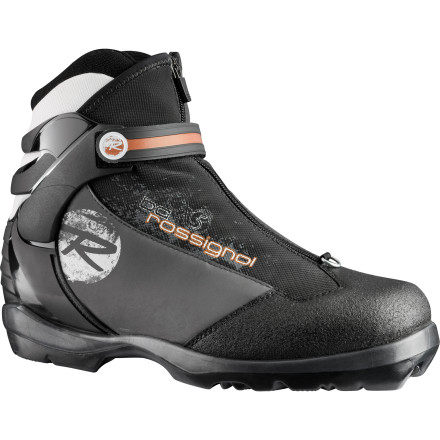 Rossignol designed the BC X5 Boot for comfortable backcountry exploration. You don't have to beat the hell out of your foot or your wallet this season in order to get out and tour the winter wonderland.
Free-hinge cuff with powerstrap keeps it tight and supportive
Thermo-moldable liner for custom fit
Lace cover protects your foot from moisture and debris
What do you think about this product?
Have questions about this product?
Not satisfied with this boot at all!
I purchased a pair of Rossignol BC X5 boots because they looked like they would provide the support for the type of skiing I do, which is predominately back-country skiing and skiing on tracks in deep snow. I initially liked their fit and support, and the way they kept my foot snug, but not tight while skiing. However, last year while only ½ into the winter season of skiing in these boots I noticed that the inside lining on both heels had completely worn away exposing the hard shell of the boot. I have never had this happen to any other type of shoe that I wear (running, trail, hiking, etc.). I returned the boots to the retailer and was given a replacement pair. During the rest of the ski season the liner held up, but while on a 10-mile ski (where I was 5 miles in) the plastic eyelet for the Velcro strap broke, leaving me with no ankle support. I was able to wrap the top of the boot around my ankle using duct tape that I carry with me for emergency purposes. Because I was skiing with two men who had the male version of the boot we compared the plastic eyelets on the boots and discovered that the men's eyelet is much more substantial than those on the women's boot. I am glad to read reviews where this boot is working for others, and I really wanted this boot to work for me too, but it is not. Although it does have some really nice features, the materials and construction are quite inferior. I hope Rossignol pays attention to consumers' concerns and corrects them. I am now looking for different back country boots.
So far so good..... fit really well. Looking forward to using them and then will decide if they are 5 star. Backcountry have not let me down yet!
After trying on multiple backcountry boots this one is the winner! Most backcountry boots are unisex, but these are not. They are woman specific and fit great for a narrow foot. They are very water-resistent also. Insulated well.