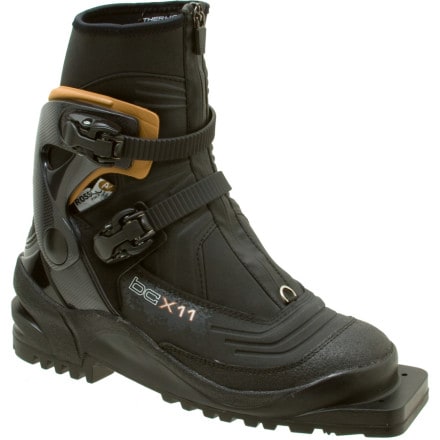 Detail Images
Description
Cross-country comfort, alpine power.
Conquer gnarlier terrain than you thought possible with the Rossignol BC X11 Classic Boot. Stiff plastic upper construction gives the X11 more lateral stiffness than traditional cross-country boots. Ratchet strap adjustment gives the X11 greater adjustability than conventional boots and makes it easy to get the boot extremely tight for added control.
Share your thoughts
What do you think of the
Rossignol BC X11 Boot
? Share a...
Unanswered Question
Hi! are theese with removable inner linings...
Member since
Posted on
Hi! are theese with removable inner linings ?
Best wishes from Iceland
The Never Ending Search ...
Member since
Posted on
I got these boots a few weeks ago and have had the chance to ski them in a variety of conditions, so I thought I'd share my experience as there appear to be no reviews of people who have actually skied the boot. I'm an all-around nordic skier. I have a full downhill set-up with Plastics, hammerheads and shaped skis, but I also spend just as much time classic skiing on Rossi Xiums or skate skiing.The problem is with my touring set up. I expect solid downhill performance, but I want to actually be able to kick and glide on waxable backcountry skis (finding those anymore is a whole other story) instead of just shuffling along like a penguin on planks. My old set up was Asolo double leather boots with some old Alpine Telemark Skis and rivas managed, but stuff was getting old. The boots had gone soft long ago, the ski were really heavy, so I decided to upgrade.

I got these boots thinking the liner was removable. A customer service rep at REI actually assured me they were. Actually, they're not. Pet peeve for me, I end up tenting and lean-to-ing it alot, and it sucks to have sleep on top of your boots instead of just wearing your liners to bed. Oh well, looks like I'm sleeping with my boots.I found an old pair of Tuas that had alot of life left in them and mounted them with SuperLoops, then with some Rivas. I did a couple of miles touring on a packed trail, some off trail bushwhacking, then took them to a resort on a not very nice day to try them out on ice, hardpack, not so friendly conditions in Northern Maine. In terms of sizing, I fall somewhere between a 44 and 45. I went with the 45 and they fit like a glove.

In terms of touring, the boots performed well. The toe bellows is very soft which allows for a natural flex of the boots. This provided a fairly pleasant kick and glide experience, even with the wide skis. I had a bit of toe pinch at first, but this went away after I baked the liners.

Downhill performance: the soft bellows definitely decreases the power you can transfer to the ski. This means skiing hardpack and ice on the steeps was a challenge, but do-able. It just required alot more technique and also leg strength. You'd fry your legs if you tried to do that all day at a resort, but that's not the point, these are for touring where you might get a few good laps in a day, interspersed with tracking, skinning, climbing, etc. One thing I was very pleased with was the torsional rigidity of the sole and boot. They have a great solid Vibram sole and I think it has a partial steel shank, too? I had no trouble getting the ski on edge, even in steep stuff. That, together with the plastic heel cuff, meant my foot never felt like it wanted to roll off the edge of the ski, which I always got with my old leathers. This also helped in deep snow. With my old floppy leathers, sometimes my skis turned into errant torpedoes when i ventured downhill in deep or heavy snow. No problems here, I had no trouble directing my skis where I wanted them to go, no unexpected wobbling, etc.All told, a good experience.

A few other problems to mention: the ratchet straps work well and secure the boot, but the top one is SOOOOO short sometimes it's a serious pain to get secured, particularly with gloves on. I'm a bit concerned about durability. They have a "soft-shell' type construction which looks like it will get mauled by ski edges. That will have to be monitored. Third: REMOVABLE BOOT LINERS! I guess Rossi thinks that all backcountry skiing these days ends at a nice toasty lodge with an attendant who brings you a cold beer as you kick off your boots and set them by the woodstove before hopping in the hot tub. Some of us still ski until dark before cramming down some pasta and climbing into a sleeping bag with all of our damp clothes and REMOVABLE BOOT LINERS to spend a marginally comfortable night keeping our gear from freezing before repeating the whole process the next day. I'm just saying, keep us in mind.

All told, I'll give them a four. They'll perform well, I think I'm going to grow to like them, they seem to strike a good balance between touring and downhill performance. They're just the kind of thing for people who like that kind of thing.