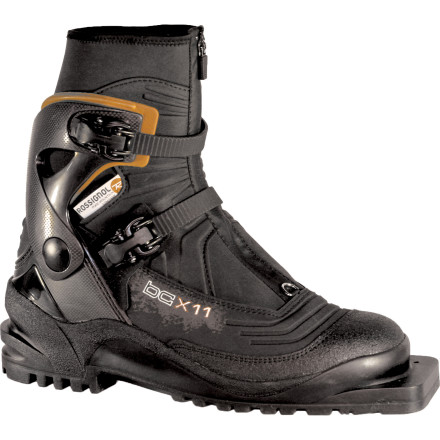 Take your cross-country skiing off into the woods for some real exploration. Sure, the track is fun, but the Rossignol BC X11 Boot lets you wander off into the woods and plow through terrain that you never thought possible. The zippered waterproof cover takes care of the fresh powder that you'll be cruising through, while the inner locking lace system and dual micro-ratcheting buckles provide all the support you'll need for untamed terrain, and the heat-moldable liner provides a perfect custom fit.
DennO in Duval Patrick's Taxachusetts
Gender:

Male

Familiarity:

I've put it through the wringer
I originally purchased these boots from Backcountry.com in 2010 and have proven to be a rock solid investment. I'm not sure WHERE wuf3010112 does his skiing but what he is saying is way of base. Some people just have terrible experiences based on not taking care of or they have terrible feet. This boot allows the user to avoid using bulky gators with the zip up membrane in the front. If it were at all possible I would buy a 2nd pair for the future at the reduced price of $122 from Backcountry.com which would be an excellent price. What really sucks wuf3010112 is that Backcountry.com is using the advertisement of these boots at this rediculously low price KNOWING FULL WELL that the boot is no longer available. I will eventually be looking for new gear and if Backcouontry.com continues to use deception as part of their marketing then They will lose all my future business forcing me to buy from an e-seller who DOES NOT use DECEPTION just to get you to their website. SORRY Backcountry.com but YOU need to do what is right and remove the boots from your inventory IF YOU CANNOT GET THEM.

It's now your move Backcountry Mgr!! DO WHAT'S RIGHT or lose much more than just my future business.
Good for their intended purpose
Gender:

Male

Familiarity:

I've used it several times
This boot will control something like a Madshus Glittertind or Atomic Rainier if you use a Voile 20mm riser plate and a Voile cable binding. The voile Riser pad and the cable pulling the ball of your foot firmly onto it will double your edging ability. You soon get used to walking in these boots, and if you are ski hunting or ski trapping or ski touring it will totally outclass plastic boots. If you want to turn fatter powder tele skis, then get a plastic boot. I have both kind of boots. Just choose the boot for the job at hand. A good buy at the sale price, but look at Fischer BCX 875 and Crispi Svartisen before you buy.
Bought these because they got great reviews and I have a wide foot. Was told they run wide. They do. After about a half season of 4 miles daily I went to tighten the buckles for a downhill run. When I got to the end of my run and tried to take off the boots. The buckle release was stuck (on both boots). When I finally got them off both lower buckles came off the boot where they are apparently attached to fabric unlike the top buckles which are attached to the plastic part of the boot making them more stable and durable. Not sure why they didn't do that for the lower buckles... . Under warranty so they went back to the shop and from there back to Rossignol. Good thing this year was a bust as far as snow. They been gone for over a month now. Half ass design. P.S. Did not get these from Backcountry so no reflection on the store. Just looking here for new boots.
After using these for 3 seasons, I think these are an improvement over my old leather boots for backcountry touring, but if I plan to do much telemark turning/downhill, I wear much stiffer plastic 2-buckle Garmont Veloce tele boots on same b/c skis. I bought these to replace old leather tele boots that I could never lace tightly enough and were too stiff through the toe/forefoot (smashed toe joints, blistered toes & heels). PROs: 2 buckle straps do an excellent job of holding my heel tightly in the boot for diagonal stride, moreso than the old leather boots (no heel blisters); ankle support is excellent; lighter weight and more flexible than leather regardless of temperature; warm enough for me. CONs: too flexible in the forefoot for good control on tele turns, as noted by others; fit too snugly throughout incl. toe box, as noted by others, and must wear thinner socks; feet get wet on warmer wet snow days (unlike my waxed leather boots).
I bought these because I had the comparable boot in the NNN setup and they were pretty good. I wanted to go with the 3-pin due to making very long tours and sometimes hiking I was afraid if the NNN failed I would have a long post hole out of somewhere. As someone else already said, the duckbill is super stiff and the boot in the toes is not, so your toes do all the bending and on a long tour this is pure torture. These things just kill the feet on long days, they are way more narrow than my Rossi NNN boots. They are also freakishly cold! Seems like the toe are has zero insulation, it creates as ice box in there! So, all said...these are gonna go, don't waste your money!
I'm used to Garmont Ventures which have a traditional sizing/feel and these were totally different. The duckbill is inflexible and the midfoot flex is super soft. So your foot takes all the bend rather than balancing between the foot and duckbill, which was all wrong for me. Plus they fit so tight you can only really wear like a thin athletic type sock, otherwise the toe section crushes you toes. Trust me pressure on top of your toes is not a good idea from a biomechanics standpoint for backcountry skiing into middle age. The cuff and strapping system seems to work pretty well, but it's hard to trust for durability. I even cut the duckbill on mine almost in half to make the front end more flexible, which makes the flex balance *almost* tolerable.

After buying these, I scoured the earth and found another pair of garmont ventures in my size in an outdoor store in state college, PA. I also went for aggressive rehab, gluing together my old pair with shoe goo and nylon patches. This response says something doesn't it :-(

Do the designers of this stuff, use this stuff or evaluate the current best in class? Seems not.
I have a pair of these but can't figure...
I have a pair of these but can't figure out how to open the buckle to release tension on the strap - I just keep making it tighter. What's the trick?
The "wings" on the buckle look like you are supposed to squeeze them. As you probably found out, this does nothing. Press them both in towards the boot and the ratchet will release. Side benefit: If you press one at a time towards the boot, it will loosen by just one notch. Nice if you want a slight adjustment.
How are these boots for hiking in?
How are these boots for hiking in?
Like most backcountry XC boots - awkward and weird to get used to. Especially with the duckbill. But in can be done. Now if you're referring to touring (as in with skis on) they're pretty great. Lots of control and pretty comfy too.
I am of the opinion that unisex shoes are not a good fit for women. Women's ankles, calves, and feet are shaped differently than men's. Therefore, a unisex boot can not properly accommodate both women's and men's anatomies. I started out with a pair that were my normal shoe size, but was unable to zip them when I had normal socks on. I therefore went up a size. I can now zip them, but I get raging blisters all over my toes and bottoms of my feet.

Ladies, only buy boots and shoes made specifically for women.

I am returning my boots as soon as possible. I can't take the agony any longer.
Comfort, Control, Well Built
The BC X11 is my second pair of Rossi three-pin boots. And this new version offers significant improvements, a better sole (Vibram, not SkyWalker), a nice two-buckle configuration that holds you snuggly in place (reduces heel lift), and a truly functional fore and aft flex that does not inhibit ankle suppleness -- Rossi does this so well. The boot fits true to size for me (one small gripe, the heel pocket is much bigger than previously, not the old Rossi Cockpit) and is warm without significant bulk. Overall, a great fit, tours beautifully, and keeps you dry.
Are there any X-Country boots that will...
Are there any X-Country boots that will work with my AT (Silvretta Pure) bindings? I have Scarpa Matrix boots and am looking for something that has even less downhill-type rigidity... i.e. a X-country boot. Trying to see if something like the Rossi BC X11 can be adapted to fit my AT bindings. Any help / advice appreciated (other than buying a X-country skis, boots, and bindings!)
No, A/T and 3-pin bindings are NOT compatible. However, these boots are compatible with telemark bindings.
They fit in my silvretta 404's, but the flexible sole really hurts your feet when interacting with the toe pivot of AT gear. AT bindings won't release right with flexible boots like climbing boots or tele gear, and skiing in them is the devil. Find AT Boots with a releasable walk control which allows you to lock shin support for downhill.
This boot was highly recommended by friends. Unfortunately my size 47 foot is thin and narrow and the boots are made for someone with a bulkier frame. I tried fatter foot beds and thicker socks to no avail. One boot folded at my toes causing abrasions and blisters on top. Am looking for a different size 47 boot without so much volume.
Trying to release the bindings on the boots...
Trying to release the bindings on the boots - and I cannot figure it out - help!
, ☃bcs_badge_alumni_label☃
Hey Stuart. I hope your not still stuck in your bindings! :)

To release a 3-pin bindings push forward on the latch that holds the toe piece down. This will allow your boot to move up and out.
Unanswered Question
I am very interested in this boot for...
I am very interested in this boot for backcountry skiing in Colorado mtns, I presently ski in either Scarpa T2 s or Alpina backcounty (BNN) boots. Love the Scarpas for control, hate the weight, The Alpinas tour well but not so great in steep trees with a pack.
my question is - how tight should the Rossignol boot be? I think I am between sizes (39.5) and like some toe room in my hikers, previously lost both big toenails due to a recommendation to buy small. Will the Rossis pack out at all? My classic race boots are Salomons size 38 2/3 , just dont know how the Rossis are sizing?