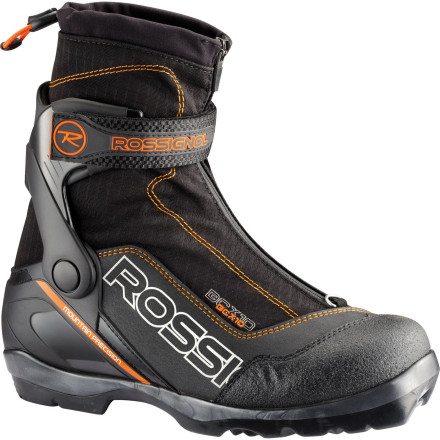 Videos

Community Images
Charge into the wild in the burly yet trim Rossignol BC X10 Touring Boot. With dual-density, bi-injected plastic, lock-down heel wrap, and a power-efficient thermomoldable liner, you'll slay through the trees and open bowls. The super-tough Cordura cover and Thinsulate insulation will keep you cozy as you feed your wintry wanderlust.
Dual-density, bi-injected plastic cuff and aftfoot give you precise movement, control, and optimal ski-to-snow contact
Cordura upper lace cover provides long-use durability and protective coverage and reduces wear and tear
Soft and cozy Thinsulate lining keeps your foot toasty-warm
Thermo Adjustable Fit is a thermomoldable liner that conforms to the foot for optimal comfort, control, and energy-efficiency
Lock Down system keeps heel and instep from slip-ups and wraps the foot with precision fit for ultimate control and support
Power strap improves fit and adds support
Ankle gaiter adds weather protection against the snow and cold
Compatible with NNN BC binding
Unanswered Question
Can you remove the "thermomoldable liner" to dry it out?
Durable, avg warmth for a BC boot
Gender:

Male

Familiarity:

I've used it several times
I'm currently skiing this boot with a Fisher OTX Outback 68 ski. I originally tried the Fisher Offtrack 5 BC boot but they were too soft and no control (ankles rolled) even on the nicest of blazed trails. The Rosi beats it hands down. It has a pretty stiff sole but that's what you need to drive a 68mm ski in a 176 length. More comfortable, stiffer arch and a firmer molded heel cap make this boot perform. Very comfortable on my arches unlike the Fisher boots which had my feet aching after only 5 mins. The Rosi even allowed me to do some good kick action and skating which I was pleasantly surprised. As far as the laces go, I wore them to the ski site and retightened them once I arrived and tied a knot in them just in case. After 1 1/2 hours I had no problems with them coming loose. The big difference between the X6 and X10 is in the extended molded heel into the arch area and the beefier power strap which is has a rubber backer, pivots and is replaceable. These boots really did impress me. I'd give them 5 stars but they don't have enough thinsulate (only 200 gms) in them to really keep your feet warm on a day below 25 degrees. Your going to need boot heaters or boot gloves for that.
Nice boot, but I'm somewhat disappointed
Familiarity:

I've put it through the wringer
The boots fit well and seem to have quality workmanship. From the glowing description, I thought that they'd have much better support around the ankle. The lacing only goes from toe to instep, so I guess they figure that the velcro strap will take care of everything. They feel sloppy from the instep up to me. The touted quick-lace system feels as if it loosens up after just a few minutes...not sure why. I have to tighten them up after the first few 100 yards of skiing...means undoing velcro strap, unzipping cordura cover, then tightening laces. Kinda awkward in my opinion. My heel lifts a bit out of the pocket no matter how the boot is adjusted...not what I would expect from $170 boots!
Rossignol BC X10 Touring Boot
I have NNN binding on my skiis. Will this...
I have NNN binding on my skiis. Will this NNN BC boot fit on my skiis?
No. NNN is smaller than the NNN BC
Has anyone used both the BCX6 and BCX10...
Has anyone used both the BCX6 and BCX10 Rossi touring boots? Does not seem to be much of a difference between the 2 models, is the BCX10 worth the extra $?
Best Answer
I ordered these BCX10, and I own an older pair of BCX7 (look just like this year's BCX6) . I returned the BCX10 as they didn't seem any different in support around the ankle. The bottom seemed a little stiffer on the BCX10. I didn't take them out on the snow, so cannot say for sure, but they felt exactly the same, but I little higher velcro strap. I really like my BCX7's - the zipper tab is broken and the toggle that tightens the lacing is loosening up. I wanted the same boot with a little more support, but don't think there is much different
I replaced my BCX7s with BCX10's a few weeks ago, and have skied them 35 or 40 times. I just put up a review on Amazon, if you're interested. To answer your specific question, yes they are noticeably stiffer than the lower-numbered models, and I definitely have more control on my turns than I did with my old boots. I disagree with hapt41761, though I know where he's coming from; the feel is much the same as the BCX7s when you first put them on. After skiing them, though, I can tell you that you will find it significantly easier to turn your skis in BCX10s than in BCX7s. But the X10s still have that darned cordlock problem; you can't keep them tight. So if you can find an Alpina Alaska or something similar in your size, I would say you should go for it.
Anybody considered swapping the laces out for some thicker flat one to get more support and they don't untie as easy.