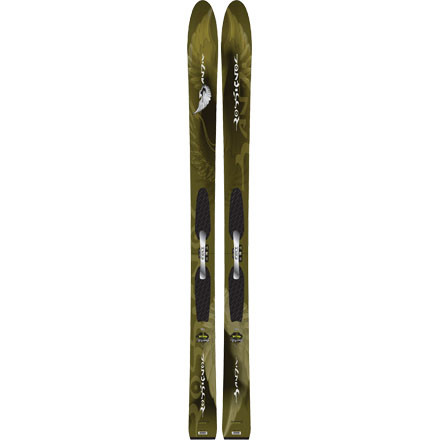 Detail Images
Geez, my buddy has had a pair of these for a season. I ski on head monsters. We switched skis and Ripped up Squaw Valley. Sweetest thing I have ever skied on and I have been skiing for forty years
grow a pair before you ski these
these skis are meant for CHARGING. they don't turn until you get them up to at least 20 km/h. also, if you are looking for a pow ski that floats, look elsewhere. these plow through snow like a freight train, and if you don't have control over them, they will control you.
The Best Skis Ever (so far)
To combine and add to some of the other comments, these skis (194s) are my everyday ski at Squaw Valley. The best I have ever skied in variable snow/hard pack off piste. Are the best also for corn and wind buff. A little tricky in deep light pow because yes the stuffness makes them nose dive but I have found if you go fast enough they will float in that kind of snow. Stomped every big air I have ever launch with these, nice stable platform. Skied over 100 days far still feel as lively as day 1. Did crack the sidewall on a big imact with a rock but just appoxyed and super glued it and it has help up perfct no negative effects. I think the sidewall is compartmentalized to limit the spread of damage so to speak. Also, have impacted or skied over dozens of rocks no problems only some missing p-tex, I'd say the most bomber construction I have ever had. Also, light, quick and great on the steeps, great all around ski. Geeze I should get some stuff from Rossi for such a great review!
I was not impressed with the construction of this ski. When I got the 194's out of the plastic everything looked great. The skis fell apart under my feet after 4 DAYS!!! I blew out the sidewall with an impact (apparently) that was so insignificant I honestly cant remember the specific event. Also, the sidewall on the other ski started to crack in front of the binding toepiece with no evidence of impact at all. That said I'm 6'3" 230 lbs (dressed to ski) and I ski pretty hard. These skis are light and quick for their size. They perform best in crud and on steeps and there really is no speed limit. In deep powder, you need to be way in the back seat or the tips tend to dive even if you're going fast. Smaller, less agressive skiers will likely have trouble with the stiffness. This is a great ski for big guys the day after a powder day. I just hope that the poor construction of mine was an isolated incident.
Let 'er rip... sums it up pretty well. These things point downhill, and don't like to turn. If you aren't on the hill consistently over the season, your legs will be on fire trying to keep these things from going ballistic. They 'can' do bumps, but you'd have to be a glutton for punishment. Best used for ripping wide open, steep powder. It's super stable at high speed. Speed limit will be determined by your ability, not the ski. Legs of steel...
How many days are hard chargers getting...
How many days are hard chargers getting out of this ski? Foam core skis usually loose their life pretty soon but I have heard these foam core skis are different.
Rossignol has done a fantastic job with the '07-'08 Bandit line. I rode my B-83's for over 75 hard Utah powder days this winter and they're still just as springy and enjoyable as the first day.That being said, the Phantom line coming out for '08-'09 is a kickass ski. It's my favorite ski coming out from Rossignol next year, and you won't be disappointed.
this is the powder ski I have been waiting for. skiis great on groomers, sheds speed fast in steep hardpack, stomps airs and can even zipper bumps if not too steep. using these as my everyday ski in taos.
Don't forget your pain killers
These things definately rip hard. Great at flying and quick and stable, but sudden changes underfoot are felt all the way to the fillings in your teeth. These things are mean stiff in all aspects of the word. Charging through hard crud and variable was abusive. Haven't had shin pain in awhile and these ended that streak.