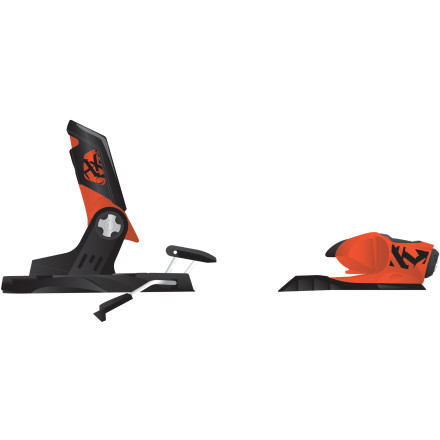 Detail Images

Community Images
Designed with a wider footprint specifically for fatties, the Rossignol Axial2 120 Ski Binding rocks a reinforced heel and plenty of elastic travel in the heel and toe so you can avoid dreaded premature ejection. (Think about it: you're in the middle of the face-shot of the century and your three-year old binding kicks you over the handlebars.) Rossignol not only gave the Axial2 a max DIN of 12 (for those who think not of high speeds), but also outfitted this little guy with big brakes that stretch over the waist of your bloated pow boards.
Dual Action toe has a reinforced housing that can take abusive impacts and a wide mountain zone for increased contact with fat skis
Toe allows for 180 degrees of release capabilities to account for multi-directional falls that cause you to go directly forward, or go forward and twist
A high level of vertical travel and 45mm of elastic lateral travel absorbs shock from the terrain while helping to reduce premature ejection
Angled lateral arms in the heel piece transmit your power directly and efficiently
25mm of elastic travel (the longest travel of any binding on the market) allows this binding to absorb shock and impact to reduce potentially disastrous pre-release
A high forward pressure helps ski rebound and responsiveness by driving your energy forward towards your ski's shovel
The wider mounting profile increases the contact area with wide skis, resulting in more responsiveness from edge-to-edge
I just purchased these bindings (XL) for my Line jib skis. My Line skis are 85mm underfoot and took up a great deal online while i had the chance. As far as im concerned, these bindings will work find being the XL and just 5mm larger for break width, correct? I hope i am...
Hey Alex,

I've got the same problem! not sure if the [XL] brakes will be too wide for my 85mm waist. Is the [XL] supposed to be 90mm or 90-100mm? let me know how it works out.
Buying Axial's for my line prophet 90s



Should I go with the L(80-90) or the XL (90-100)?
Hi,

You can go either way, I would personally lean towards the XL just to have a little wiggle room (definitely wont be too much). Let me know if you have any other questions, I can be reached at kweiser@backcountry.com !
Im looking for a brake with 130mm witdth that fits this binding. Is the ''Tyrolia Adrenalin Ski Brake 13'' fine? or do you have one that works?
Best Answer
You would need a Rossignol specific brake the Tyrolia would not work. Sometimes brakes can be hard to find, unfortunately we are currently not selling them.
Ok. But sincerely, do you think a 120mm brake would fit with a 122mm waisted ski? As I see it 2 millimeters isn't big deal, but whatever, what do I know... Thank you
Won't be a problem at all. Just a tiny bend if anything.
I had my Axial2 120 bindings fail on me pretty spectacularly during one of the best ski days of last winter. I was going quite fast, but I'm not heavy - 70kg or 155lbs - so well within what a 12 din binding should handle. I was running them set to 9.



I clipped a hidden rock and double ejected. When I found my ski I saw that the binding heel piece had been ripped from the ski, and the rail severely bent out of shape. As you can see from the photo.



When I contacted Rossignol about this they refused to offer any replacement or refund and blamed "accidental user damage". They strongly denied that there might have been any fault in the manufacture of my binding, saying:



"the binding performed as required and released the skier "



I found that quite surprising. Rather than accept there may have been a weakness in the piece of metal used in that binding, they have effectively stated that there is nothing wrong with the binding, and I simply shouldn't have crashed. I got the impression from Rossignol that they thought I was lying and had used a tool to deliberately break the binding. How's that for customer service?



Seriously, consider a different binding.
Are these bindings adjustable and if so how within what range.
These binding have a Adjustable DIN Setting from 4-12 , you can also get wider or narrower brakes. What type of adjustments are you looking for?
Sorry for the lack of information, are these adjustable as far as boot sizes go?
Would these be alright on the 4FRNT YLE...
Would these be alright on the 4FRNT YLE 187s?

Cheers!
Best Answer
The XXL is only recommended to go to 115 mm so you would have to go with something that has a wider brake. For that good of a ski I would take a look at the Rossignol FKS or Look Pivot options. Much better binding all around.
I weigh 230 what size should I get
I weigh 230 what size should I get
Best Answer
The size is going to be dependent on the waist width of your ski.



[L] 80 - 90 mm, [XL] 90 - 100 mm, [XXL] 100 - 115 mm
Best Answer
This would be fine for park skiing. The DIN goes up to 12 which accommodates most people up to 200 lbs, it depends though on a few things: Weight, Skier Type I,II,III, and III+, length of boot, and age.
Unanswered Question
Would anyone recommend these for mounting...
Would anyone recommend these for mounting on Rossignol Radical GS JR Pro Race Skis? I need DIN 10 or 12 max, or any other recommendations-- I'm 5'3" and weigh 120 lbs.
Thinking about mounting these on my sweet...
Thinking about mounting these on my sweet new Super 7s. I'm now skiing several sets of skis with bindings between 4-12 DIN with no problems. Any real advantage to the more expensive FKS 140s? I'm 5'10" and weigh 175 and I charge hard
The FKS 140 have a lot more metal, and the tried-and-true turntable design. That heal also lets your ski flex the way it was meant to, because the mount is smaller.



With that being said, I have 3 pairs of these Axial 120's, and I have no complaints. I never pre-release, and I have a pair from 4 years ago that are holding up great. I weigh 150 and ride them at a 9 DIN. I ski fast and drop cliffs with no problems.
True to size and color!
Familiarity:

I gave it as a gift but have feedback to share
Purchased these as a gift for my brother and was ecstatic to hear how well they fit and looked on his new skis. Rossignol has always been my go to for bindings and I have YET to be disappointed with any of their products. Customer for life!
Solid Binding
Familiarity:

I gave it as a gift but have feedback to share
I purchased these for my wife and she loves them. She got in to skiing last year with a cheap set up from eBay- cheap bindings included. This year we got her new, bigger skis and needed to upgrade the bindings as well.

They are a bit heavier as far as bindings go, but with the added weight you get added durability.

These are a great binding for bigger skis and have a solid construction.
Great binding
Familiarity:

I've put it through the wringer
I have zero complaints about these. Good DIN range and have never had a problem. I have these mounted on my Volkl Mantras (98mm underfoot) and they work well. To be honest I've never had a binding I was unhappy with....but these are doing their job well
Bombproof
Familiarity:

I've put it through the wringer
I have these mounted on Armada Alpha 1's and I love the setup. After breaking numerous Marker bindings, the FKS is a breath of fresh air. They are not the lightest binding out there, but you will thank yourself for the extra weight when you dont snap toe pieces, brakes, riser platforms, or any other of the thousand pieces that often break on most bindings.
All I could ask for
Familiarity:

I've put it through the wringer
I bought new powder skis for last season (nordica patron) and bought these bindings to go along with them. I did have a problem with them initially, but only because the DIN was set incorrectly by the techs who mounted them. Once that was all sorted out they were perfect.



They never pre-released on me and handled ever type of condition Utah could throw at them.



The bright orange color also made it very easy to find my skis in deep powder when they did come off, which was an added bonus.
Favorite ski binding
Familiarity:

I've put it through the wringer
These bindings are awesome. They handle everything I have thrown at them. They have hardly ever pre-released on me, especially in those moments where you almost go down, but you can recover if your skis stay on. The elastic travel in the rear makes them very resistant to heel release when you don't want it. Also, they are easy to put on when you crash in powder, where sometimes you have to sit and put them on because you posthole with just boots. Overall awesome binding, have them on all of my skis.
Great Binding
Gender:

Male

Familiarity:

I've put it through the wringer
I have this binding on both my pairs of skis (one is a Look, but the same binding). These are a perfect binding for what I am looking for, I don't need a DIN higher than 12. I am 6' 210 lbs. I am an aggressive skier, but don't plan on bombing cliffs or anything. I have these mounted on Armada JJ's & Rossi E88's.
what does Large mean for a binding? i just...
what does Large mean for a binding? i just bought 171 bluehouse skis. my boot size is about 26.5 i think. I am a 9.5 in women and 8 in mens.
Hey Danielle,



The Large size in this binding refers to the brake size only. The Large size is able to accommodate skis that are between 80-90 millimeters wide at the waist.
How would these XXL bindings do on the...
How would these XXL bindings do on the Armada JJ's? I am 5'11, 205lb, aggressive skier. I am between these and the Salomon STH 14 driver binding. I trust the Salomon is a solid binding, but I am not too excited about them just coming in blue for the Armada's. Thanks!
Thanks for the clarification! Glad I picked them up when I did on S&C
Best Answer
Define aggressive? I'm a lot lighter than you and run a higher DIN because I like to get a bit aggro. If you're really pushing hard, I'd guess you'll need a burlier binding at your weight.



The STH is a better binding than the Axial due to the single pivot point on the toe and more elasticity. It's not as mobile as the Look/Rossi pivot, but it's the next best thing and has some advantages over the pivot system. I'd go for the Sally if I were you, or you can get the Atomic version of the same binding if color is an issue:



http://www.backcountry.com/atomic-ffg-14-team-ski-binding


I ride these bindings in the park almost every day. I work on the park crew so we are in and out of our skis all day long. Quality construction. The heal piece has a real nice feel and sound when you step in. I do think the adjustment on the heal is not 100%, It can be tough to get the tension right (Tension Gauge on the rear of the heal piece) and there is just a little bit of movement in the heal. I don't notice it skiing at all. Just when im messing around with my hands. If you are a true hardcore Park/Backcountry skiier then you should look at the FKS (180 especially just for the full metal toe piece). Its a heaver duty binding. I've broken one of the toe wings off. Thats been the only problem with them in the 2 and a half years Ive had these. All in all a real solid binding from Rossignol