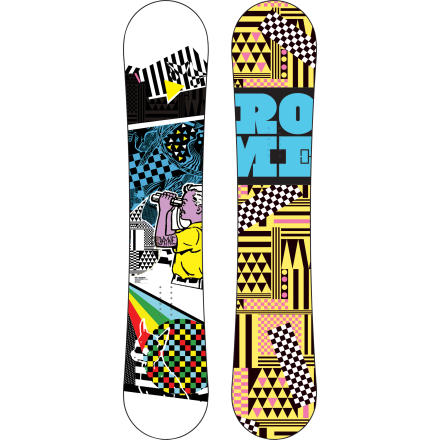 Share your thoughts
What do you think of the
Rome
Slash Snowboard - Wide
? Share a...
hey im 5'8" 185lbs size 11.5 with 32's...
hey im 5'8" 185lbs size 11.5 with 32's boots I'm thinking of getting this Rome slash 156 as my first board set up with rome 390's! any thoughts on binding colours?? cheers tim
To be honest you shouldnt get the 390's. Dont get me wrong, Rome makes quality products. But the only issue is that I demoed a pair for a few days, and they were comfy, but were starting to fall apart. So theres always tweaking and tightening the bolts and what-not. I would go for the Union Force's, Contacts, or Data's. Personally I ride a Rome Machine 154w with a pair of '10 Union Contacts(cmky print), and I LOVE my set-up. Rome for boards and Union for bindings, trust me you will not be dissapointed. Plus to spend the extra like $50, you might aswell go for a bomb proof binding like Union makes. But as for the deck, the Slash is sickkkkk. Tears up all over the mountain, park, pipe, groomers, back country, it just does it all. My Machine is one step down from this board and my Machine is dope. Pop is sick, flex is a lil stiffer but its playful and fun. Hope this helps with your decision. Ps im not a noob, and I know what im talking about, Just incase you think im blowing smoke up ur ass lol. Cheers brother
My buddy recommended Rome to me, and since I wanted to advance in the park this season, I got an '08 Slash. I'm 6'1, 190 pounds, and the 158cm was a good maneuverable size for me. Riding switch felt pretty comfortable on this.
I was very happy with this board all season; I was able to advance in the park a great deal on it, while still slashing the rest of the mountain. I didn't find the board to be too flexy, but that could be me.
Unfortunately, I went off a ~20 foot cliff straight on to rocks with this thing. I ruptured my spleen, the board cracked across the top, but it's still a testament to the quality of material and construction that the board didn't just blow up on me.
Overall, I was very happy with my Slash and will look to Rome in the future.
so does it mean that the rome slash is a...
so does it mean that the rome slash is a reverse rockered/ cambered board?
No, this is a regular camber board as this is a "A wide cousin of the Agent" according to http://www.romesnowboards.com/product/boards/slash/.
You can grab a Postermania in rocker, either wide or reg width. Rome makes the Slash, Machine, and Riff in traditional camber for their wider decks. Also they made the Agent a lil wider to accomodate slightly bigger footed riders. But my foot is size 12 with Union Contacts L/XL bindings and I drag a little when I ride my buddys 158 Agent. It is a fun deck tho, but if you are looking for rocker tech, your not gonna find it in this deck. Go for a Postermania W if you want rocker in a wide Rome deck
This board KILLS IT.

Stop big foot denial and make the switch to a mid-wide. Amazing.
Butter it up like toast on your first run to break it in.