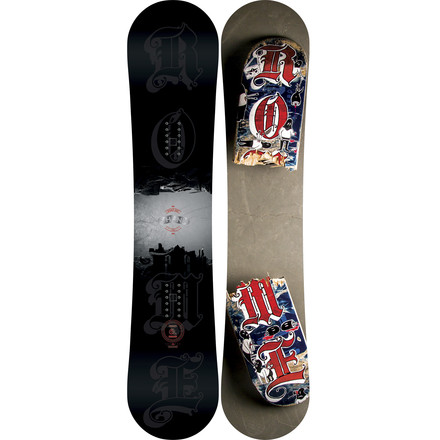 Ridden by jib-extraordinaire LNP for slaying the heaviest handrails and street gaps, the Rome Shank Snowboard injects a loose, skate-like feel into your rail and freestyle riding. This jib and park specialist can be ridden much shorter than your average freestyle deck, allowing you to quickly turn between jibs and street features for maximum maneuverability. Its true twin shape rides and lands switch effortlessly, while the NoHang-Ups Rocker curves upward at the tip and tail contacts, preventing snagging on rails and street features with its 3D continuous curvilinear rocker.

Inside this jib machine, you'll find a TTT wood core with Center SkateDeck tech. This tech places a single horizontal wood laminate on top, between the bindings, for a more skate-like feel and added strength when you're gapping onto rails and stomping harsh landings on concrete. There's also Skatecore profiling, which thins the board's core out between the bindings, allowing maximum torsional flex for enhanced rail and park riding.

Boosting your ollies and nollies without unwanted torsional stiffness, the board's HotRods-Glass Single Barrel is placed directly into the core's center for exceptional pop. Add in press-friendly ButterOut Transition Zones and a low-maintenance, easy-to-repair extruded base for a deck that's ideal for street riders and park enthusiasts who grind, press, and thrash their decks all season long.
True twin shape
NoHang-Ups Rocker (flat underfoot, 3D rocker at tip, tail)
TTT wood core with Center SkateDeck tech
Skatecore profiling (thinner between bindings)
HotRods-Glass Single Barrel
ButterOut Transition Zones
QuickRip sidecut
XTRD base (extruded)