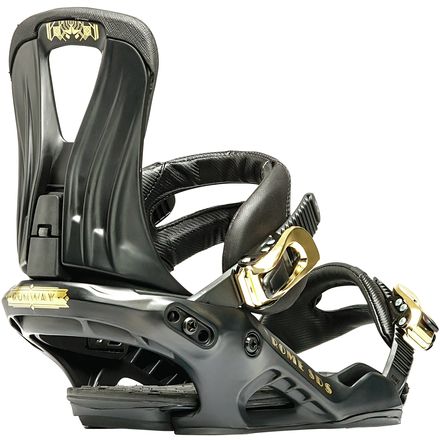 Detail Images
Turn heads and break down boundaries with the lightweight, freestyle-saavy performance of the Rome Runway Women's Binding. Designed with Rome's V-Rod Unibody baseplate, the Runway is a playful, medium-soft binding that maximizes the true flex of your board, thanks to its rockered baseplate. The V-Rod baseplate makes minimal contact with the board, allowing the board to flex more naturally without sacrificing edge-to-edge power.
Aligned with the riding angle of your lower leg, the Runway Ultralight highback features Rome's Cant-In-The-Back, allowing you to easily switch between three or six-degrees of highback canting for enhanced comfort. Run the stock three-degree setting with a normal stance width or switch to the six-degree option if you rock a wider park stance. The Runway Ultralight highback is cored-out for maximum weight savings and plenty of torsional flex, allowing you to tweak grabs and lay into presses with ease. Full highback rotation lets you line up the highback with your stance angle for an ergonomic and efficient feel.
Cradling your foot in comfort, the binding's Contour ankle strap cranks down super-tight without creating uncomfortable pressure points, thanks to its plush feel and boot-hugging design. The OpenForm toe strap grips over the toe, pulling your boot back into the heelcup for maximum response and a seamless fit. Both straps are tool-less adjustable for tweaking the fit when you're riding. EVA padding under the baseplate absorbs shock and decreases vibrations to cushion drops and smooth out the ride in rough terrain.
Runway Ultralight highback
V-Rod Unibody baseplate
SubBase V-Pad cushioning
Cant-in-the-Back technology
Full highback rotation
OpenFlex ankle strap and OpenForm toe strap
QuickAdjust strap length
Tool-free forward lean adjustment