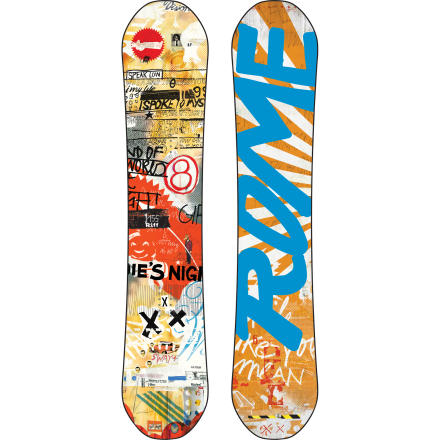 KIller Board! Changed my riding level way up the moment I hopped on it. Almost does the work for you. lol. Peace
is the rome riff board reverse camber
is the rome riff board reverse camber
, ☃bcs_badge_alumni_label☃
No, these have a traditional positive camber.
if im 6' 180lbs would i be ok getting the...
if im 6' 180lbs would i be ok getting the 155 for park riding
Yeah. I weight 190lbs and my old park deck is a 156 and my new one a 152. Depending on what you do most often in the park (big kickers=longer board, jibs and smaller kickers=shorter board) you could go for anything between a 152 and 156. So, yeah you'll probably like the 155.
Im 6'/170lbs and I ride A Rome Machine 154w, and I ride mainly park. You can def go for a 155 tho. Just make sure if you go smaller to check how much the deck can handle in weight. Buddy's that are lighter than me have snapped bigger deck than that. Obv depending on what you mainly ride and how you treat you board
the status, ratings on the deck isnt bullsh*t
own a machine before this deck....this is a steroid version of machine. veryyyyy senstive gives you what you want or what you callin for..its a park deck but it can handle anything else if you want a break from the park .. never wanted to leave colorado after my two week vacation which was first two weeks of jan and I am from Chi, guess what...this deck made me move to colorado for a complete new life. movin first week of feb, sooo long Chicago. give yourself few days to break it in, then you ready to rollll. this deck is better than your girlfriend or wife ...nothin explains better than them!
Unanswered Question
i had last years riff... sick cuts on that...
i had last years riff... sick cuts on that babe rode like a dream too but delammed then snapped after 2 or 3 weeks riding in whis. rome has good warantee dudes but they gave me a machine and bindings cuz they were out of the riff... did they fix the problems this year anybody know?
Looks Like All i need is snow now! This thing has got crazy pop to it and the season just wont start soon enuf! If you are a big dude like me this ride will deffinately make your bails seem more forgiving. Ah ha ha I can't wait!