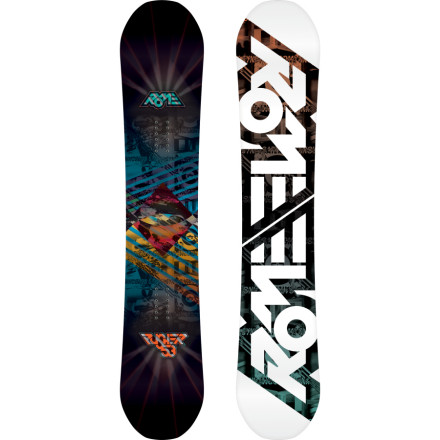 You push yourself and your boys to the limits of skill and style because settling for mediocre-rider status amongst the locals at your resort just won't cut it. The Rome Pusher Snowboard is the high-flying, big-stomping shredder's all-mountain machine. It doesn't play favorites to park features, pow lines, tree stashes, or cliff drops.
Reverse Free Camber rocker's buttery-soft flex floats through pow and bends on boxes
PressurePop technology uses V-shaped basalt stringers for increased edge grip and ollie/nollie power
StraightTriax 30 fiberglass layout juggles a forgiving flex with edge control
Extra-meaty Impact Edges resist dings and blowouts and feature a two-degree bevel for catch-free slides and edge control
Park Edge Bevel is designed to reduce edge-catch on snow and features
i got the 2010/2011 pusher as more of a pow board thats still super fun and so far so good...i ride in colorado and after some deep ass days in wolf creek last yr i decided i needed a reverse camber that was a little longer so i got this pusher in a 159 (i'm 5 10 and weigh 180 so this is on the longer side of what i usually ride). so far i've really only taken this out on real pow days over a foot and this things floats and slashes deep pow no problem and also buttery enough to play around on. i really dig this board, but i got it a lil too long to use as all around so i wish i got it smaller so i could use it all around but oh well...i got it for a pow board and damn its workin like a charm so far
Where to begin? I borrowed my buddies '11 159 pusher for a weekend trip to Mammoth, and I dont want to give it back to him. It held an edge like a beast! The pop was massive yet still very predictable. On top of that it was still playful enough to spin tricks off the nose and butter around the mountain.

If you are looking for a park/booter/all-mountain slayer, this is the deck, it is a little on the stiff side for a stand alone jib deck, but it is still easy enough to press out because of the rocker.
Got the 2010 model this summer, and it was sick!! super and fun and perfect flex, but it was recently stolen so i am getting the 2011 version with some Rome arsenal's or united's
This board is sick, got last years model. I'm 5'10" 170 and ride the 153, 24" centered stance. From back country pow lines in Big Cottonwood Canyon to all mountain and park shredability, this board does it all in a small and super fun package. Get it!