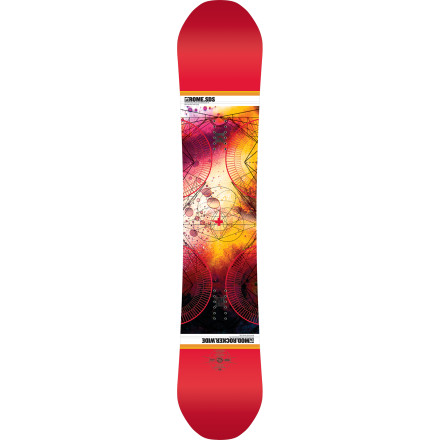 Detail Images
In its second year, the Rome Mod Rocker Wide Snowboard has already earned the seal of approval of oversized backcountry assassins and big-footed park bosses alike. Like the yeti, a poppy rockered board with a true twin shape like the Mod Rocker was once a mythical beast. Now that it's here, don't be surprised if you see the furry fellow out there on your way to the goods.
FreePop rocker gets loose on jibs while still crushing huge jumps and floating pow lines with a primarily flat profile that extends 5cm outside the inserts to meet rocker continuing to the ends of the nose and tail
QuickRip sidecut places extra contact points on the middle of the board to give you reliable traction between your feet
Double-barrel carbon HotRods place dual carbon and fiberglass hollow rods directly into the core on either side of the centerline to load up pop for ollies without stiffening up the whole torsional flex
KEVLAR® Impact Plates reinforce the board's most vulnerable area directly under the bindings, greatly reducing compression and stress on your binding's base plate
SuperlightBiax laminate weighs considerably less than regular biax glass while still delivering a flexible feel with just the right amount of snap
AirPop Core Matrix is Rome's lightest core because of its articulate lay-up and blends of smooth poplar and five zonal regions of low-density wood; the end result is an overall lively flex with hints of forgiveness throughout
SinterCarbon base infuses the durable and porous compound with nanoadditives to greatly reduce friction so you can clear the gap and get to the pow first
I had the pleasure riding this board in a 156cm regular width today and just had a blast. I am currently about 5'10" 180 lbs. This board has just about every feature you could want. Beefed up Kevlar plates under the inserts to give you ultra durability and better power transfer to the board. Has the super awesome airpop matrix core which is poplar based so its nice n lite but snaps off mega ollies, especially thanks to the carbon hotrods. I have also really been enjoying the quickrip side cut that offers additional contact points but not too grabby. Regarding the multiple contact topic, I feel like the magnetraction is just a bit much in some scenarios. Just feels a bit hooky sometimes riding switch or spinning. I have quite a few days under my belt so I do have some pretty solid board control skills so maybe i'm just able to get the control I need without it. Granted, magne-traction kills it on ice. I've been on quite a few multi camber type boards (DC, LibTech, Burton, Rossignol, Nitro and Neversummer) as of late. I really really like the 80% flat with 20% ish early rise camber style. It's simple but very stable at slow speed, high speed, flat based, turning and still has tons of forgiveness thanks to the reverse camber tip n tail. Oh one more thing I love! Super rad sintercarbon base is not only lightning fast, it can take a beatin'. Hit a rock today lacing up a tree line. Looked at the base when I made it home and it just had a white smudge I was able to nearly wipe off completely. I would say for a all mountain but really park friendly ride, I would prefer the 153cm. The carbon just gives it a ton of pop and reliability. Due to the early rise I can still float in the pow just fine with minimal weight transfer. I will update this as I get more time on this amazing shred machine.
This is probably the best board I've ever ridden. The freepop camber profile on the Mod rocker is just so fun to ride. The dual carbon fiber hot rods in the Mod rocker are really noticeable when cracking off big ollies. I've ridden this on groomers, in the park and in powder...it charges thru all of it.