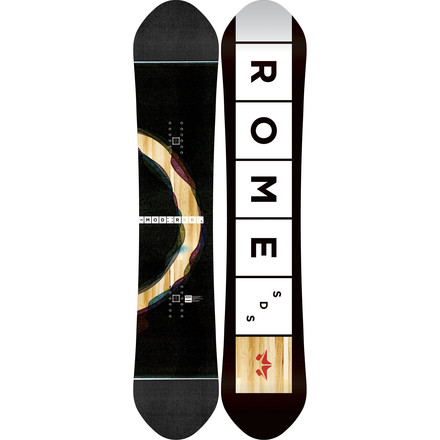 Detail Images

Community Images
As Rome's flagship all-terrain freestyle weapon, the Rome Mod Rocker Snowboard is sure to put a smile on your face, whether you're surf-slashing a foot of fresh or sending jumps in the terrain park. This mid-flexing freestyle deck excels at riding anything you can throw its way, thanks to its versatile FreePop Rocker profile and true twin shape. The FreePop Rocker delivers the straight-line stability of flat camber underfoot, allowing you to bomb steeps and flat base the board off gut-wrenching jumps without unnerving squirreliness inherent to other rockered designs. Adding a bit of playfulness, as well as extra float through the deep stuff, the Mod Rocker has slight rocker extending from the contacts through the tip and tail. This makes the board fun and catch-free when you're buttering and jibbing through the park.

Designed to be as light as possible without sacrificing strength or pop, the board's AirPop Core Matrix and Superlight Biax Laminate save precious weight, allowing you crank spins without added heft. Carbon Double Barrel TurboRods offer insane amounts of snap when you're pre-loading ollies and boosting off kickers, and Z-Tech 1.0 creates a board that's poppier than ever, as Zylon is inserted into the deck's center, which is lighter, stronger, and snappier than carbon (hard to believe, right?). Factor in the added grip of a QuickRip sidecut and the friction-reducing SinterCarbon base for a board that's well suited for charging down the mountain and slicing through any terrain you can handle.

True twin shape
FreePop Rocker (flat underfoot, rockered tip and tail)
AirPop Core Matrix
SuperlightBiax Laminate
Carbon Double Barrel TurboRods
Z-Tech 1.0 (1-inch Zylon strip down center)
QuickRip sidecut
SinterCarbon base (carbon-infused sintered)
Share your thoughts
What do you think of the
Rome
Mod Rocker Snowboard
? Share a...
This is my go to board
Familiarity:

I've put it through the wringer
The Mod rocker really is deserving of its own name as its not really a "rocker" Its flat and powerful as f#$k. It is not very forgiving, but it will absolutely hold its own anywhere. It pops, floats, lands, is light as hell, looks really good and not everyone has (nor should they have) one. This board means business. If you aren't sure where/what your riding but you plan to get after it, this is the one. If you aren't sure what I'm trying to say, probably look into the also kick ass Agent Rocker.
I'm considering getting either this, the camber mod, the camber Agent, or a Bataleon Goliath. I've read that this actually performs better on edge/carving than the camber Mod. Anyone wanna vouch for that (or against it)? I ride East coast ice/hard pack, no pow (unfortunately) and very little park and would like to know which would suit me best. Thanks in advance.
Sounds like you should go with Mod Camber. The Camber will carve/edge a little better because, well, it is a cambered snowboard. I ride the Mod Rocker as my everyday board but I live in the Rockies and I rarely only ride hardpack. I'm riding more powder, chop and variable snow than what you are talking about. With the cambered Mod you will gain some pop and a little more power out of your turns than the rockered verison. I think you'll love the Mod Camber for what you are riding. It is super light and responsive and it has a god-like amount of pop. Hope this helps.
i am 5'11 155 lbs, would it be better to get a 156 or a 153? i ride all over the mountain but i started riding a lot of park at the end of the season. would the 153 still be good all over the mountain for my weight?
Best Answer
If your home mountain gets a lot of snow, then go a little bigger. You will appreciate a little more float on powder days. If you mainly ride hardpack and the park, then the 153 is fine. If you live in the Rockies go bigger. If you live in SoCal or the East the 153 will be just fine. Hope this helps.
Like Whoa...
Gender:

Male

Familiarity:

I've used it once or twice and have initial impressions
Dope board. I actually purchased the Agent Rocker from BackCountry first (that I only rode one time) and thought that was a really good board, but then I went in to the BackCountry.com warehouse and they had a mod rocker just chilling there so I scoped it out. The first thing I noticed when I picked it up was how light it was. Then I put some pressure to the board and noticed how flexible it is. So after talking to the employees there they said I could trade my Agent Rocker in for the Mod Rocker, rest was history. I took it out to Brighton and even though the conditions weren't ideal, this board seriously made my day. I hope to ride this board for a long time, very responsive, held an edge. You can feel the turbo rods working, and just an unbelievable ride. It's got some pop. Definitely a high end board. Big Kudos to the Employees that hold down backcountry.com, I will honestly always shop with you guys first before anybody else for my gear.
I am 6 ft around 190 pounds. I currently ride a 164. Do you think the 159 would work best for me?
Yep. I'm a little taller than you and the 159 Mod Rocker is my go to all mountain board. I also have size 11 boots and have no issues with toe drag.
Same size of u and i ride a rome artifact rocker 153
Won't ride anything else
Familiarity:

I've put it through the wringer
Such a epic board! I love the mod rocker it charges jumps , butters presses, rip carves, a true beast. In pow and slush this board dominates. I am usually a true camber only rider but Rome did a great job with the flat under foot to rocker nose and tail. Good times are all this board offers.
What is the main difference between this and the mod ? I am on the fence between the two. I ride pow when i can and cruise groomers with my kids. I still like to hit natural jumps but no park or pipe.
The Mod is traditional camber whereas the Mod Rocker is has a flat camber profile. The Mod Rocker is a lot more fun in powder and quite a bit more forgiving than the cambered Mod. Both are amazing boards, but just think of the Mod Rocker as a little more hungover than the Mod. Both will still rip the mountain and have tons of pop, but the Mod Rocker is a little looser and more playful. Hope this helps.
Hey i'm 6'0 and 175lbs, would a 153 or 156 in the mod rocker be alright? How much of a difference would sizing up from 153cm to 156cm make in terms of flex, ride and stability?
Hey Kan,

At 175lb, I'd recommend the 156. You're pretty similar in size to be in terms of height and weight at least and the 156 would be the perfect length for me. If you're after stability the 156 will off better stability and ever so slightly stiffer.

I'm actually getting my hands on a 159 with Targa bindings in the next week or two, so I'll post back what I think about the 159.

Jared D.
Expert Gearhead
800.409.4502 ext 4055
jdowns@backcountry.com
hey guys! im 5'9 165 lbs. what size would be good for me in this mod rocker?
Best Answer
I'd recommend the 156 for all-mountain riding. You could downsize to the 153 for a more jib/park-orientated ride, but the 156 will work best for riding everything on the mountain.
I'd second Omar on the 156 for all-mountain and 153 for parks/jibbing.

Jared D.
Expert Gearhead
800.409.4502 ext 4055
jdowns@backcountry.com
Yo guys I'm about 5'8" 150 do you think I could get away with the 153 as a good all-mountain with a little park action?
game changer
Familiarity:

I've put it through the wringer
You don't know this board. You think you do, you've read the camber profile info, pop rods, sounds like, looks like whatever whatever. Mark my words. This is the board that will change the direction of snowboard design for years to come. It is different than anything you have ever ridden. It rides different, feels different, acts different, and all for the better. On paper this is the same board as it was last year, which was previously the best board I had ever ridden, somehow, this is better. I've ridden the $1000 plus boards, I have a quiver 10 deep with pow swivel sticks, SBX boards, Park boards, split boards Big mountain guns. The 2015 Mod rocker just made my quiver useless. It floats at Baldface, it Jibs at Breck, It lays ruts at Vail without new snow this year, Its lighter than hell, the base is as good as it gets, the finish is beautiful, and like I said before. This board will change everything new for years to come. Yesterday I put a buddy on mine, the first 1/4 mile, he was staring at the ground trying to figure it out. By the bottom he was BOMBING unlike I had ever seen him do, and didn't want to give it back. In summary. Stop shopping, buy this board, thank me later.
Hi,

Would you guys recommend the 149 or 153 for me? I am 5'7 and 130lbs. I am looking for a do it all board where I can take to the park or cruise down Snowbird at high speed. I am afraid the 153 might be too stiff and not playful at my weight.
I'd go with a 153. Your weight should work for the size.
I've seen the "Light"
Familiarity:

I've put it through the wringer
I've ridden my fair share of shred sticks. This one. This one, I avoided for a really long time... Why? Because I was afraid. I was afraid it was too much board for the type of riding I generally do. I was afraid that it would only be good at charging high speed at massive jumps and sick powder lines (Side note: I love these things). I was afraid that when you slowed it down it wouldn't be playful, that it wasn't versatile. I was afraid it wouldn't be fun... I WAS SO WRONG!!! This board is awesome at everything! It goes everywhere and does everything well, without compromise. Rails, Jumps, Groomers, Jibs, Carves and Slashes are all destroyed with this one board. It's light, it's poppy and it looks fantastic. I'm a convert.
Equally awesome: check out the Gang Plank
Charges everything
Familiarity:

I've put it through the wringer
Let me start by saying that I was in love with my old Mod Rocker, and didn't think it could be any better. But I am the first to admit, that I was wrong. The mad scientists at Rome somehow made my favorite board of all time, even better. I started riding this newly shaped Mod Rocker back in January and never looked back. The new shape with a longer flat zone just felt so right in all conditions. No joke. Hardpack- Killed it. Powder- effortless float. Jumps- tons of landing gear. I'll be the first to admit that I am not blessed with the gift of pop, but these new Turbo Rods had my back in a big way. I can't say enough about this new Mod Rocker other than it is the best all around snowboard I've ever ridden...again.