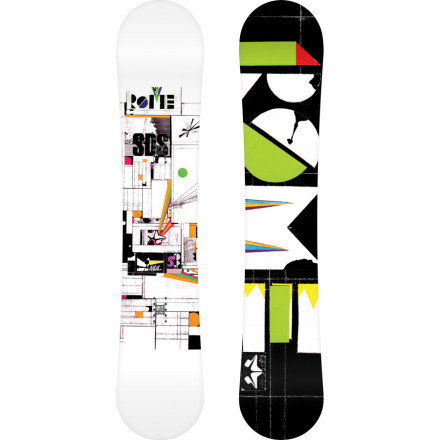 Have you always been one of those guys who could water ski without skis? Or without a boat? Then the Rome Manual Wide Snowboard is for you. The soft flex forgives you when other boards would make you pay a high price for making a mistake. Directional shape and regular camber give the board solid carving characteristics so it can be used to slay the whole mountain without the toe and heel-drag that wreck you on a standard-width board.
What do you think about this product?
Have questions about this product?
I've been riding a bigger (164+) Burton board the last 3 seasons because I crave back bowls and deep untouched pow. Caught this board on a 99$ clearance and well I cant say enough good things about how fun it is to ride.

PROs
Super forgiving and easy to adjust before you eat cake.
Tonnz of Pop - in everything from ice to the fresh heavy pow you hit even a small jump and its like "oh hey.. I guess I'm grabbing and hanging ten" and then the landing is super smooth even if you are not quite so.
Fast and easy to control - this board is easy to control while going pretty fast carving and catching air through huge moguled glades.

CONs
After 1 season of heavy use my Manual 56 is pretty beat up. In comparison my Burton board (although in a much higher price range) has taken a lot more wear and been beaten to hell while falling through cornices, down rock faces, and other epic wipeouts.. but it does not show nearly as general wear.

So if you are looking for an awesome board that is a blast to ride and dont mind it being burned out after maybe 2 seasons of heavy riding you will love this board.
I had the earlier model of this board, and it's a pretty sweet ride. I'm an east-coast rider and this board has now lasted through a second season of wear n tear. Great board if your just starting or just looking for basic and cheap. It's a great all mountain board, it has decent pop, moves well in pow, and i could swing my 156 around in the woods pretty easy. Its a quick board too. All around this is an amazing board especially for that price. I'd recommend it to anyone who's looking for a great, versetile, camber.
This is my first year riding and I bought this board after four days of renting LTR boards. I have been out six times now on this board. This board responds much better than the LTR boards did. This is really a great beginner board and I am now able to avoid the hassles of the rental shop.