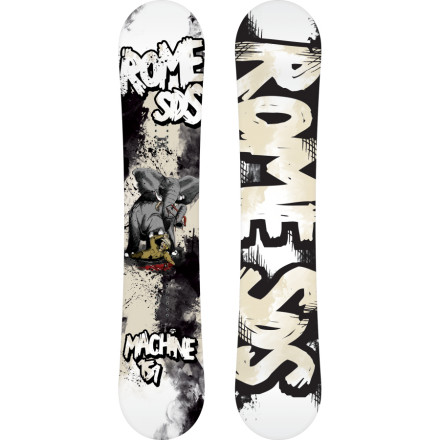 If you're tired of your Sasquatch-sized feet dragging you down in the park, the Rome Machine Wide Snowboard will cure your washout blues. With a traditional camber shape and a forgiving but snappy flex, you'll boost, spin, and press through the park like a trick-stomping android from the future. Except you're not made of an indestructable alloy. That would be pretty sick, though.
Traditional camber offers unparalleled edge grip and pop for boosting jumps and high-speed control
Three-degree Jib Edge Bevel offers catch-free slides
Glass Impact Plates under your bindings beef up high-stress areas
Impact Edges feature thicker steel to resist damage
Carbon Centerline Stringers channel energy to the contact points for extra ollie power and edge control
Hey I just started snowboarding this year...
Hey I just started snowboarding this year im 61 240lbs and size 15 boot? Will this board be wide enough and what other boads would be good to look at ?
Best Answer
Well the Machine has one of the widest waists on the market for wide decks. I ride one (154W) and I have size 12's with about 1-2cm extra on both toe and heel side. Usually the bigger the deck, the wider it gets. You will be able to fit, you just might need to have your stance a lil more tweaked out. This deck rips tho. I've been riding it for 2 years now and it only gets better as time goes on. But for your size of boot you will need to look at a waist width of no less than 260(26cm), and this one does accommodate that. Others you can look at are:

-K2 WWW Wide(either reg or reverse)
-Ride DH Wide(1 or 2), Ride Crush Wide, or Ride Highlife Wide
-Rome MOD Wide or Postermania Wide

Its all dependant on what you mainly ride as well. Ie. park, pow, trees. But just read through and decide from there. Hope this helps bro
I just picked up snowboarding about 2...
I just picked up snowboarding about 2 months ago, I'm 6'1 230lbs. I can't do rails I can't do jumps I'm still learning. I am curious if this be a good board to buy and carry me through the years?
Best Answer
well this is a good beginning board but i would also recommend the DC PBJ, Forum Youngblood, Lib-tech skatebanana, and the rome artifact would all be great boards for a beginner. And for someone your size and skill level i would say 159cm would probably be the best size and all of these boards are good more park oriented boards but for a beginner you are going to want a softer more forgiving board to learn with.... hope that helped
Will I have any toe/heel drag on the 154...
Will I have any toe/heel drag on the 154 with my 12-13s, I'm 155lbs.
You will be just fine. I ride the 154 W and im 6' 170lbs with size 12's and still have room. Because the waist is one of the widest on the market, its easy to accomodate those sizes. My buddy with 14's rode my deck and he was only dragging a lil. So with your boot size you will be just fine. With my 12's I still have about 2cm on both toe and heel side to play around with, so no worries about it fitting. And yes this deck KILLS it everywhere you take it. Ive been to Whiss, Sunshine, Tremblant, Saint Sauver and just my local hill and I've had no problems thus far... And I've been on mine since 2009 and it still has plenty of years left. Hope this helps :)
i got this board last week and used it over the weekend. it's a fantastic board with a lot of pop and rides so smooth over rails. at night it was a little icy, yet the machine still could carve with ease. i'm 6'5' 185lbs and i rock the 157 and love it.
can other people like my mom retrieve my...
can other people like my mom retrieve my wish list?
NOOOOOOOOOOOOOOOOO!!!!!!!!!!!!!
i want this board for hitting jumps mostly...
i want this board for hitting jumps mostly im 6'2 and 160 pounds should i get a 157, 159, or 161
Well I ride an 09 Machine and let me tell you that this deck will RIP anything you throw at it, and just gets better as you break it in. If you are into mainly hitting jumps then I would say go for a 157. Im 6' 165lbs and I ride the 154. I take it from groomers to trees to killin it in the park. I like to ride a shorter deck tho. But off of 40'-50' booters, it never washes out on me. This is the deck to get if you have big footers like me. Grips it, you will not be dissapointed. Hope this helps brudda