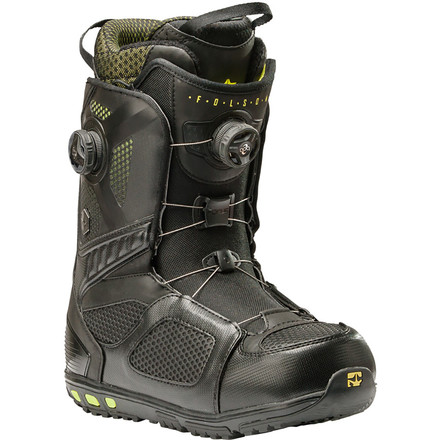 Description
A big, steaming pile of technology.
When Rome built the Folsom Snowboard Boot, it pulled out all the stops. It broke the mold. It threw out the rule book, and it barred absolutely no holds. The Folsom is Rome's ultra-stiff big mountain/freeride boot designed for experienced riders who put power into their turns and need instant response and absolute precision with every miniscule twitch of their feet. If you aren't sure whether you can handle a boot this stiff, then you can't.
The Folsom's full synthetic leather shell tosses moisture like a monkey tosses poo. Closure duties are handle by a Triple-Zone, Dual-BOA setup that lets you quickly and easily customize your fit between three separate zones every time you slide your foot into the boot. The three-part TrackedOut sole incorporates loads of EVA foam that not only absorbs shock but keeps the boot's weight down. Anti-shock gel pads under the heels bear the brunt of hard, flat landings so your feet don't have to. Finally, but most importantly, the Folsom uses Rome's Elite F.I.T. liner, which is exclusive to the Folsom. The Elite liner has a full EVA sole, which fits better with the Folsom's shell than a conventional liner sole. It also absorbs shock and makes it possible to use your Elite liner as actual footwear while your Folsoms dry out. An expanded, elastic toe zone conforms to a greater variety of foot shapes than a conventional liner. Rome's Hexgrip Heel Hold uses a silicone grip gel to keep your heel locked in place while you ride. At the cuff, Rome incorporated a 270-degree soft skate cuff with memory foam to fit your foot perfectly. Finally, the tongue uses the NKS Shield, an integrated EVA pad that provides a smooth, long-lasting curve at the ankle and cushioning that won't pack out.