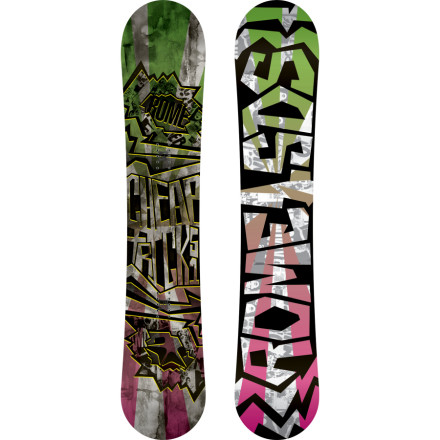 The Rome Cheaptrick Snowboard is all about one thing—air. Lots of air. From the big 60-footer in the park to the backcountry booter that you spent all day building with your friends, the Cheaptrick will deliver the pop to have you bagging more air-time and video-time than any of your buddies on their inferior sticks.
So now that ive had a good 3 years experience riding this so i know what i feels like broken in and have taken it from park to pow more than a few times, This is a great board that gets broken in really nice and becomes very poppy and flexy, it doesnt do to great in the powder (control wise) but it still gets the job done, definitly great for boxes and park though, and its light and true twin. all in all beautiful board and is still riding strong today.
awesome board, just got mine and took it for a spin yesterday, was doing everything i threw at it. from park to carving up the fresh runs. really forgiving board in my eyes. wouldnt say its a proffesional board. but great for the every-season snowboarder just looking for some fun. recommend this board without a doubt!
flex: 8/10
speed:9/10
strength: so far a 10/10
stability: deffinately a 10/10
This is more of a stiffer board, but flexible enough for the park, if you want a good decent board for both park/jumps/power without spending alot, here you go!
is this board still good for jibs and...
is this board still good for jibs and powder? and is it flexy enough for nose/tail presses?
Its about a 7/10 for a flex rating. So if you're a little heavier you'll be able to press it just fine. Its a pretty standard snowboard so it will do okay in the powder but isn't going to kill it necessarily. It will be a good rail board for sure.
Unanswered Question
What type of camber? How stiff/soft? Is...
What type of camber?
How stiff/soft?
Is this true twin?